I have partnered with Beef. It's What's For Dinner., a contractor to the Beef Checkoff, to help promote Beef. I have been compensated for my time commitment. However, my opinions are entirely my own and I have not been paid to publish positive comments.
September is Family Meals Month and we're celebrating in the White House! Family Meals Month is a nationwide event designed to highlight the many benefits of family meals and the role we can play in helping our family share one more meal at home each week. Family meals nourish the health of all family members:
Regular family meals are linked to higher grades and self-esteem and delayed sexual activity.
Children who grow up sharing family meals are more likely to exhibit prosocial behavior as adults, such as sharing, fairness and respect.
With each additional family meal shared each week, adolescents are less likely to show symptoms of violence, depression and suicide, less likely to use or abuse drugs or run away, and less likely to engage in risky behavior or delinquent acts.
Adults and children who eat at home more regularly are less likely to suffer from obesity.
Increased family meals are associated with greater intake of fruits and vegetables.
(source: www.FMI.org)
With a pregnant wife and active toddler, we all have different needs but try to stick with the same foods when cooking. Anchoring your plate with protein, like beef, and then pairing it with fruits and veggies is one easy approach to create a family meal. Here's what's on the menu for dinner this week and how to prepare:
Jim's Plate
As a husband, father and business owner, life can get pretty busy so it's important to consume foods that do more than just get me through the day but rather provide energy, protein, vitamins and minerals. This meal delivers on that goal – this center-of-the-plate protein, beef, provides B-vitamins, protein, iron and zinc.
Steaks for Family Plates
Ingredients:
5 oz Top Sirloin Steak, 3 oz NY Strip Steak plus 1.5 oz NY Strip Steak
Olive oil
Kosher salt
Pepper
Directions:
Preheat grill and brush oil on grill grates.
Trim steak of excess fat. Salt and pepper all sides of steak.
Place steak on hot grill plates facing 11:00 on clock. Sear for a few minutes until the protein releases and you can lift it straight up off of the grill with tongs.
On the same side, lay the steak back down on the grill facing 2:00 on the clock. Again, sear until it releases and lifts up off the grill with tongs.
Flip steak over to the non-presentation side and continue to grill until desired temp. The thinner the steak, the less time needed. Beef's tender, juicy texture is optimum when cooked to medium rare (145°F) to medium (160°F) doneness.
Remove from grill and let rest 5 minutes before serving to allow juices to remain in the meat for a more flavorful meal.
Krista and Ava's Plate
While Krista may be eating for two and growing life, her body needs about 10 extra grams of protein each day to support our growing baby. It's also important that she gets enough iron for red blood cell production, zinc for the baby's brain development and choline to help build the brain and spinal cord.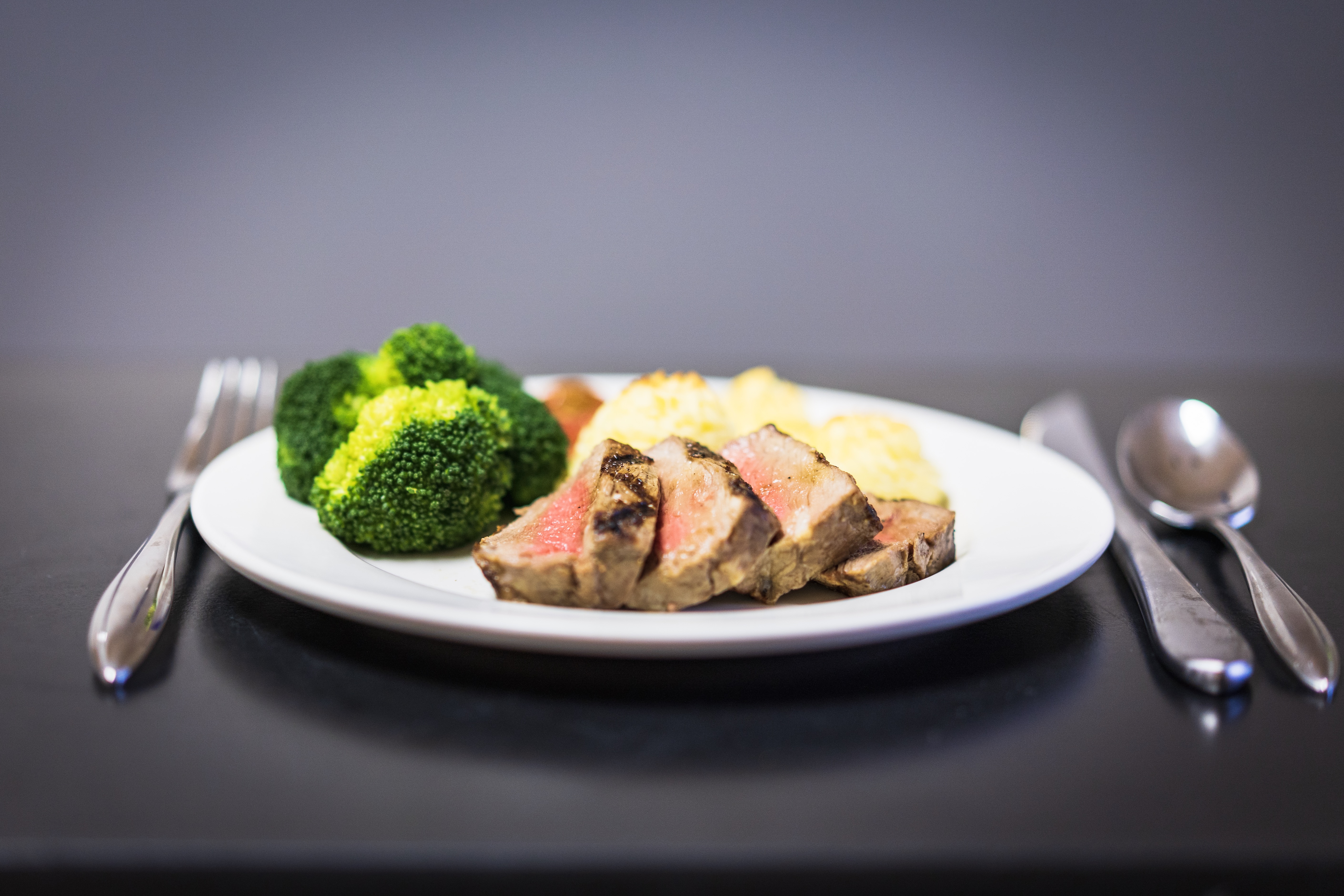 Laying the foundation for a lifetime of good health starts at a young age. When Ava began transitioning to food, it was really important for me, as her father and Dietitian Dad, to have her eating a variety of foods and learning to eat smart. Just one three-ounce cooked serving of beef provides protein, iron and zinc, which are often lacking in the diets of toddlers and young kids! Making sure Ava gets the right nutrients will provide energy for her VERY active little body, aid in brain development and support a healthy immune system.
We opted to add in broccoli for our veggies and I had a baked potato while Krista and Ava cut up potatoes and threw them in the air-fryer to make fries.
Need more recipes to help celebrate Family Meals Month this September? Visit www.Beefitswhatsfordinner.com for a variety of choices to please anyone's palate.