This blog post is sponsored by Barilla. I have been compensated for my time commitment. However, my opinions are entirely my own and I have not been paid to publish positive comments.
Most Americans are busy and meals are rushed. We always are looking for a quick 30 minute meal, because why not? We want to save time! Meals away from home have increased in recent decades according to American's Eating Habits: Food Away From Home, published in 2018 by the USDA. Grain and mixed pasta dishes are a quick and nutritious meal option for individuals and families. Due to the versatility in pastas: sizes as small as couscous and orzo, short as elbows and farfalle, and long as spaghetti and angel hair – pasta is a great foundation for a healthy and balanced meal. Quick meals that can be made hot for dinner one night, and be kept cold for lunches the next day are efficient in time and will help with weight management. For example, an orzo pasta mixed with a little bit of olive oil, spinach and sauteed garlic, and 3-4 ounces of baked chicken breast can be made for dinner and then utilized again for a nutritious and satisfying lunch with an additional ounce of feta cheese. Maybe you have a picky eater in your house and want to include some vegetables like chopped asparagus and tomatoes into a pasta meal? Adding sauteed vegetables to a sauce for your selective eater or maybe inside a casserole type dish can help everyone get the nutrients they need?
Pasta is a staple refined grain containing 50% of the daily value for folate, enriched with iron, B vitamins, and contain no added sugars, fat or sodium. Food items like cookies and cakes, the more "indulgent" type of refined grains contain added sugars, fat, and sodium and very little fiber typically. Pasta can help reach dietary fiber goals. Barilla Semolina pasta contains 3 grams of fiber per 2 ounce serving. For women, it is recommended to reach 25 grams of dietary fiber daily and for men, 38 grams per day. Semolina pasta is a complex carbohydrate, or a slow digestible starch, so it provides steady energy and prevents blood sugar spikes. According to a study in 2016 by SciRes, the 1 in 5 Americans that included pastas into a Mediterranean based diet had a better diet quality (by 20.8%) versus those who did not. This study concluded this diet was better quality due to the increased fiber, vitamin D, and magnesium intake.
The Barilla's Pasta Recipe Builder is an easy tool to get more confident with making pasta dishes. Additionally, portion size guides are helpful for making your plate balanced, and are universal portions you can utilize for other grain based dishes!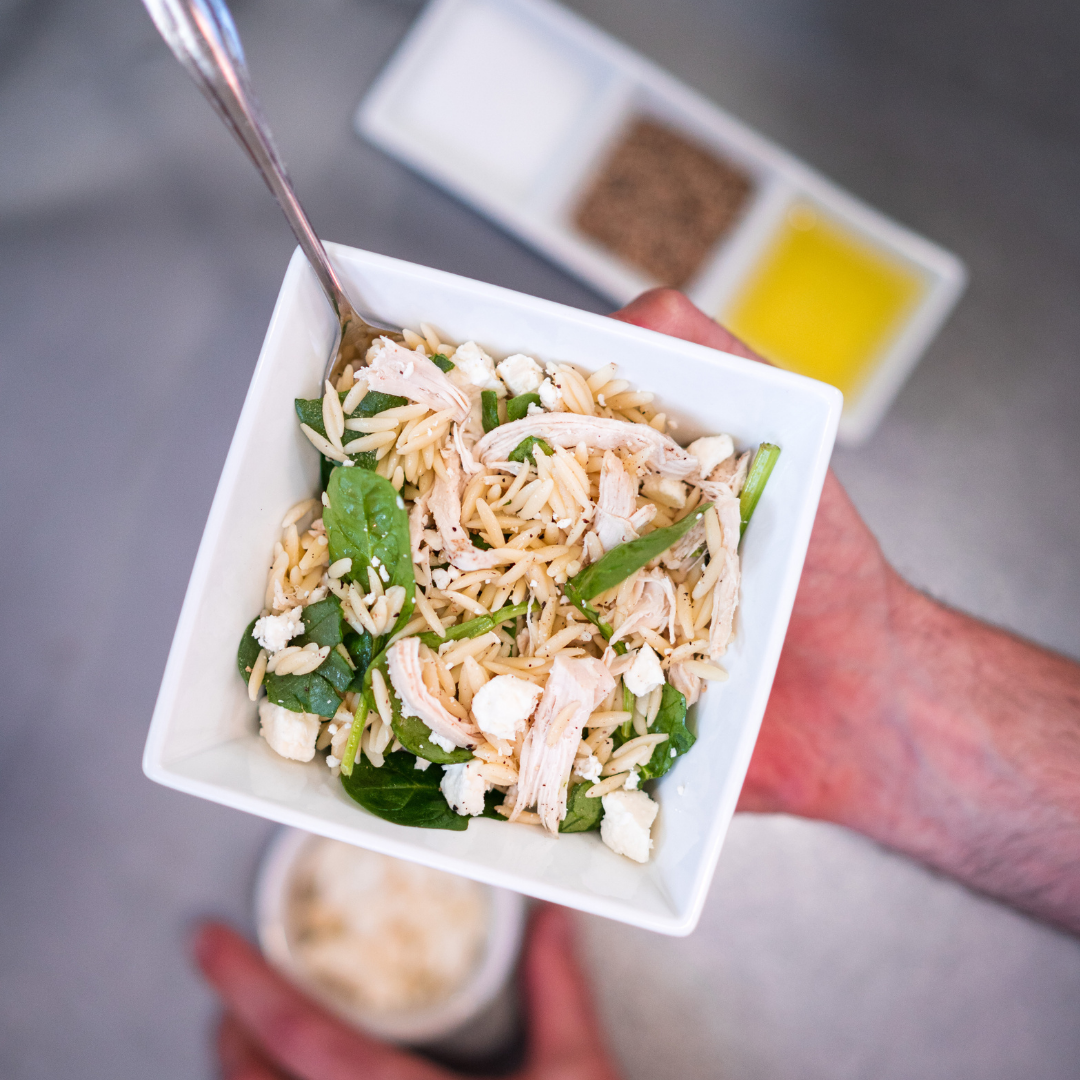 Chicken and Spinach Orzo with Feta Cheese
Serves about 6
1 serving size= 1 1/2 cup
Calories 426, Fat 14g (Saturated 5.8 g), Carbohydrates 33 g (Dietary fiber 1.7 g), Protein 41 g
Barilla Orzo Pasta, 1 box
1 tablespoon + 1 teaspoon Olive Oil
3 cloves of Garlic, minced
3 cups Spinach, fresh
4 Chicken breasts, boneless, skinless
4 cups Chicken broth, low sodium
1/4 teaspoon Salt
1 to 2 teaspoons of Pepper, black
4-6 ounces of Feta cheese, crumbles (for serving)
Instructions:
For chicken: In a large pot over medium-high heat, add chicken. Pour broth over chicken to cover and season generously with pepper, 1 teaspoon or more. Bring to a boil, then cover and reduce heat to medium. Let simmer until chicken is cooked through, 10 minutes. Remove chicken from the pan, put aside for 10 minutes to rest.
Shred chicken with two forks on a cutting board.
For pasta: Cook pasta according to package directions, about 9 minutes until pasta is al dente. Remove from heat. Drain pasta well.
Transfer pasta to a sheet pan or a shallow mixing bowl with 1 teaspoon of olive oi. Add fresh spinach. Stir to combine, and allow to cool.
In a medium skillet pan, heat 1 tablespoon of olive oil on medium heat. Add minced garlic until aromatic, about 1 minute.
Add sauteed garlic to pasta mix. Season pasta with 1/4 teaspoon of salt and about 1 teaspoon of black pepper. Add shredded chicken and combine ingredients.
Refrigerate up to 3 days. Serve cold or heated with 1 ounce of feta cheese.