Mushroom Spinach Egg Scramble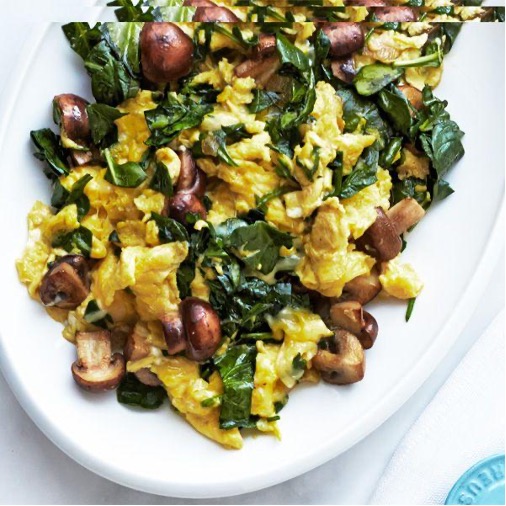 COOK TIME 10 minutes | SERVES 1
NUTRITION | 340 Calories | 18 g Fat | 22 g Carbs | 26 g Protein
INGREDIENTS
● 1/2 tbsp olive oil
● 1/4 cup onions
● 1 1/2 cups thin sliced mushrooms
● 1/2 cup fresh baby spinach
● 2 large eggs
● 1 large egg whites
● 1 teaspoon water
● kosher salt and black pepper
● 2 Tbsp of shredded cheese of your choice (optional)
● 1 slice of toast
DIRECTIONS
1. In a small bowl, whisk eggs, egg white, 1 tbsp water, 1/8 tsp salt and pepper until blended.
2. In a medium nonstick skillet, heat oil over medium heat.
3. Add onions and cook until tender and golden, 3 to 4 minutes.
4. Add the mushrooms and cook and stir 3-4 minutes or until tender. Add spinach; cook and stir until wilted.
5. Add egg mixture; cook and stir just until eggs are thickened and no liquid egg remains. If you want to add cheese, add it with the eggs and serve with toast.
Basil Pesto Chicken Salad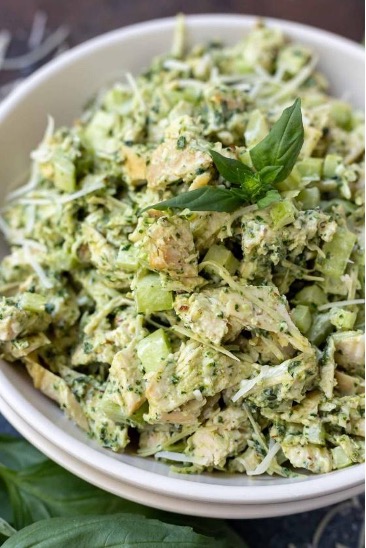 PREP TIME 10 minutes | COOK TIME 10 minutes | SERVES 4
NUTRITION | 429 Calories | 32 g Fat | 4 g Carbs | 29 g Protein
INGREDIENTS
● 2 cups diced or shredded chicken breast (cooked)
● 1/3 cup basil pesto
● 1/4 cup mayonnaise
● 1/4 cup toasted pine nuts, plus more for garnish
● 2 tablespoons diced red onion
● 1 tablespoon lemon juice
● salt and pepper to taste
● Mixed greens or whole wheat bread optional to make a salad or open face sandwich (nutrition value above does not reflect these items)
DIRECTIONS
1. Add all of the ingredients to a large bowl and mix until well combined. Add more salt, pepper, or lemon juice to taste.
2. Serve over mixed greens, with cherry tomatoes, fresh basil, and pine nuts to complete a salad. For an open face sandwich – toast a piece of whole wheat bread, add a tomato slice and serve your chicken salad on top.
BBQ Chicken Sweet Potatoes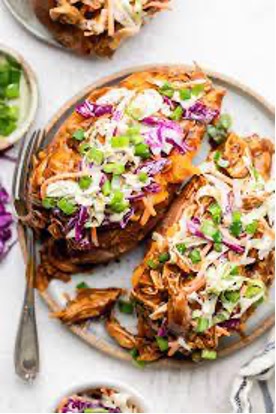 PREP TIME 15 minutes | COOK TIME 3 hours | SERVES 4
NUTRITION | 478 Calories | 24 g Fat | 30 g Carbs | 29 g Protein
INGREDIENTS
● 4 medium to large sweet potatoes
● Green onion to garnish
● 1 pound boneless, skinless chicken breast
● 10 oz barbecue sauce
● 1/4 cup apple juice
● 1 tablespoon apple cider vinegar
● salt and pepper to taste
● For the coleslaw:
● 1/2 cup mayonnaise
● 2 tablespoons apple cider vinegar
● 1 teaspoon celery seed
● 1/2 teaspoon dijon mustard
● 1 teaspoon salt
● 1/4 teaspoon black pepper
● 4 cups shredded coleslaw mix
DIRECTIONS
1. Add chicken breast, barbecue sauce, apple juice, apple cider vinegar, salt, and pepper to your crockpot and stir. Cook on high for 2-3 hours or until chicken breast is cooked through. Use two forks to shred the meat in the barbecue sauce.
2. Preheat oven to 425° and clean the sweet potatoes. Prick the sweet potatoes with a fork and place them on a sheet pan lined with parchment paper. Bake the sweet potatoes for 45-50 minutes until completely tender, then remove from the oven.
3. For the coleslaw, add mayo, apple cider vinegar, celery seed, Dijon Mustard, salt, and pepper to a mixing bowl and whisk together until well combined. Pour the dressing over the shredded coleslaw mix and toss until well combined.
4. Split the top of the potato open lengthwise, give the potato ends a gentle squeeze inward to open it up and use a fork to fluff the insides. Stuff the potatoes with 4 oz of the pulled chicken and top with coleslaw. Garnish with green onion and serve!
Chocolate Banana Almond Hearts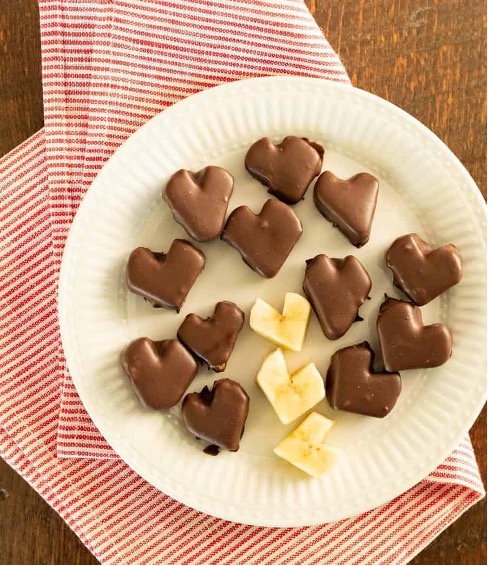 PREP TIME 20 minutes | SERVES 4 | SERVING SIZE 5 pieces
NUTRITION | 363 Calories | 25 g Fat | 29 g Carbs | 7 g Protein
INGREDIENTS
● 2 bananas – cut each into about 10 coin shaped pieces
● 2-3 tbsp. of the nut butter of your choice (peanut butter or almond butter are great for this recipe)
● One package of whole almonds (need two per banana slice-40 total)
● 1 cup of semi-sweet chocolate chips
● 1 tbsp of coconut oil
DIRECTIONS
1. Cut bananas into coin shaped pieces and place onto parchment paper
2. Put a little dab of your nut butter (slightly warmed so that it transfers easily) onto the top of the banana coins – this will act as your glue for the almonds
3. Stick your almonds pointy ends together on top your bananas to form a little heart shape on top
4. Place chocolate chips and coconut oil into bowl and microwave at 20-30 second intervals, taking out after each interval to check if consistency is good and easily mixable. (if overdone it will not be good for dipping or drizzling)
5. Once dipping chocolate is mixed, you can either dip your banana almond treats or drizzle with the chocolate over the top.
6. Place in refrigerator to harden the chocolate – should takeabout 30 minutes at a minimum. Enjoy!