Apple Cinnamon Baked Oatmeal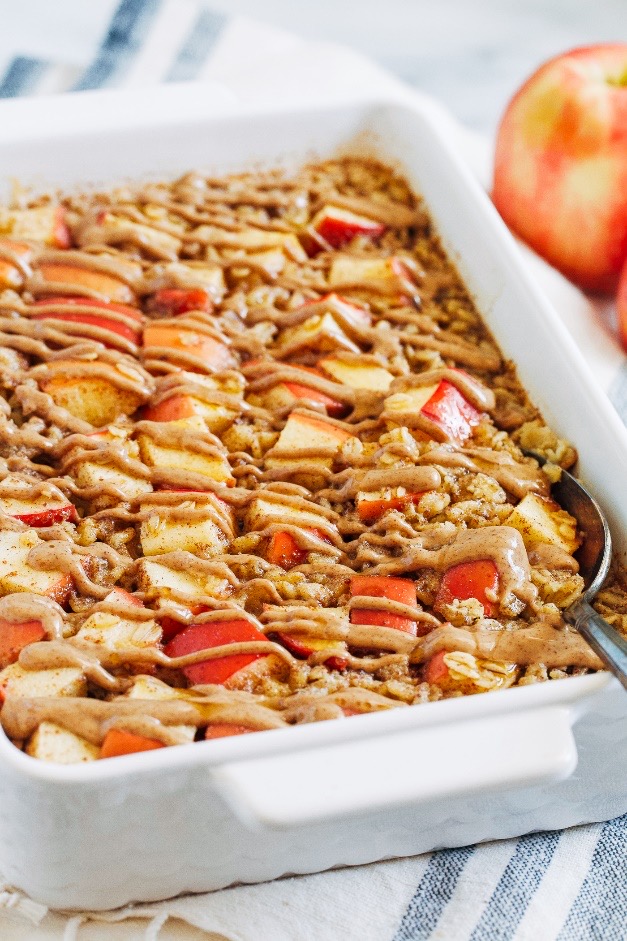 PREP TIME 15 minutes | COOK TIME 30 minutes | SERVES 9
NUTRITION 277 Calories | 12 g Fat | 30 g Carbs | 8 g Protein
INGREDIENTS
● 2 ¾ c old fashioned rolled oats
● 1 tbsp chia seeds (optional)
● 1 ½ tsp ground cinnamon
● 1 tsp baking powder
● 1/4 tsp fine salt
● 1/4 c maple syrup or honey
● ½ c unsweetened applesauce
● 2 whole eggs
● 1 ¼ c milk of choice
● ¼ c melted unsalted butter or coconut oil
● 1 tsp pure vanilla extract
● 1 c shredded apple or finely diced, more for topping
● ⅓ c chopped walnuts, toasted
DIRECTIONS
1. Preheat the oven to 375℉. Spray a 9×9 or 8×8-inch baking dish with cooking spray.
2. In a bowl, combine the oats, cinnamon, chia seed, baking powder, fine salt, maple syrup, applesauce, eggs, milk, butter, and vanilla. Stir until combined.
3. Toast your walnuts – Place a skillet over medium heat. Add walnuts to the hot skillet and cook for 6-8 minutes or until they give off a toasted aroma. Make sure to watch them closely and stir often to avoid burning. Once walnuts are fragrant and golden brown, remove from heat.
4. Fold in the apples and toasted walnuts and transfer batter to the prepared dish. Top with a few chopped toasted walnuts.
5. Bake for 30-35 minutes or until the center is set.
6. Let sit for 10 minutes before serving.
7. Top servings with whipped topping or yogurt and maple syrup, if you please.
Lemon Bars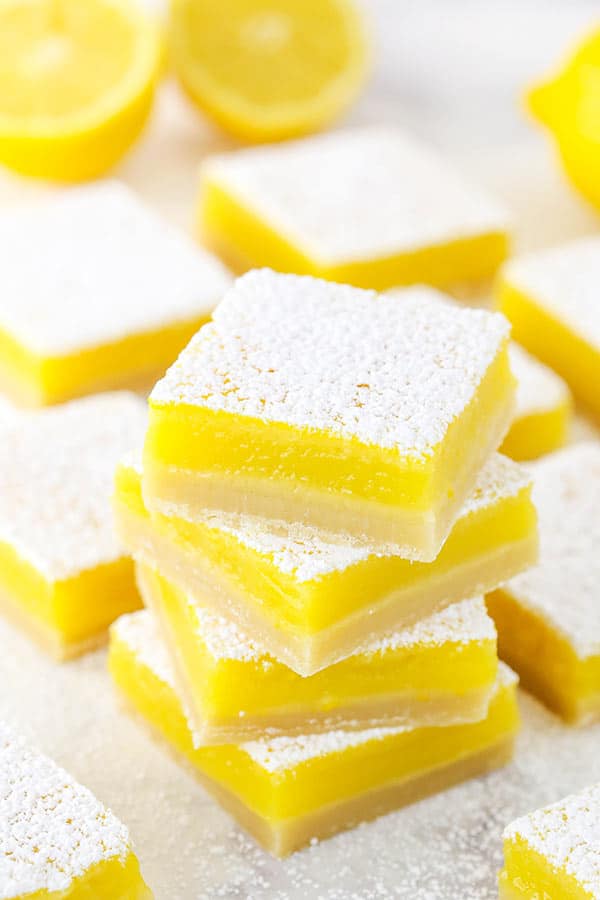 PREP TIME 15 minutes | COOK TIME 25 minutes | SERVES 12
NUTRITION FOR 1 BAR | 189 Calories | 12 g Fat | 18 g Carbs | 5 g Protein
INGREDIENTS
● 4 tbsp melted and cooled butter
● ¼ cup of pure maple syrup + ⅔ cup for filling
● ¼ tsp of almond extract
● 1 ½ cup packed almond flour
● 2 tbsp coconut flour + 1 tbsp for filling
● ¼ tsp of salt
● Zest from 1 lemon
● ⅔ cup freshly squeezed lemon juice (from about 2-4 lemons)
● 4 large eggs
● Optional: powdered sugar and lemon zest if desired
DIRECTIONS
1. Preheat the oven to 350°. Line an 8×8 inch pan with parchment paper. (Do not use a glass pan or the bottom will burn.)
2. For the crust, whisk together the almond flour, coconut flour and salt. Stir in the butter, pure maple syrup and almond extract. Mix until a dough forms. Press dough evenly into the prepared pan with your hands. Bake for 15 minutes.
3. While your crust bakes, in a medium bowl, whisk together the lemon zest, lemon juice, eggs and the rest of the maple syrup and sifted coconut flour. You want to whisk really well so that no egg white remains visible.
4. Once the crust is done baking, immediately and slowly pour filling over the crust. Do not allow the crust to cool first, this is critical.
5. Lower your oven temperature to 325°, place bars immediately in the oven and bake the bars for 20-25 minutes or until filling is set and no longer jiggles.
6. Cool completely on a wire rack then refrigerate for at least 4 hours to firm up bars. Once ready to serve, use a sharp knife to cut into 12 bars. Optional: garnish with powdered sugar and a little lemon zest before serving
Warm Kale & Quinoa Salad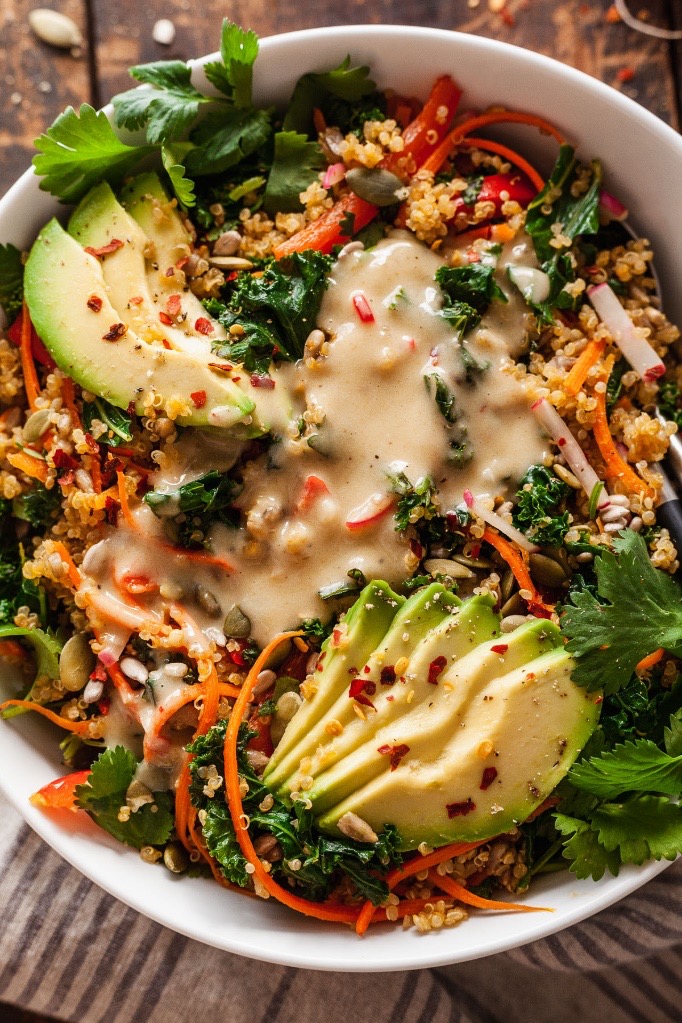 PREP TIME 20 minutes | COOK TIME 5 minutes | SERVES 4
NUTRITION | 528 Calories | 39 g Fat | 40 g Carbs | 11 g Protein
INGREDIENTS
FOR THE DRESSING:
● ⅓ cup each: olive oil , lemon juice
● 2 tbsp tahini
● 2 tsp maple syrup
● 1 clove garlic, pressed
● ½ tsp ground cumin
● ¼ tsp each: salt, black pepper, red pepper flakes
FOR THE SALAD:
● 1 bunch kale, ribs removed, chopped
● Coarse kosher salt
● 1 tsp olive oil
● 2 c cooked quinoa
● 3 cups shredded or matchstick carrots
● 1 red bell pepper (cut into thin strips)
● ¼ c sunflower seeds
● ¼ c pepitas
● 4 radish (cut into thin strips)
● ½ c fresh cilantro, chopped
● 1 avocado, sliced (optional)
DIRECTIONS
1. In a small bowl or jar, whisk together dressing ingredients until smooth. Taste and adjust seasonings.
2. Sprinkle kale with salt and drizzle with 1 teaspoon olive oil. Using your hands, massage until dark.
3. Heat 1 teaspoon olive oil in a large skillet over medium. Add kale, quinoa, carrot, red bell pepper, and sunflower seeds. Cook, stirring frequently, for 5 minutes until the kale is slightly wilted. Remove from heat and add the pepitas, radishes, and cilantro. Stir to combine.
4. Toss salad with half the dressing and serve drizzled with additional dressing, sliced avocado, a sprinkling of freshly cracked black pepper, and crushed red pepper flakes if desired.
Sheet Pan Honey Mustard Chicken Thighs & Veggies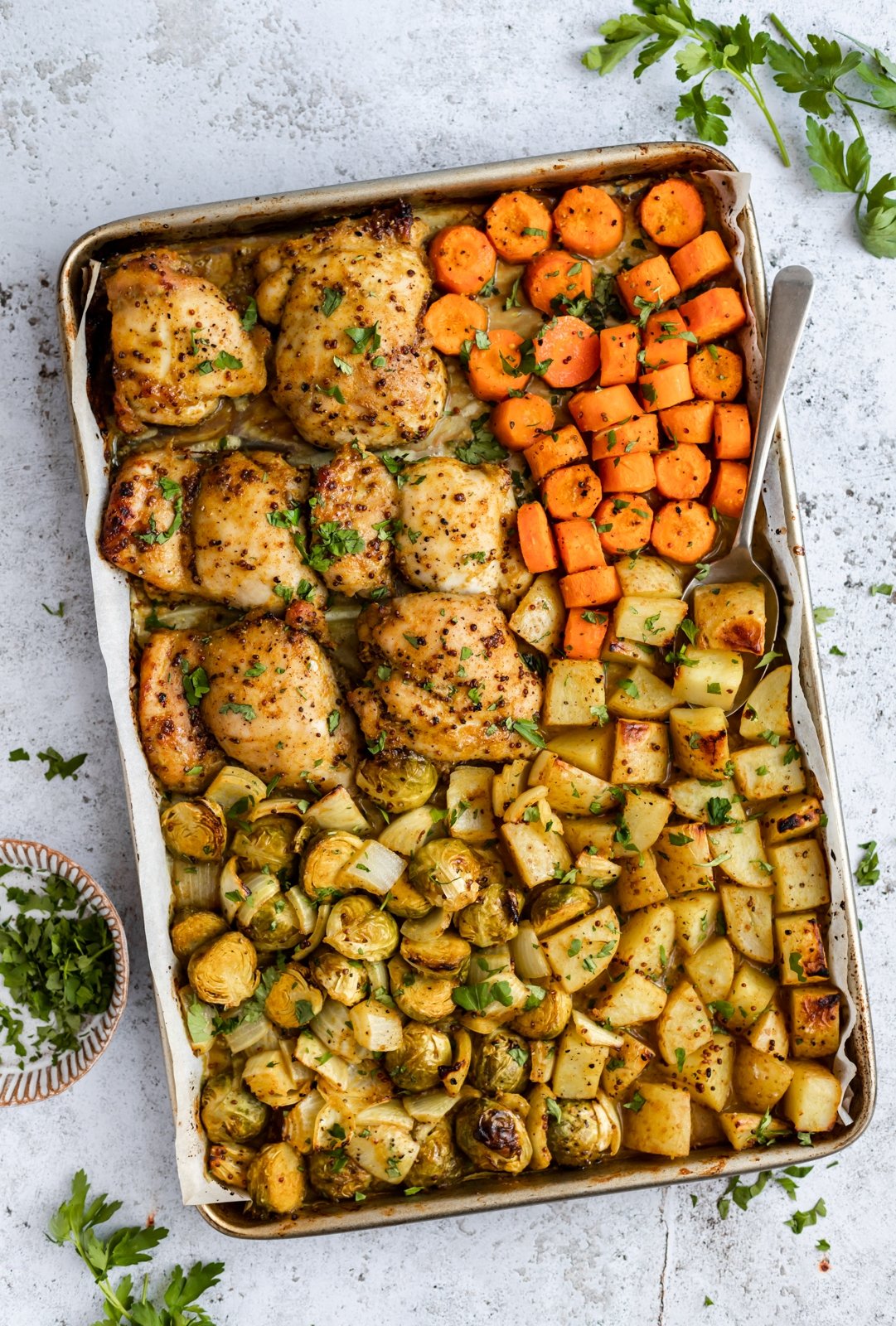 PREP TIME 15 minutes | COOK TIME 40 minutes | SERVES 6
NUTRITION | 308 Calories | 6 g Fat | 50 g Carbs | 12 g Protein
INGREDIENTS
FOR CHICKEN:
● 6 bone-in, skin-on chicken thighs
● 1 ½ tbsp each: whole grain mustard, honey
● 1 ½ tsp salt
● ¼ tsp each: pepper, paprika
FOR VEGGIES:
● 1 large red onion, diced into large chunks
● 1 lb diced butternut squash
● 6 sweet potatoes, diced
● 12 oz brussels sprouts, halved
● 5 cloves garlic, minced
● 1 tsp each: fresh thyme, salt
● 2 tbsp each: dijon mustard, honey, oil
● 1 tbsp apple cider vinegar
● ¼ tsp pepper
DIRECTIONS
1. Preheat the oven to 425 degrees. Add the chicken thighs, whole grain mustard, honey, salt, pepper, and paprika to a large mixing bowl. Stir until well combined and the chicken thighs are well coated.
2. Place the chicken on a large sheet pan that has been lined with parchment paper. Roast at 425 degrees, on the middle rack of your oven, for 10 minutes.
3. While the chicken is cooling, add the veggies, garlic, thyme, dijon mustard, honey, vinegar, oil, salt, and pepper to a large mixing bowl. Toss until everything is combined and the veggies are coated and scatter the prepped veggies in an even layer around the chicken.
4. Return the sheet pan to the oven and roast for another 25-30 minutes, tossing the veggies every 7-10 minutes to prevent them from becoming too brown. Once the veggies are tender and the chicken reaches an internal temp of 165 degrees remove from the oven. Serve immediately.