Pepper, Tomato & Ham Omelette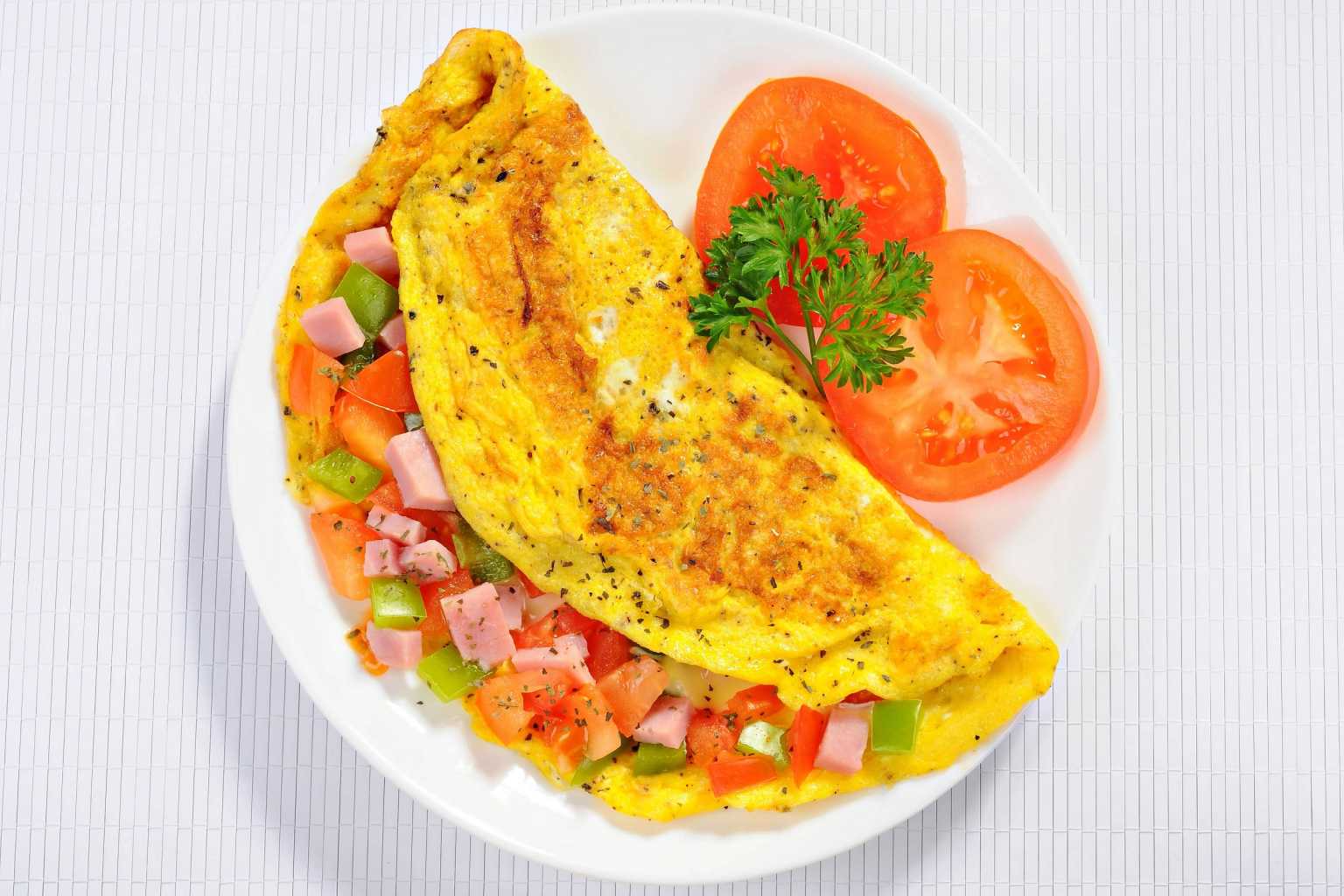 PREP TIME 15 minutes | COOKING 10 minutes | SERVES  1
NUTRITION 206 Calories | 12 g Fat | 5 g Carbs |  21 g Protein
INGREDIENTS
2 whole eggs

3 egg whites

1 tsp olive oil

1 red pepper, deseeded and finely chopped

2 green onions, finely chopped, whites and greens separated

2 slices of thin extra lean ham, shredded

25 g reduced-fat mature cheddar

1 fresh tomato, chopped

Pinch of salt and pepper
DIRECTIONS
Beat egg whites and whole eggs together and season with a sprinkle of salt and pepper.

Heat oil in a medium size non-stick pan over medium heat. Add pepper and cook for 3-4 minutes. 

Add whites of green onions to pan and cook for 1 min.

Pour over the eggs and cook over medium heat until almost completely set.

Sprinkle the ham and cheese over the eggs and cook until it is set in the center. Gently fold into omelet shape.

Plate and serve with chopped tomato and green onions on top.
DESCRIPTION
Using fewer egg yolks and more egg whites lowers the total saturated fat intake in this dish while increasing total protein intake. Add mushrooms or spinach for increased veggies and fiber!
Garlic Parmesan Potato Chips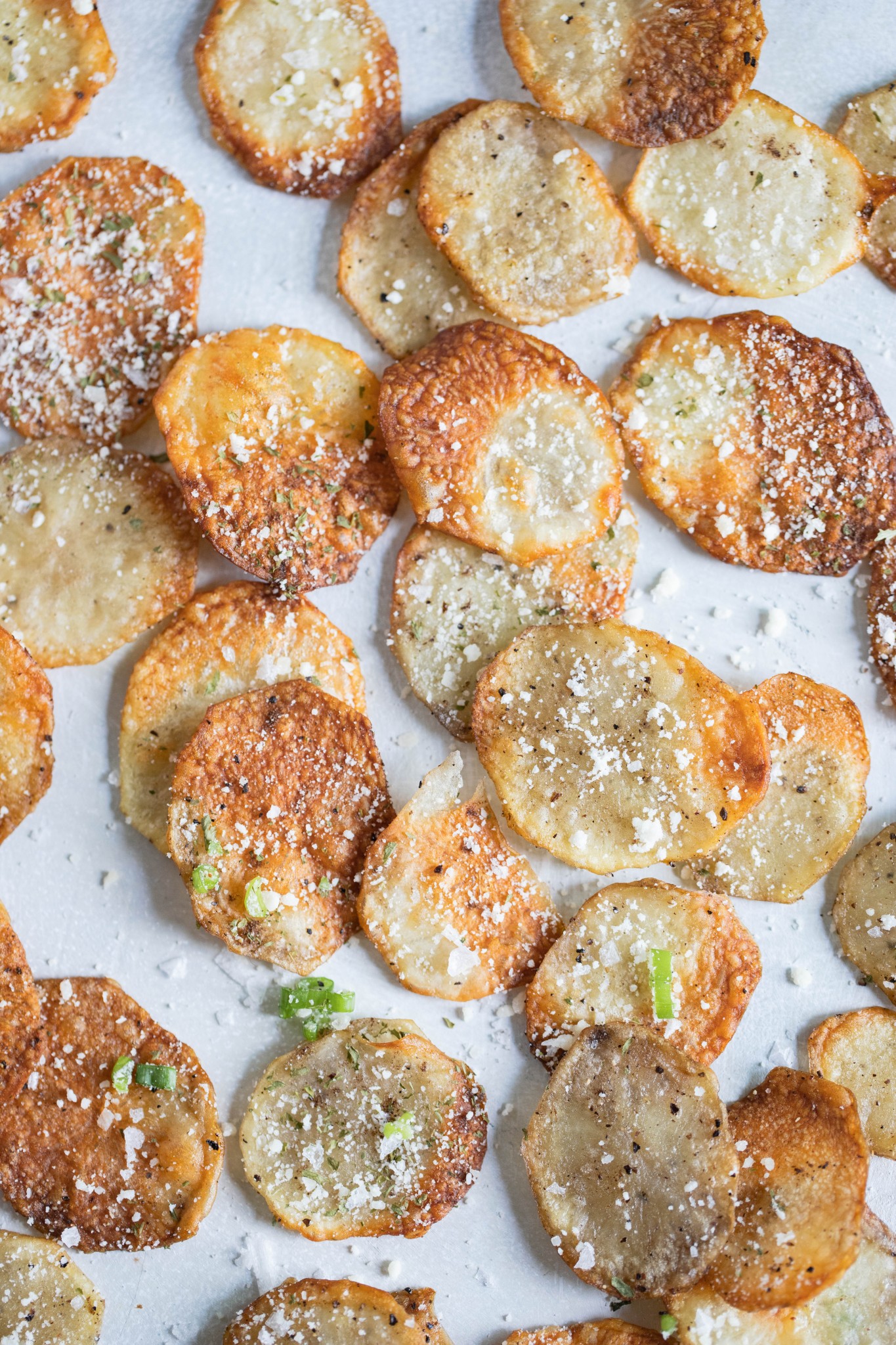 PREP TIME 5-10 minutes | COOKING 20 minutes | SERVES  2
NUTRITION 200-300 Calories | 5-10 g Fat | 18-20g Carbs | 3g Protein
INGREDIENTS
Russet potatoes

1 tbsp grated parmesan cheese

1 tsp garlic powder

1 tsp fresh parsley

1 tsp ground black pepper

1 tbsp olive oil
DIRECTIONS
Wash potatoes and slice into very thin slices.

Soak in ice water bath for 2-3 minutes.

Drain and dry potato slices.

Add garlic powder, parsley, pepper, and olive oil into a mixing bowl. Add dried potato slices and toss to evenly coat.

Air fry or bake chips at 325

°F for 20 minutes, tossing every 5-7 minutes.

Remove chips from the air fryer and top with parmesan cheese. Enjoy!
DESCRIPTION
Homemade potato chips are a great alternative to store bought brands! Differentiate the spices used to make various chip flavors.
Beef & Bulgar Stuffed Zucchini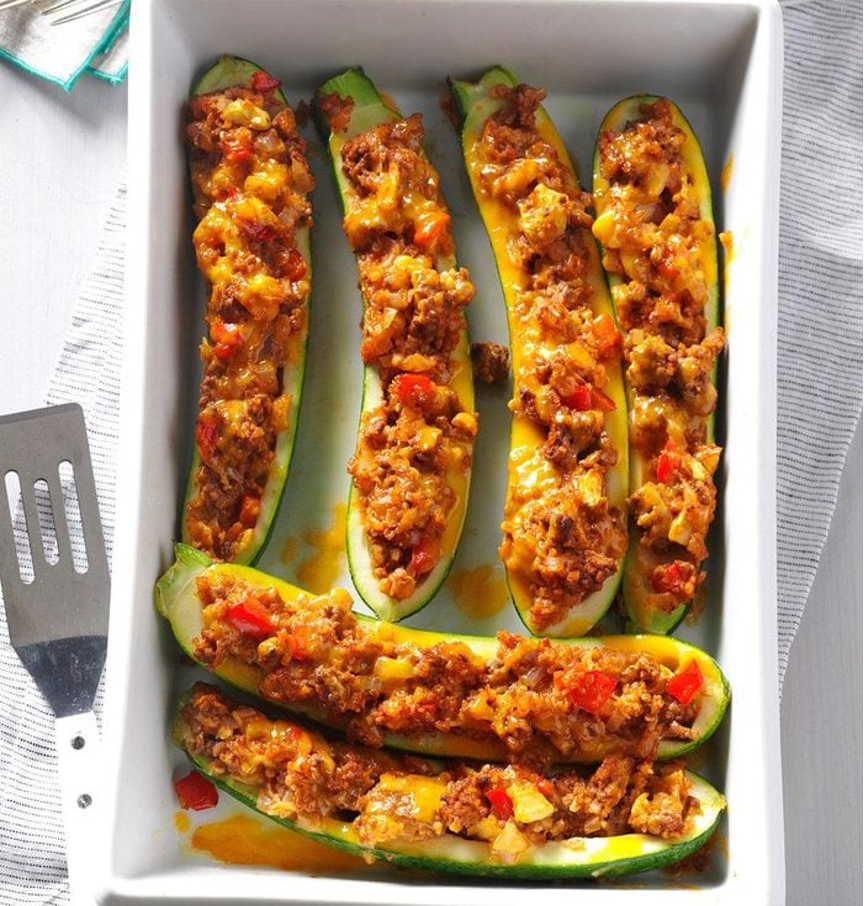 PREP TIME 30 minutes | COOKING 30 minutes | SERVES  4
NUTRITION (2 halves) 361 Calories | 13 g Fat | 31g Carbs | 32g Protein
INGREDIENTS
4 medium sized Zucchinis

1 pound lean ground beef

1 large onion

1 small sweet red pepper

1 ½ cups tomato sauce

½ cup bulgar

¼ tsp pepper

½ cup salsa

½ shredded reduced fat cheese
DIRECTIONS
Preheat oven to 350

°F

Cut Zucchinis in half lengthwise, scoop out flesh, leaving ¼ inch in shell. Chop up flesh.

Heat a large pan over medium heat and add ground beef, onion, and red pepper. Cook for 6-8 minutes or until beef is no longer pink. Break up the beef into crumbles and drain.

Stir in tomato sauce, bulgar, pepper, and zucchini flesh. Bring to a boil, reduce heat and simmer uncovered for 12-15 minutes or until bulgar is tender. Stir in salsa.

Spoon mixture into zucchini shells.

Place filled zucchini shells into a baking sheet lightly coated with cooking spray. Cover pan with foil and bake for 20 minutes.

After 20 minutes, sprinkle the stuffed shells with cheese and then bake uncovered for 10-15 minutes or until zucchini is tender.
DESCRIPTION
Zucchini contains essential antioxidants that assist your body in combating infection and disease. Zucchini season ends at the end of August!
Creamy Chicken Alfredo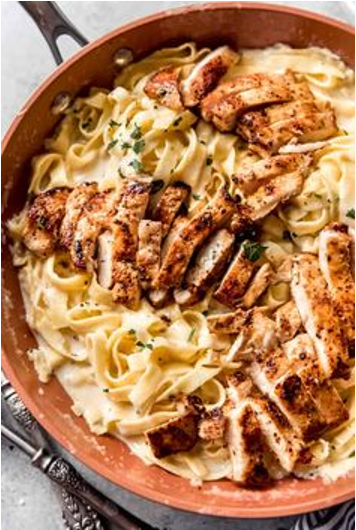 PREP TIME 15 minutes | COOKING 20-25 minutes | SERVES  2
NUTRITION 542 Calories | 12 g Fat | 47 g Carbs | 65 g Protein
INGREDIENTS
300g chicken breast cut in halves

1 tbsp garlic powder

1 tbsp Italian herbs

1 tbsp paprika

1 tsp onion powder

1 tsp salt & 1 tsp pepper

1-2 tsp olive oil

120g uncooked pasta

1 tsp salt

200 mL low fat milk

100g light cream cheese

20g parmesan or shredded mozzarella

1 tsp italian herbs

½ cup water

1 white onion, diced

2 cloves garlic, minced

1 tbsp parsley 
DIRECTIONS
Add water to halfway of medium sized pot, add salt, and bring to a boil.

Cook pasta for 8 minutes and then drain pasta water.

Season chicken with garlic powder, 1 tbsp Italian herbs, paprika, onion powder, salt, pepper, and olive oil. Spread evenly over chicken.

Pour low fat milk, light cream cheese, parmesan or mozzarella, 1 tsp Italian herbs, and ½ cup water into blender and blend until thick consistency.

Heat a medium size pan on medium heat and cook chicken for 5-7 minutes on each side. Set aside chicken. Add diced onions and garlic to pan.

Cook until fragrant then add sauce from blender and cook til it reaches a slight boil.

Mix pasta and chicken with the sauce.

Serve garnished with parsley and parmesan or mozzarella.
DESCRIPTION
Creating your own alfredo sauce ensures there are no added sugars in the sauce and is a fresher option! Use dairy free milk, cream cheese, and cheese if you're avoiding dairy.