Sweet Potato Kale Hash
PREP TIME 15 minutes | COOKING 20 minutes | SERVES  4
NUTRITION 419 Calories | 23 g Fat | 44 g Carbs |  9 g Protein
INGREDIENTS
8 slices of bacon, chopped

2 large (1 ½ lb) sweet potatoes peeled and diced into ½ inch cubes

1 small yellow onion, chopped (1 cup)

½ tsp ground cumin

½ tsp paprika

Pinch salt and pepper

1 medium bunch of kale (4 cups)

1 large avocado, diced

4 slices whole grain bread

4 fried eggs
DIRECTIONS
Heat pan over medium-high heat. Add chopped bacon to pan and cook until crisp. Set aside on a plate.

Add sweet potatoes and onions to pan. Add cumin, paprika, salt, and pepper to pan.

Cover and cook, tossing occasionally until sweet potatoes have softened.

Add kale and and cover. Cook until kale is wilted.

Toss in cooked bacon and avocado.

Serve with toast and fried egg.
DESCRIPTION
Sweet potatoes are high in fiber and antioxidants which promotes a healthy gut and brain. They are also rich in beta carotene which supports good vision and a healthy immune system.
Chicken, Cranberry & Pear Spinach Salad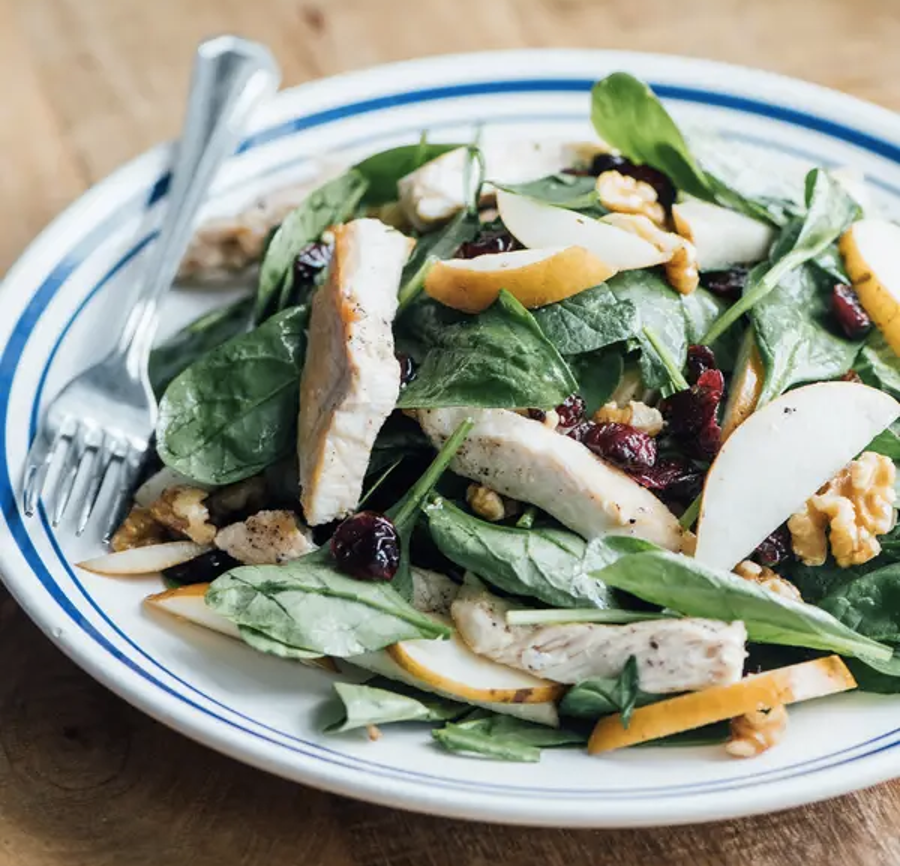 PREP TIME 15 minutes | COOKING 10 minutes | SERVES  1
NUTRITION 565 Calories | 35 g Fat | 37 g Carbs |  30 g Protein
INGREDIENTS
3 tbsp olive oil

2 tbsp apple cider vinegar

1 tsp honey

½ tsp dijon mustard

¼ tsp salt

Pinch of black pepper

1 boneless, skinless chicken breast, sliced into ½ inch pieces

½ tsp salt

¼ tsp pepper

¼ tsp paprika

1 tbsp olive oil

1 pear, sliced

2 cups baby spinach

1 tbsp dried cranberries

2 tbsp unsalted walnuts
DIRECTIONS
Mix olive oil, apple cider vinegar, honey, mustard, salt, and pepper to make vinaigrette.

Season sliced chicken with salt, pepper, and paprika.

Heat olive oil in medium pan over medium-high heat. Once oil shimmers, add chicken to pan and cook until brown on each side, about 4 minutes.

In a large bowl, add sliced pears, spinach, cranberries, walnuts, and cooked chicken and dress with vinaigrette.
DESCRIPTION
Spinach contains magnesium, calcium, and vitamin K which are essential for healthy bones. Spinach is also a vegetarian source of iron!
Spinach, Feta & Tzatziki Turkey Burgers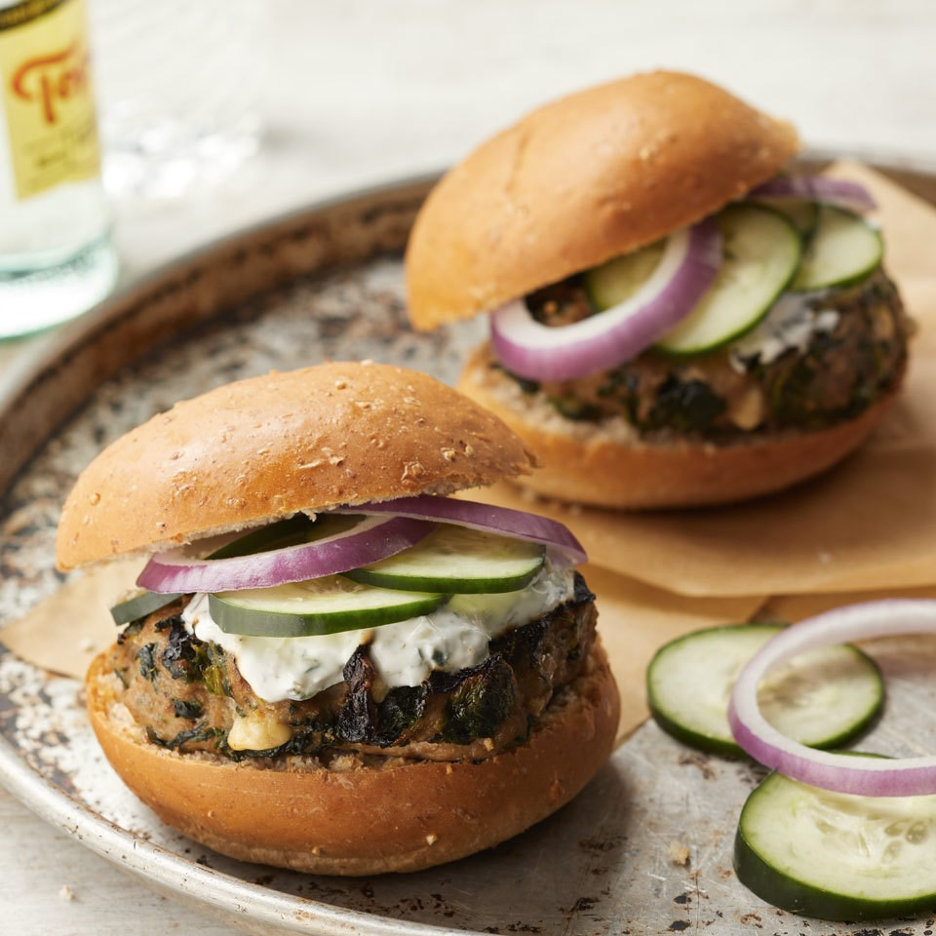 PREP TIME 15 minutes | COOKING 30 minutes | SERVES  4
NUTRITION (1 burger) 376 Calories | 17 g Fat | 29 g Carbs | 30 g Protein
INGREDIENTS
1 cup chopped spinach

1 lb 93% lean ground turkey

½ cup crumbled feta cheese

½ tsp garlic powder

½ tsp dried oregano

¼ tsp salt

¼ tsp black pepper

4 tbsp tzatziki

12 thin slices of cucumber

8 rings red onion
DIRECTIONS
In a medium mixing bowl combine spinach, turkey, feta, garlic powder, oregano, salt and pepper. 

Form into 4 inch patties.

Heat pan on medium-high heat.

Cook patties until cooked through and no pink is seen, about 4-6 minutes on each side.

Assemble burgers with or without buns and top each with 1 tbsp of tzatziki, 3 cucumber slices and 2 rings of red onion.
DESCRIPTION
Use a whole grain bun to make this delicious burger! Lean ground turkey makes the recipes lower in fat and higher in protein. Turkey is also a great source of magnesium and niacin.
Maple Cranberry Granola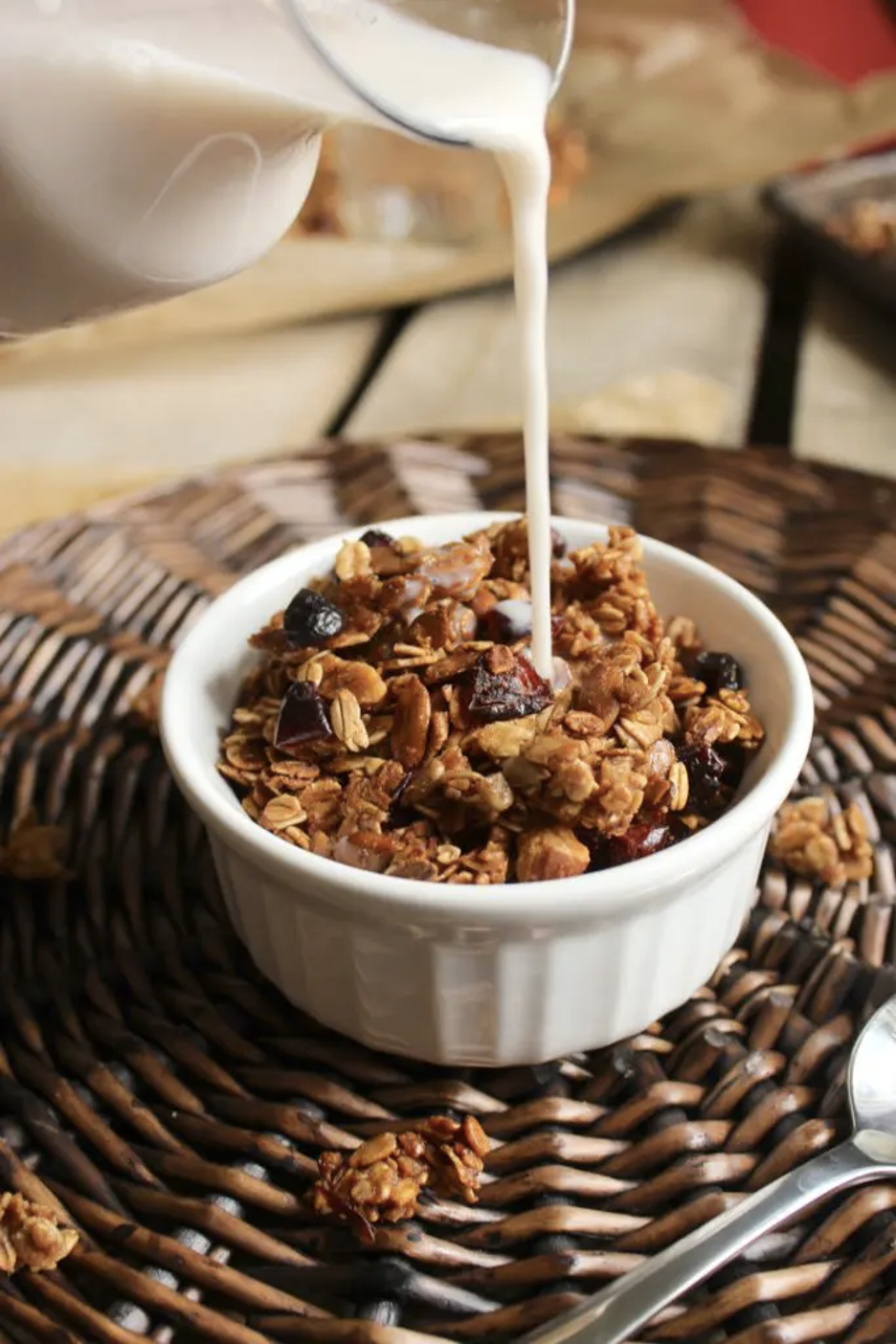 PREP TIME 20 minutes | COOKING 45 minutes | SERVES  4
NUTRITION (¾ cup) 262 Calories | 8 g Fat | 40 g Carbs | 7 g Protein
INGREDIENTS
2 cups rolled oats

1 cup dried cranberries

⅓ cup pumpkin seeds

¼ cup sunflower seeds dried and hulled

½ cup chopped, roasted, & salted almonds

⅓ cup maple syrup

½ cup packed brown sugar

½ cup coconut sugar

½ cup unsweetened cranberry juice

1 ½ tsp ground cinnamon

¼ tsp sea salt
DIRECTIONS
Preheat oven to 350

°

.

Place the sunflower and pumpkin seeds on a parchment paper lined pan and roast for 8 minutes.

Reduce oven temperature to 325

°

.

In a medium pot on medium-low heat add syrup, brown sugar, cinnamon, coconut sugar, & cranberry juice. Heat and stir constantly until sugar is completely dissolved then remove from heat.

In a large bowl, mix together oats, pumpkin seeds, sunflower seeds, almonds, & sea salt. Mix with a spoon (or with your hands) until combined.

Place mixture back onto the parchment lined baking sheet and spread out.

Bake for 20 minutes and then stir in cranberries.

Return to oven and bake for 30-35 minutes. Remove when slightly sticky still, it will crisp up as it cools.
DESCRIPTION
Sunflower seeds contain healthy fats that contribute to heart health and have been found to offer anti-inflammatory effects.