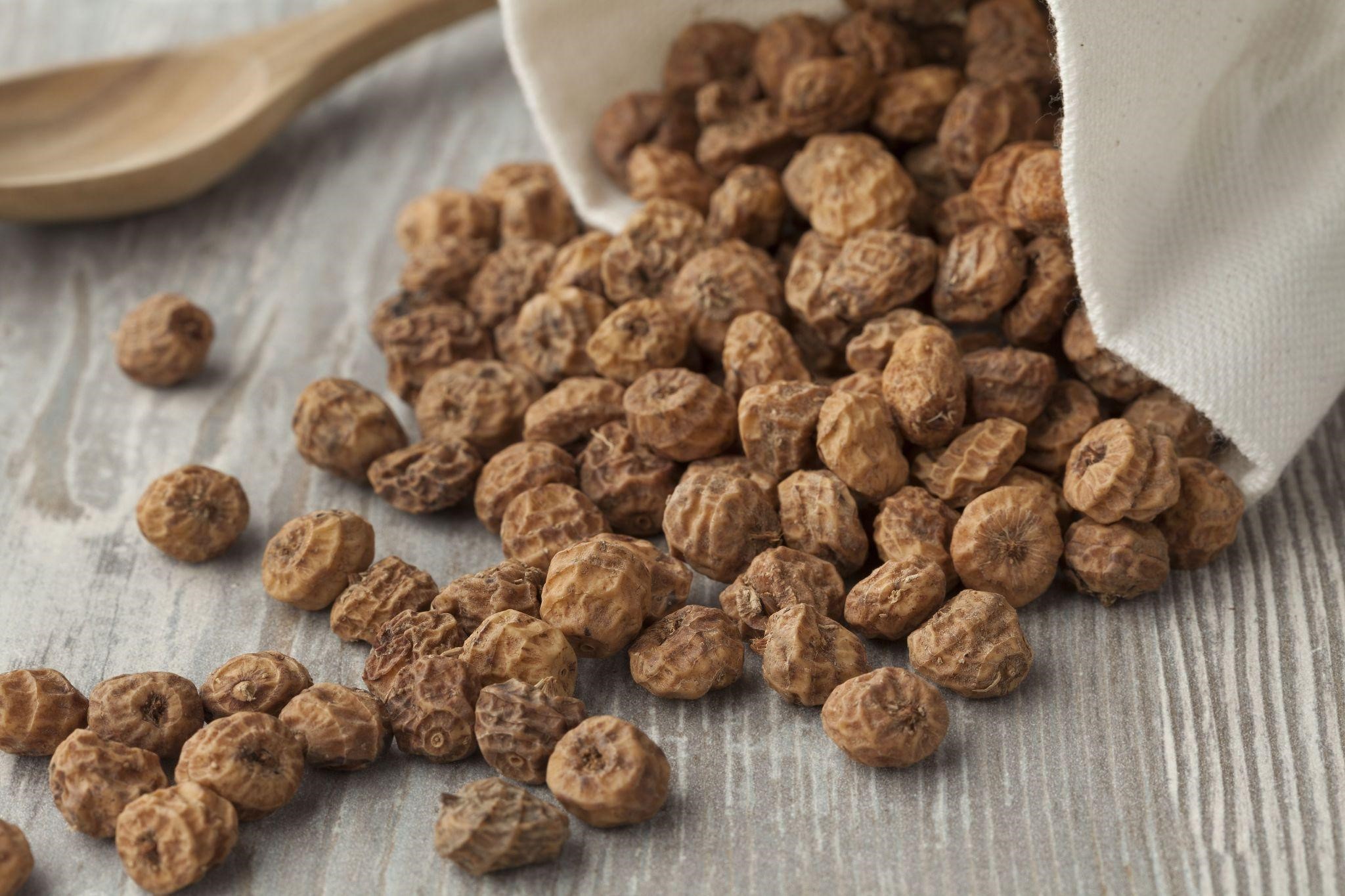 Tigernut Cereal
PREP TIME 5 minutes COOK TIME 30 minutes SERVES 1
NUTRITION
Calories 508 | 40 g Fat | 23 g Carbs | 11 g Fiber |22 g Protein
INGREDIENTS
● 1⁄4 cup Tiger Nut slices
● 1/8 cup unsalted pistachios
● 1/8 chopped pecans
● 1/8 teaspoon ground cardamom
● 1⁄2 cup coconut milk, chilled
● 1/2 scoop of protein powder (vanilla/chocolate)
DIRECTIONS
1. Combine tiger nuts, pistachios, pecans, cardamom, and protein powder in a bowl.
2. Pour chilled coconut milk on top.
3. Add a bit of honey, stevia or other sweetener if desired.
Goat Cheese Avocado Turkey Toast
PREP TIME 10 minutes SERVES 1
NUTRITION
481 Calories | 33 g Fat | 25 g Carbs | 8 g Fiber | 25 g Protein
INGREDIENTS
● 1⁄4 cup sautéed cherry tomatoes (sliced in half)
● 1 tablespoon olive oil
● 1⁄4 teaspoon ground black pepper
● 2 thin slices of turkey (low sodium, or roasted fresh)
● 1 slice of whole grain bread
● 1 tablespoon goat cheese
● 1/2 avocado, mashed (small avocado ; or 1/3 of medium avocado)
● 1⁄2 cup sprouts (alfalfa, broccoli or other type)
DIRECTIONS
1. Set a small skillet pan to medium heat. Add 1 tablespoon of oil.
2. Place halved cherry tomatoes in pan. Sautee: oil, tomatoes, and pepper together until tomatoes are tender. About 2-3 minutes. Add turkey to pan to heat if desired. Then, remove from heat.
3. Toast 1 piece of bread. Spread goat cheese on toast.
4. Top toast with mashed avocado, sautéed tomatoes, 2 slices of turkey (cold or heated) and top with sprouts of choice.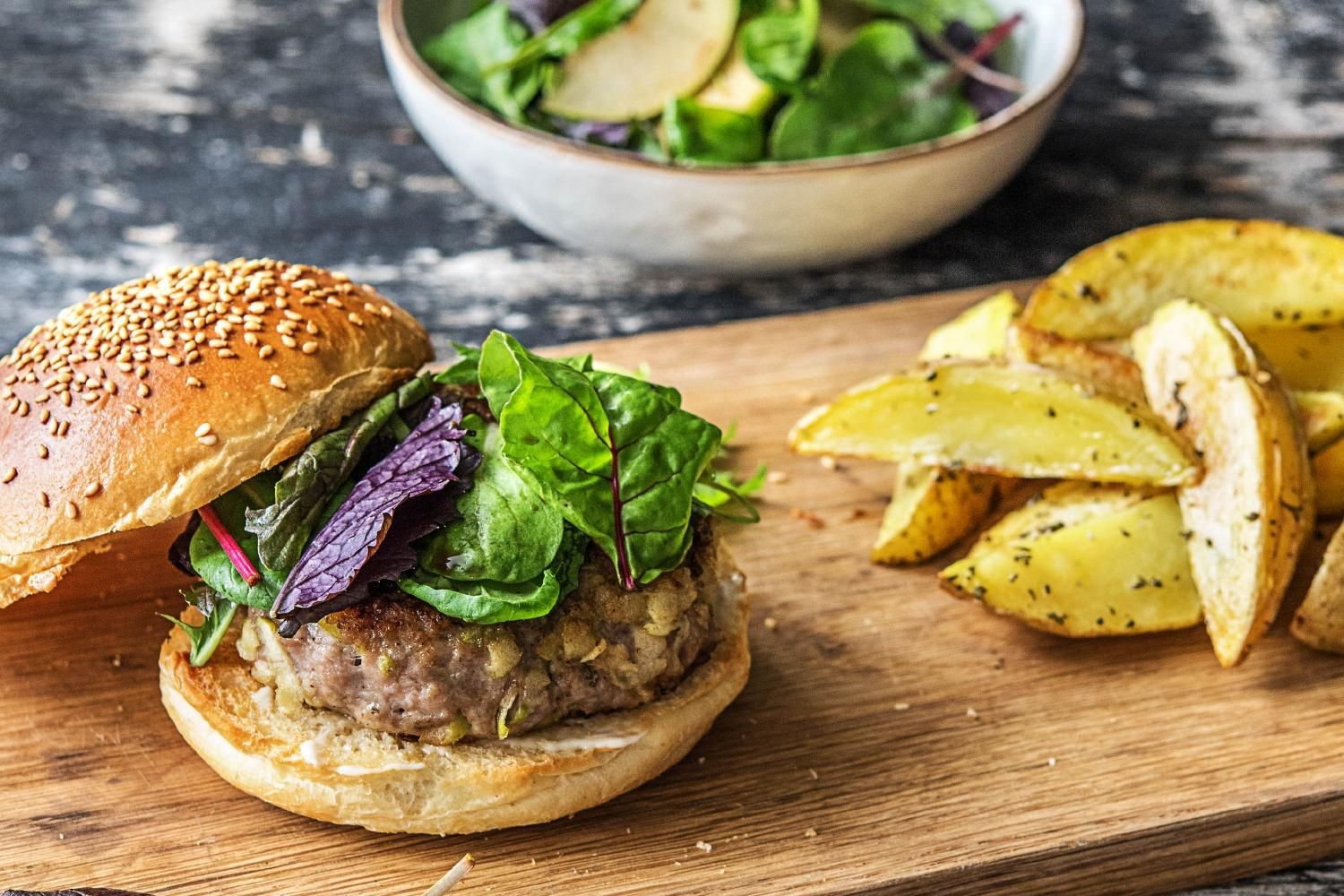 Apple Butter Pork Burger
PREP TIME 15 minutes COOK TIME 40 minutes SERVES 6
NUTRITION 580 Calories | 32 g Fat | 38 g Carbs | 36 g Protein
INGREDIENTS
● 1 acorn squash
● 1 teaspoon nutmeg
● 1 teaspoon ground black pepper
● 1 tablespoon olive oil
● 2 pounds reduced-fat ground pork
● 2 tablespoon apple butter
● 1⁄2 tablespoon chopped fresh sage
● 1⁄2 tablespoon + 1 teaspoon chopped fresh thyme
● 1⁄2 cup low-fat milk
● 6 whole wheat English muffins, toasted
● 2 cups fresh arugula
● 6 slices of smoked gouda cheese
INSTRUCTIONS
1. Preheat the oven to 400°F.
2. Halve and seed the squash and cut into large chunks. Season with pepper and nutmeg, drizzle with olive oil, and roast on a cookie sheet for about 30 minutes or until squash is tender.
3. In a mixing bowl combine the pork, apple butter, sage and 1⁄2 tablespoons of thyme, and season to taste. Mix together and form into 6 equal patties.
4. Once the squash has cooled enough to touch, spoon the squash from the skin and into a food processor.
5. Blend together the squash, milk, and 1 teaspoon of thyme until smooth.
6. Cook the burgers over a hot grill to desired doneness, flipping only once.
7. Assemble the burgers: layer the arugula onto the bottom of the English muffins, place the burger on top, and, add the cheese slices, and finish with a generous spread of the squash puree.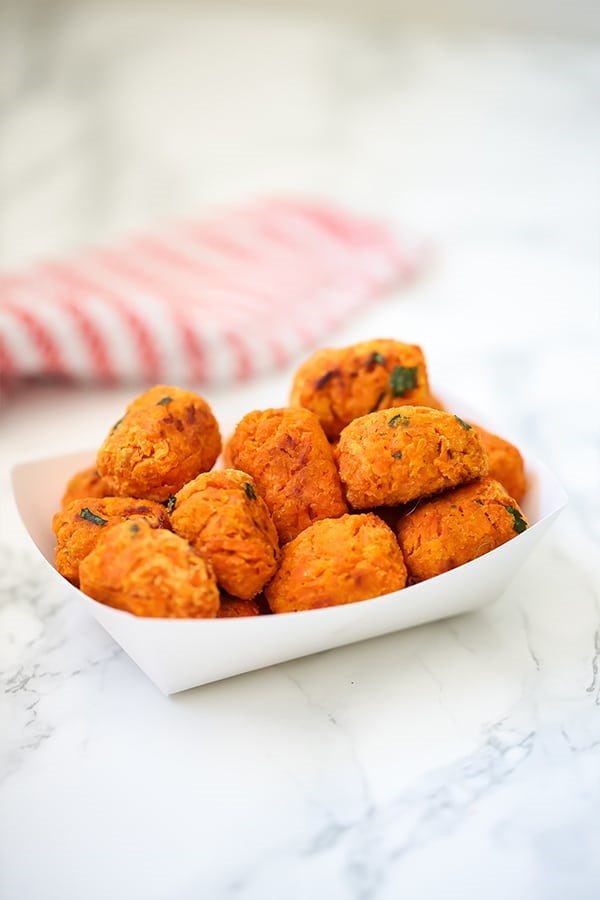 Sweet Potato Turmeric Puffs
PREP TIME 10 minutes SERVES 2
NUTRITION 221 Calories | 6 g Fat | 39 g Carbs | 4 g Protein
INGREDIENTS
● 1 1⁄2 sweet potatoes (washed, peeled, cubed)
● 1 1⁄2 potatoes (washed, peeled, cubed)
● 2 cloves of garlic (diced)
● 1 teaspoon fresh ginger (finely chopped or grated)
● 1 teaspoon ground turmeric
● Salt to taste
● 1 tablespoon oil
INSTRUCTIONS
1. Rinse and peel all potatoes. Cut into cubes and boil until easily pierced with a fork. Drain and let them rest without a lid.
2. Add oil to a pan on the stovetop, add garlic, fresh ginger and fresh turmeric. Let this sit for up to 1 minute then add potatoes and sweet potato.
3. Mash the potato mix in the pan, spread it out as well as you can.
4. Fry until crispy, then mix it up and allow it to get crispy again.
5. Repeat this step 4-5 times. Then form small patties or balls.
6. Brown the patties/balls on each side.
7. Add to a bowl of mixed leafy green. Or dip in Greek yogurt.