One of the most common questions I get from clients is what is the right post workout meal for me? Should I eat cereal and milk, chicken and broccoli or a protein bar? Should I eat right after my workout, within an hour or just wait until may next meal? To me, your post workout meal is one of the most important meals of the day. After a sweaty workout, our muscles are depleted of glycogen levels (stored glucose) and you are actually tearing down muscle fibers and sweating away electrolytes. It is essential that you replenish and restore these macro and micronutrients with the proper food sources and I personally feel like post workout smoothies are the best and easiest way to do this. With a smoothie, you are able to customized your exact meal – even down to the macros. In addition, many times after a workout you just aren't hungry to actually eat a full meal so drinking a protein shake helps to refuel with all the right nutrients. With a busy schedule, I find it especially helpful to put all of the ingredients together in my blender before my workout so that I can just add ice and blend after a grueling workout routine.
Throughout my fitness career I have been through many stages with different goals and varying needs. When I competed in body building and was close to competition, I needed a shake to help me get lean and reduce body fat. Fast forward and change gears to when I ran marathons, I needed a shake with quick recovery.  And finally, when I injured my back and had severely limited workouts, I lost a lot of weight and in turn needed a post-workout shake with more calories and nutrients to get me back to my fighting weight. Check out my top three favorite post-workout smoothies that helped fuel my system through the various stages of physical activity.
PB&J Smoothie
Ideal for endurance athletes; marathon runners, bikers, swimmer, triathletes, etc.
This shake offers the right amount of protein, natural carbohydrates and plant nutrient power to help replenish your muscles and energy levels quickly after a hard-earned workout.
Add in a few ice cubes and blend until smooth.
It's important to eat a diet rich in a variety of colorful fruits and veggies to get the broadest range of vitamins, minerals and naturally beneficial plant nutrients, like polyphenols. The Concord grape and 100% grape juice deliver purple polyphenols not found in many other colors of fruit. Purple is important since these fruits and vegetables can play a role in heart health and according to the Produce for Better Health Foundation, only 3% of Americans' produce intake is from the purple/blue category! Plus, Welch's 100% Grape Juice is an excellent source of the antioxidant vitamin C to help maintain a strong immune system to keep you healthy for your next big race. And, in addition to the years of science that says 100% grape juice can promote a healthy heart and healthy circulation, early research says that it may also help enhance exercise performance!
The Power Shake
Ideal for body builders, athletes looking to gain weight and those coming back from an injury.
1 cup Skim Milk
2 scoops Protein Powder, Vanilla
½ Banana
½ cup Oats, rolled, measured dry
1 tablespoon Nut Butter, natural
Add in a few ice cubes and blend until smooth.
With roughly 600 calories, this shake is for the athlete trying to gain weight and muscle mass. It offers the perfect macro blend of carbohydrates, protein and fat. Plus, the double scoop of protein powder and peanut butter make this protein-packed smoothie feel like you're eating a dessert!
The Lean Body Shake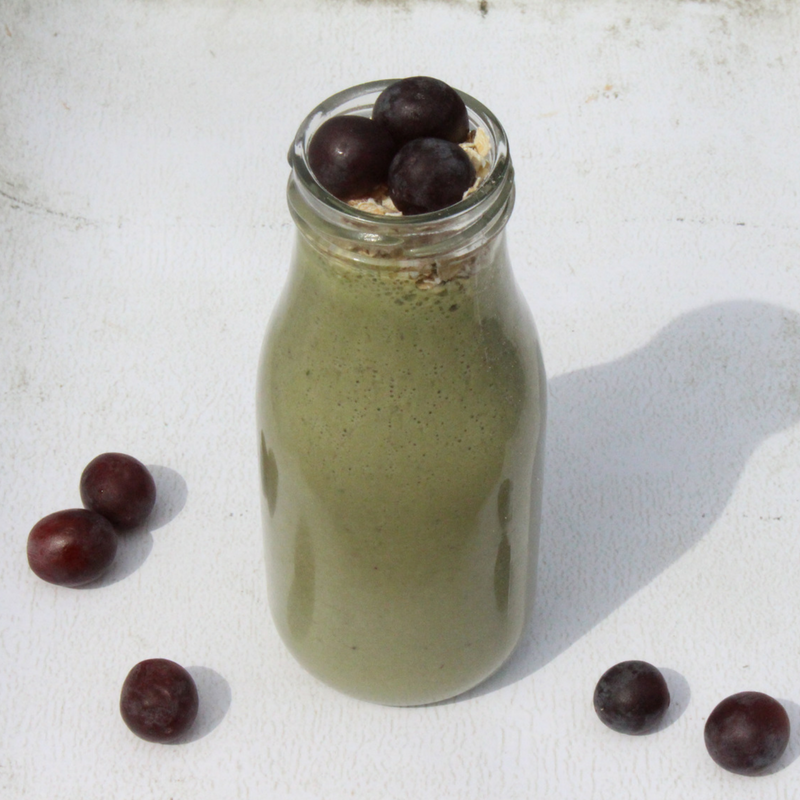 Ideal for the fitness enthusiast trying to increase lean muscle mass and lose body fat.
1 cup Almond Milk, unsweetened
¼ cup Oats, rolled, measured dry
½ cup Nonfat Greek Yogurt, plain
½ scoop Protein Powder, Vanilla
1 cup Kale OR Spinach, raw
½ cup Berries (blueberries, blackberries, raspberries, Concord grapes)
½ Banana
1 tablespoon Flax seeds OR Chia seeds, ground
(Optional) ¼ teaspoon Cinnamon
Add in a few ice cubes and blend until smooth.
This healthy-driven, low calorie smoothie is chock full of fruits, vegetables, essential fats, and complex carbohydrates. Plus, the added protein and fiber help with satiety which keeps you feeling fuller longer.
What are some of your favorite post-workout smoothies? If you try any of the above, take a picture and tag me on Instagram!
I have partnered with the Welch's to help promote 100% grape juice. I have been compensated for my time commitment. However, my opinions are entirely my own and I have not been paid to publish positive comments.