Blueberry Baked Oatmeal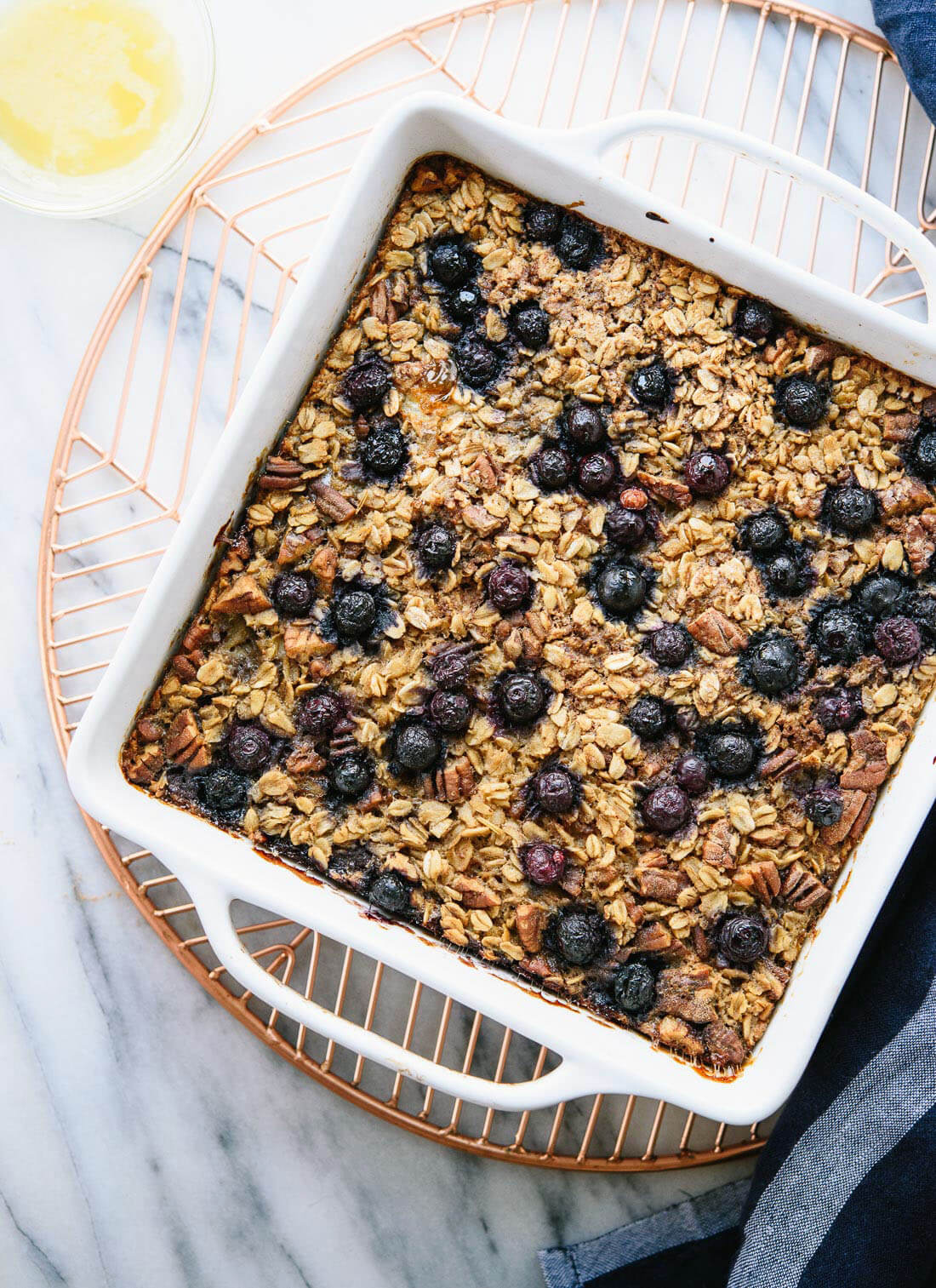 PREP TIME 10 minutes | COOK TIME 40 minutes | SERVES 8
NUTRITION 370 Calories | 14 g Fat | 55 g Carbs | 6 g Protein
INGREDIENTS
● 2⁄3 cup chopped pecans
● 2 cups old fashioned oats
● 2 teaspoons ground cinnamon
● 1 teaspoon baking powder
● 1⁄2 teaspoon salt
● 1⁄4 teaspoon ground nutmeg
● 1 3⁄4 cups milk of choice
● 1⁄3 cup maple syrup or honey
● 2 large eggs
● 3 tablespoons of melted unsalted butter, divided
● 2 teaspoons vanilla extract
● 12 ounces or 1 pint, fresh or frozen blueberries
● 2 teaspoons of raw sugar
DIRECTIONS
1. Preheat the oven to 375°. Pour the nuts on a rimmed baking sheet and toast for 4-5 minutes. Grease a 9 inch baking dish.
2. Combine oats, toasted nuts, cinnamon, baking powder, salt and nutmeg.
3. In a separate bowl combine milk, syrup or honey, egg, half of the butter and vanilla.
4. Reserve a 1⁄2 cup of berries for topping. Arrange the remainder at the bottom of the baking dish evenly. Cover with dry oat mixture, then drizzle wet ingredients on top. Wiggle the dish to make sure the milk moves down through the oats and pat the top to ensure there are no dry oats on top.
5. Bake for 42-45 minutes, then drizzle with remaining melted butter
Chicken Pasta Salad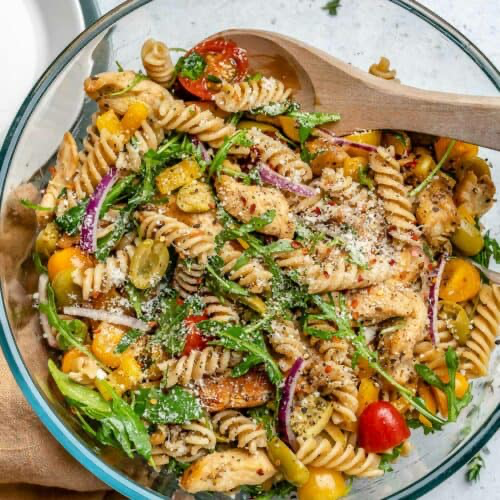 PREP TIME 15 minutes | COOK TIME 15 minutes | SERVES 6
NUTRITION 468 Calories | 20 g Fat | 45 g Carbs | 27 g Protein
INGREDIENTS
● 4 boneless skinless chicken breasts
● 1 1⁄2 tablespoons olive oil + 4 tablespoons for dressing
● 4 garlic cloves minced + 1 clove for dressing
● 2 tablespoons white wine vinegar for dressing
● 1 teaspoon honey for dressing
● A pinch of red pepper flakes for dressing
● Salt and pepper to taste
● 12 ounces dry whole grain penne or fusilli pasta
● 2 tablespoons each, chopped thyme and oregano
● 2 cups cherry tomatoes, halved
● 1 yellow bell pepper, thinly sliced
● 1⁄2 cup of green olives, sliced in half
● 1 medium red onion, thickly sliced
● 1⁄3 cup ground parmesan cheese
● 3 cups packed arugula, roughly chopped
DIRECTIONS
1. In a small bowl, combine all dressing ingredients and whisk until well combined.
2. Meanwhile, cook the pasta in a pot of boiling salted water, according to package instructions. Drain, rinse with cold water, place in a large bowl and set aside.
3. While the pasta is cooking, prepare the chicken. Slice the chicken breasts crosswise to create long strips.
4. In a mixing bowl combine 1 tablespoon of olive oil with the thyme, oregano, 4 cloves of minced garlic and a pinch of salt and pepper. Add the chicken and stir to coat.
5. Heat a large nonstick pan over medium heat, cook chicken for 6-8 minutes or until cooked through.
6. Transfer the chicken to the pasta bowl, add the onion, pepper, tomatoes, olives, parmesan and arugula. Pour over the dressing and toss to combine. Season with salt and pepper if necessary.
Baja Fish Tacos with Mango Salsa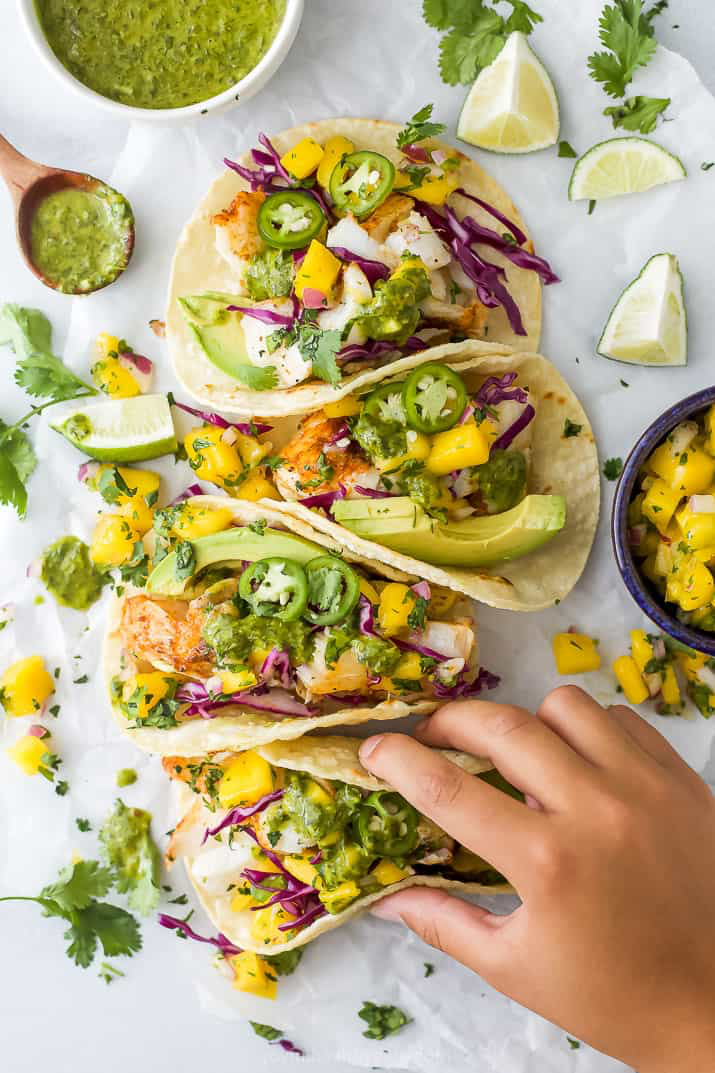 PREP TIME 20 minutes | COOK TIME 15 minutes | SERVES 4
NUTRITION 337 Calories | 8 g Fat | 45 g Carbs | 29 g Protein
INGREDIENTS
Mango salsa
● 2 large mangos, peeled, pitted and chopped
● 2 green onions, sliced
● 1⁄4 cup minced red bell pepper
● 1 tablespoon chopped fresh cilantro
● 1 tablespoon fresh lime juice
● 1 small jalapeno pepper, stem, seeds and membrane removed
Tacos
● 1 lb. of cod filets, rinsed and patted dry
● 1⁄2 teaspoon cumin
● 1⁄2 teaspoon garlic salt
● 2 cups shredded green or purple cabbage
● 1 teaspoon chili powder
● 1⁄2 teaspoon Mexican oregano
● 8 corn tortillas, warmed
● 1⁄2 cup crumbled cotija cheese or shredded Monterey jack
DIRECTIONS
1. Preheat the oven to 425°.
2. Stir together mango, bell peppers, onions, lime juice, cilantro and jalapeno in a medium bowl, set aside.
3. Place cod on 2 large sheets of parchment paper, stir together dry seasonings in a small bowl and sprinkle over cod.
4. Bring edges of parchment paper together and fold twice, folding ends under to enclose fish. Place on a baking sheet and bake for 15-18 minutes.
5. Place equal amounts of cod in each tortilla and top with cabbage, cheese and mango salsa.
Kiwi Sorbet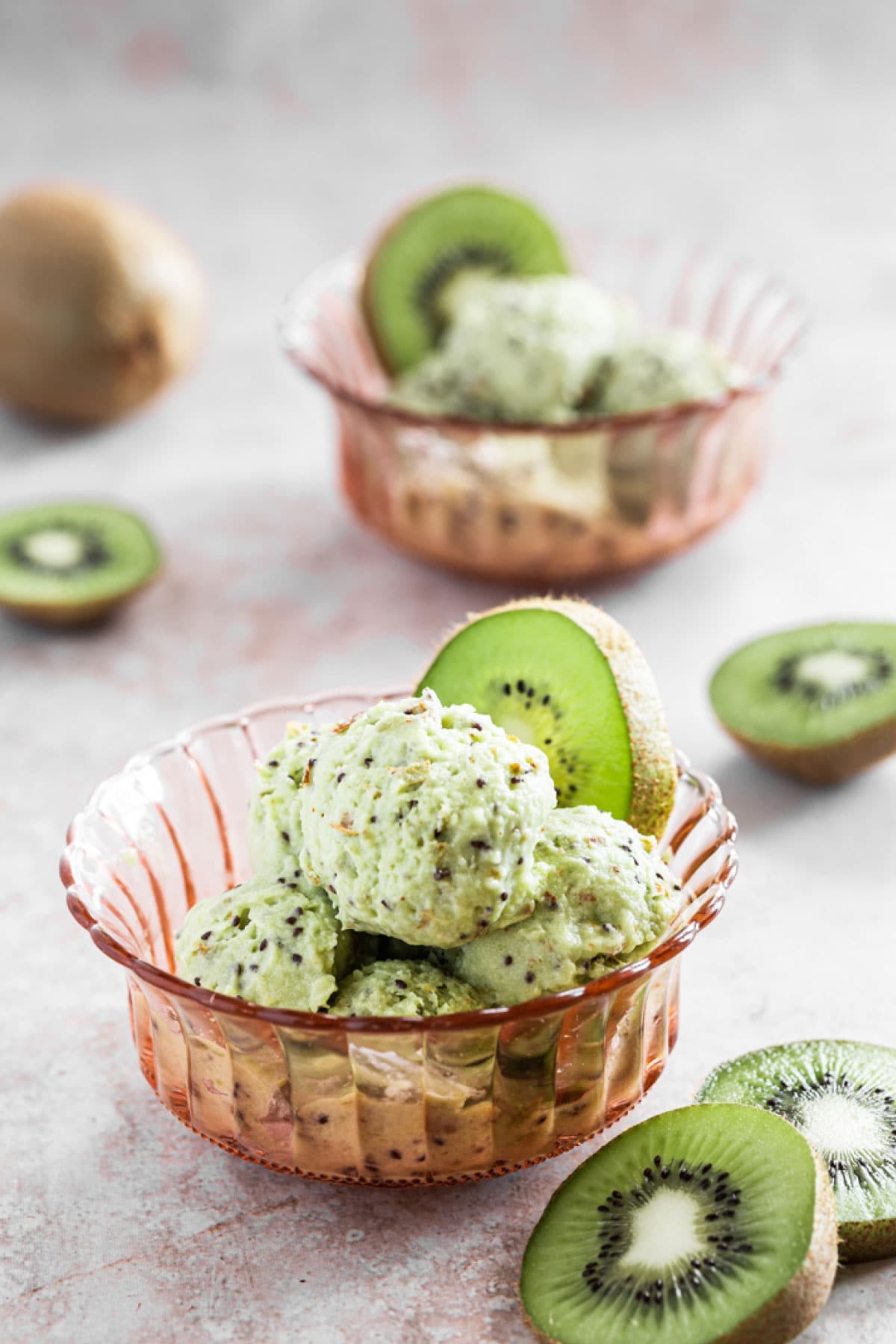 PREP TIME 10 minutes | COOK TIME 6 hours | SERVES 8
NUTRITION 107 Calories | 1 g Fat | 27 g Carbs | 2 g Protein
INGREDIENTS
● 7 ripe kiwis
● 3 ripe bananas
DIRECTIONS
1. Slice kiwis in half and scoop out the flesh with a tablespoon. Peel and slice bananas. Place kiwis and bananas in an airtight container overnight, or for at least 4 hours.
2. Take the fruit out of the freezer and when it starts to soften (about 5-10 minutes), place it in a blender and pulse 6-8 times until the mixture is smooth but the kiwi seeds are still intact.
3. Pour the sorbet into a loaf tin and place it in the freezer for about 30 minutes, until set.
4. When ready to eat, serve in bowls or ice cream cones.