Spinach & Mushroom Quiche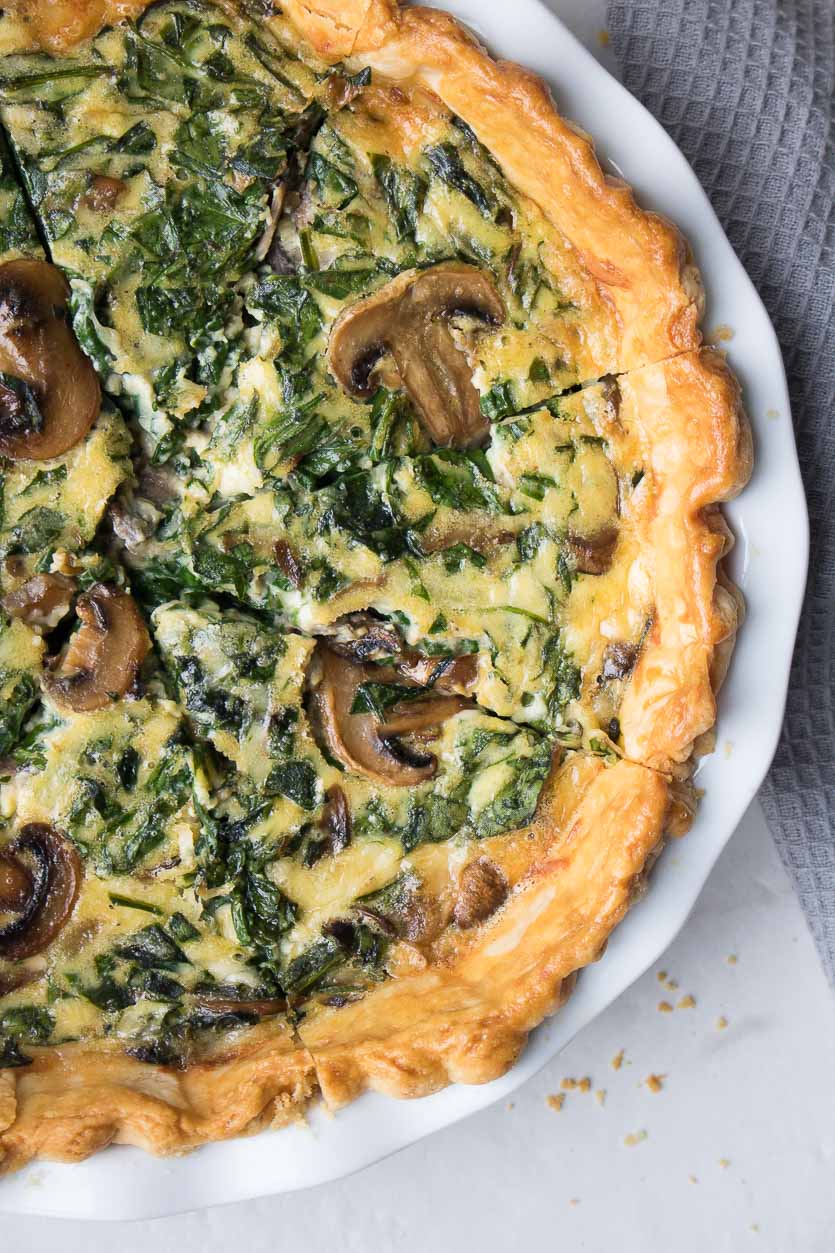 PREP TIME 25 minutes | COOKING 65 minutes | SERVES  6
NUTRITION 277 Calories | 20 g Fat | 7 g Carbs | 17 g Protein
INGREDIENTS
2 tbsp extra virgin olive oil

8 oz fresh mixed wild mushrooms (cremini, shiitake, button, and/or oyster), sliced

1 ½ cups thinly sliced sweet onion

1 tbsp thinly sliced garlic

5 oz baby spinach (about 8 cups), coarsely chopped

6 large eggs

¼ cup whole milk

¼ cup half and half

1 tbsp Dijon mustard

1 tbsp thyme leaves

¼ tsp salt

¼ tsp ground pepper

1 ½ cups shredded Gruyere cheese
DIRECTIONS
Preheat oven to 375

°.

Coat a 9 inch pie pan with cooking spray and set aside.

Heat oil in a large nonstick skillet over medium-high heat, swirl to coat pan. Add mushrooms and cook, stirring occasionally, until browned and tender, about 8 minutes. Add onions and garlic and cook, stirring often, until softened and tender, about 5 minutes. Add spinach and cook, tossing constantly, until wilted, 1 to 2 minutes. Remove from heat.

Whisk eggs, milk, half and half, mustard, thyme, salt and pepper in a medium bowl. Fold in the mushroom mixture and cheese. Spoon into the prepared pie pan. Bake until set and golden brown, about 30 minutes. Let stand for 10 minutes. Slice into 6 even slices. Serve garnished with thyme. Enjoy!
DESCRIPTION
Quiche can easily be enjoyed as leftovers. Cover and refrigerate for up to 5 days. Cover and reheat at 350° for 30 to 45 minutes.
Creamy Pesto & Kale Pasta
PREP TIME 10 minutes | COOKING 25 minutes | SERVES  4
NUTRITION 428 Calories | 13 g Fat | 55 g Carbs | 17 g Protein
INGREDIENTS
1 tbsp rapeseed oil

2 red onions, thinly sliced

300 g kale

300 g whole-grain pasta (penne works well with this dish)

4 tbsp reduced fat cream cheese

4 tbsp pesto
DIRECTIONS
Heat oil in a large pan over medium heat. Add onions and fry for 10 minutes or until softened and beginning to caramelize. 

Add kale and 100mL water. Cover and cook for 5 minutes or until the kale has wilted.

Cook the pasta following the directions on the packaging. Drain but save a little of the water to the side.

Toss the pasta with the onions, soft cheese, pesto and add a splash of the pasta's cooking water if the mixture is too thick. Enjoy!
DESCRIPTION
Switching from enriched or refined grains to whole grain pasta helps to improve your digestive health, helps to lower your risk of heart disease, stroke, and obesity. They also provide more vitamins that are essential for your body's functions.
Italian Borlotti Bean & Farro Soup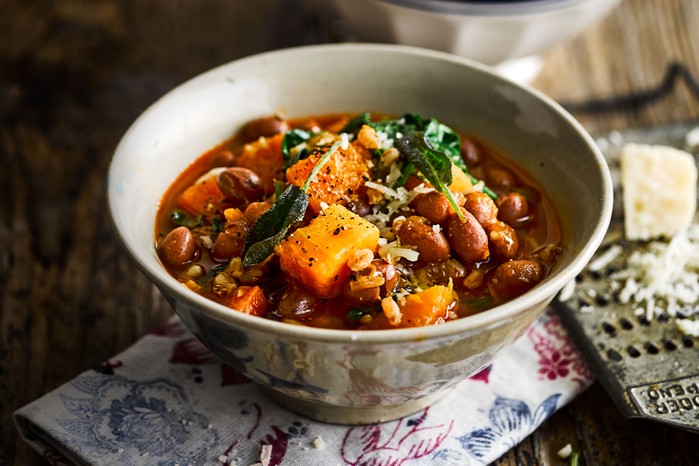 PREP TIME 15 minutes | COOKING 35 minutes | SERVES  6
NUTRITION 258 Calories | 11 g Fat | 21 g Carbs | 15 g Protein
INGREDIENTS
4 tbsp extra virgin olive oil

1 onion, finely chopped

1 celery stick, cut into chunks

750g squash, peeled, deseeded and cut into small chunks

1 carrot, peeled and cut into chunks

3 garlic cloves, minced

3 tbsp tomato puree

1.2L vegetable stock

75g farro

50g parmesan rinds

400g can borlotti beans, drained

2 handfuls baby spinach

2 tbsp chopped parsley
DIRECTIONS
Heat the oil in a heavy-bottomed saucepan over low-medium heat. Add the onion, celery, pumpkin, squash, and carrot and cook until the vegetables soften. Add a splash of water then cover the pan and let the vegetables cook over very low heat for 5 minutes.

Add the garlic and cook for 1 minute then add the tomato puree, vegetable stock, farro, and parmesan rinds. Simmer for 15 minutes or until the farro has cooked. Add the beans for the final 5 minutes and add the spinach for the final 2 minutes.

Remove the parmesan rinds and serve topped with parsley. Enjoy!
DESCRIPTION
Squash contains antioxidants which help to decrease the build up of harmful free radicals in your body which can lead to cell damage and disease development. 
Apple Crumble Protein Muffins
PREP TIME 15 minutes | COOKING 30 minutes | SERVES  12
NUTRITION 158 Calories | 5 g Fat | 18 g Carbs |  11 g Protein
INGREDIENTS
Muffins:
1 1/3 cup fine oat flour 

1 cup protein powder

½ cup pure maple syrup

2 tsp ground cinnamon

2 tsp baking powder

1/2 tsp salt 

1 cup apple, grated

1 cup unsweetened applesauce

6 tbsp egg white
Crumble:
1/2 cup old-fashioned rolled oats

1/2 cup apple, chopped

2 tbsp. Unsalted butter

1 tbsp. Pure maple syrup

1/2 tsp. ground cinnamon
DIRECTIONS
Preheat oven to 350 degrees

Whisk together dry ingredients for muffins

Add wet ingredients and mix 

Coat nonstick muffin pan with cooking spray

Divide batter between wells evenly 

Combine crumble ingredients in a small bowl and spoon over top muffins

Bake for 25-35 minutes 

Let muffins cool for 10-15 minutes
DESCRIPTION
Apples are high in water, fiber, and antioxidants. Eating apples can help stabilize blood sugar, lower cholesterol, reduce blood pressure, ease inflammation, and boost your gut microbiome. Overall, apples are a nutrient dense snack to help satisfy your hunger longer.