Spicy Roasted Turkey
PREP TIME 20 minutes | COOK TIME 45 minutes | SERVES 4
NUTRITION 455 Calories | 14 g Fat | 45 g Carbs | 34 g Protein
INGREDIENTS
● 3 tablespoons olive oil
● 1⁄2 of a butternut squash, seeded, peeled and cut into large pieces
● 3 sweet potatoes, washed and cut into large pieces
● 7 oz baby carrots, with tops trimmed and larger ones halved lengthwise
● 1 small cauliflower, cut into large florets
● 1 lb. boneless skinless turkey breasts, cut into 1⁄2 inch thick slices
● Salt and pepper optional
● Spice blend: 2 tablespoons sesame seeds, 2 tablespoons sunflower seeds, 2 teaspoons mild paprika, 1 teaspoon crushed coriander seeds, 1 teaspoon crushed fennel seeds, 1 teaspoon cumin
DIRECTIONS
1. Preheat the oven to 400°. Mix spice blend together and season with salt and pepper if using.
2. Pour the oil into a large roasting pan, then heat in the oven for 1 minute. Put the squash, sweet potatoes and carrots in the roasting pan and toss in the hot oil. Roast for 15 minutes.
3. Add the cauliflower to the roasting pan and turn all the vegetables so they are coated in oil. Push them to the edge of the pan and add the turkey to the center of the pan in a single layer.
4. Sprinkle the spice blend over the turkey and vegetables, then turn the vegetables so they are evenly coated. Roast for 20-25 minutes or until the vegetables are tender and the turkey is golden brown, cooked through, with juices that run clear. Serve immediately.
Avocado & Quinoa Wrap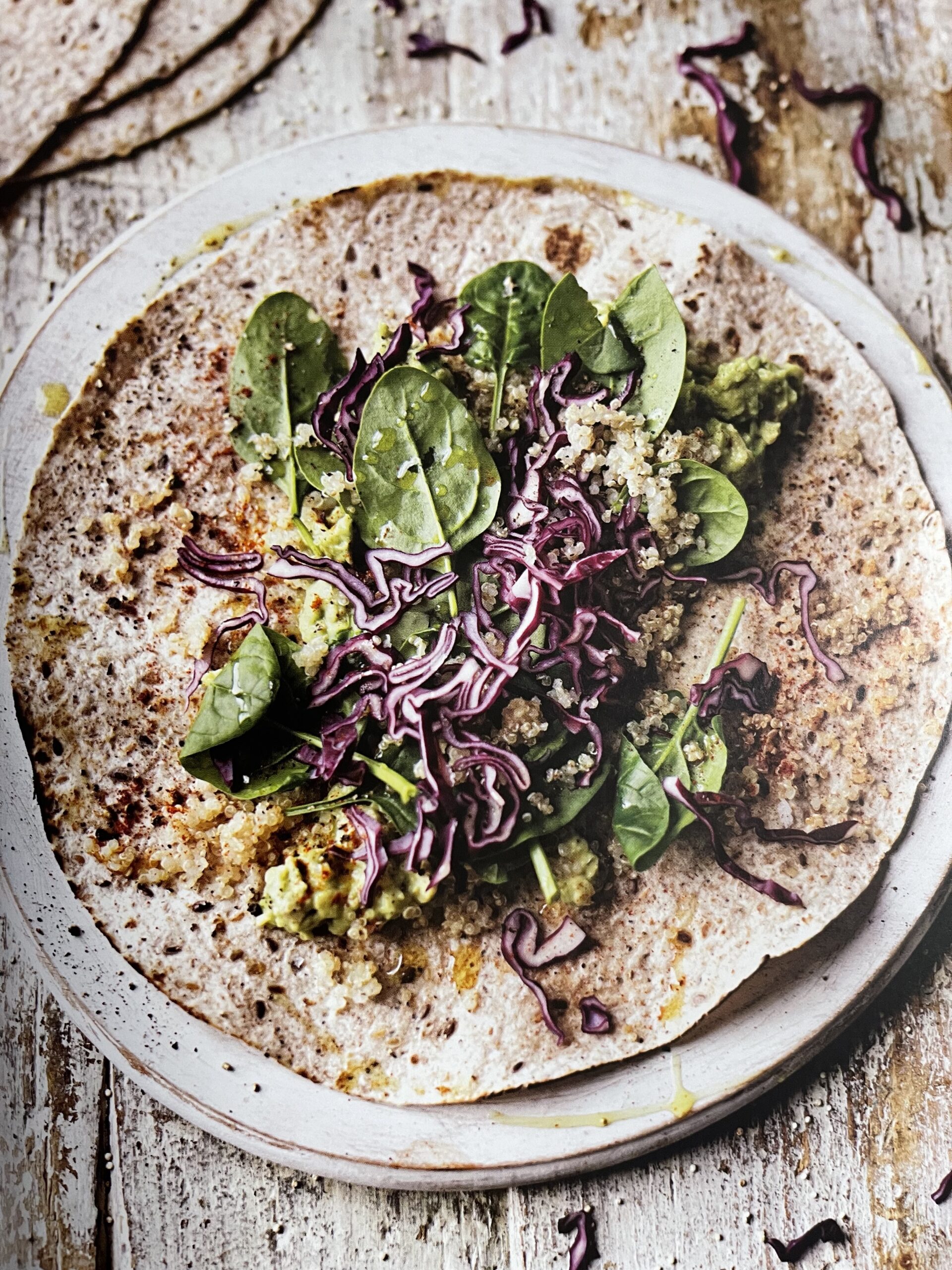 PREP TIME 20 minutes | COOK TIME 15 minutes | SERVES 4
NUTRITION 385 Calories | 12 g Fat | 56 g Carbs | 12 g Protein
INGREDIENTS
● 1 cup quinoa, rinsed
● 1 2⁄3 cup vegan broth
● 1 large, ripe avocado, peeled and pitted
● 1⁄2 teaspoon smoked paprika
● 2 garlic cloves, crushed
● Grated zest and juice of 1 lemon
● 4 vegan whole wheat tortillas
● 1 3⁄4 cup baby spinach
● 2 cups finely sliced red cabbage
● Salt and pepper to taste
DIRECTIONS
1. Put the quinoa and vegan broth in a small saucepan and simmer, covered, for 15-18 minutes, or until the broth has been absorbed. Set aside to cool.
2. Meanwhile gently mash the avocado with the paprika, crushed garlic, lemon zest, and just enough lemon juice to make a thick consistency.
3. Spread the mashed avocado down the center of each wrap and then top with the warm quinoa, spinach and red cabbage. Season with salt and pepper. Tuck in the ends and tightly fold or roll into a wrap and serve.
Mini Whole Wheat Protein Pancakes
PREP TIME 15 minutes | COOK TIME 15 minutes | SERVES 4 (3 mini pancakes per serving)
NUTRITION 270 Calories | 13 g Fat | 21 g Carbs | 17 g Protein
(nutrition is calculated without additional toppings)
INGREDIENTS
● 5⁄8 cup whole wheat flour
● 2 scoops vanilla protein powder
● 1⁄4 teaspoon salt
● 1⁄2 teaspoon cinnamon
● 2 teaspoons double acting baking powder
● 2 eggs
● 1 cup whole milk
● 2 tablespoons vegetable oil
● Additional topping options: cooked pears, blueberries, honey, whipped cream, cinnamon, chopped pecans
DIRECTIONS
1. Set a medium sized skillet to medium-low heat.
2. In a large mixing bowl whisk together flour, protein powder, salt, cinnamon and baking powder. In a separate bowl, slightly whisk the eggs until yolks are broken.
3. Slowly pour milk into egg mixture while whisking, then slowly whisk the entire egg mixture into the dry ingredients (do not over mix, small clumps are okay.)
4. Let the batter sit for 15 minutes to allow it to "fluff up" and spray the skillet with cooking spray.
5. Ladle 1⁄4 cup of mixture into skillet, when bubbles start to form (about 2 minutes), flip the pancakes and cook to desired doneness (about 2 more minutes).
6. Transfer pancakes to a baking sheet and keep warm in the oven while you make additional pancakes.
Zucchini Loaf Cake with Cream Cheese Frosting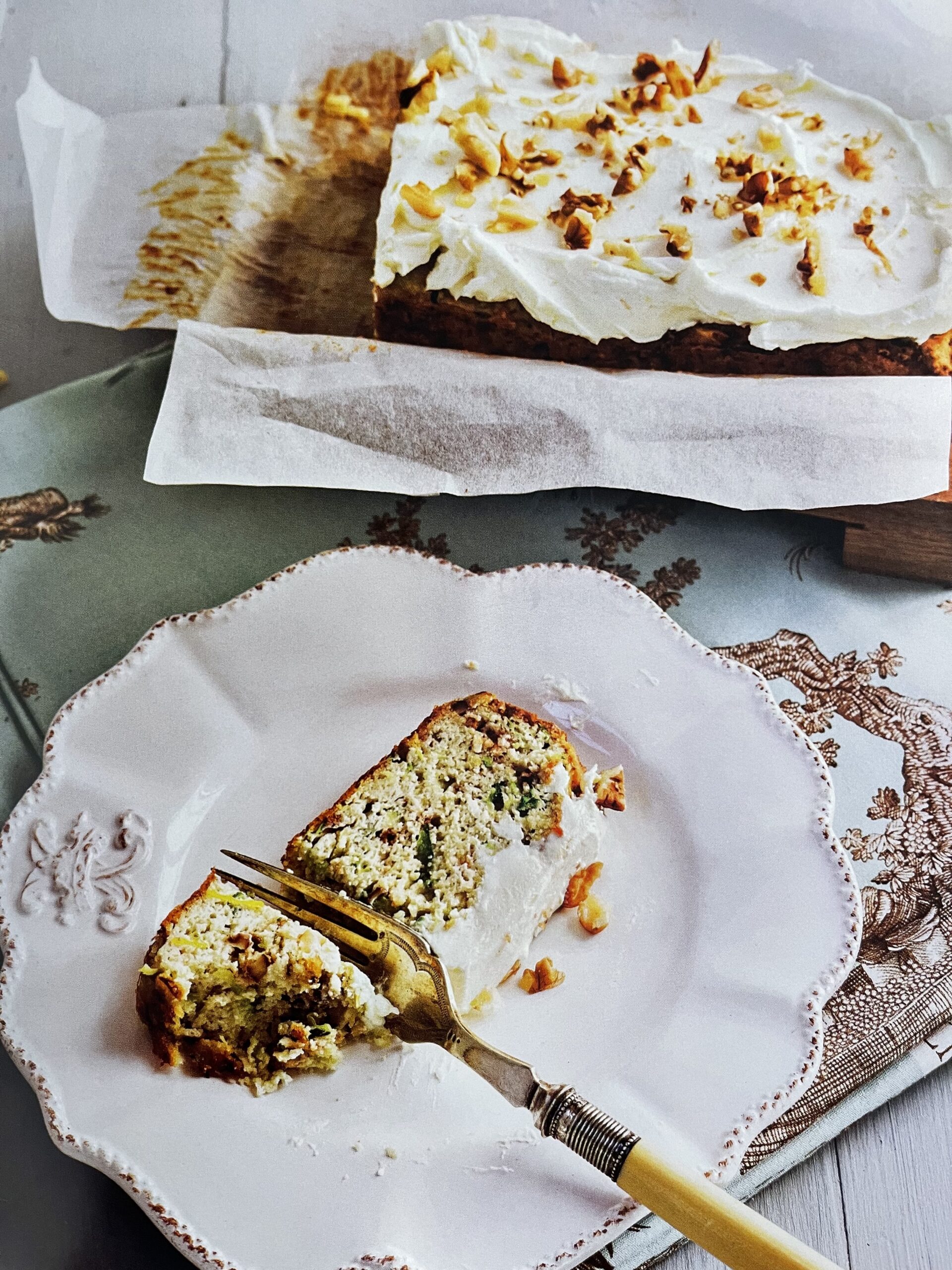 PREP TIME 25 minutes | COOK TIME 1 hour | SERVES 10
NUTRITION 237 Calories | 21 g Fat | 5 g Carbs | 7 g Protein
INGREDIENTS
● 1 3⁄4 cup ground almonds (almost meal)
● 1⁄2 teaspoon baking powder
● 1⁄2 teaspoon baking soda
● 3 tablespoons stevia
● 1⁄3 cup chopped walnuts
● 4 tablespoons salted butter
● 2 extra large eggs, beaten
● 1 teaspoon vanilla extract
● 2 cups shredded zucchini
● Frosting: 1 cup cream cheese, 1 tablespoon stevia, finely grated zest and juice of 1⁄4 lemon
DIRECTIONS
1. Preheat the oven to 325°. Line a loaf pan with parchment paper.
2. Put the ground almonds, baking powder, baking soda, stevia and half the walnuts in a large bowl and stir well.
3. Melt the butter in a small saucepan over medium-low heat. Pour it onto the dry ingredients. Add the eggs, vanilla and zucchini and mix well.
4. Spoon The batter into the prepared pan and spread into an even layer. Bake for 55-60 minutes or until a toothpick comes out clean when inserted into the center. Let cool for 15 minutes then remove from the pan, peel off the parchment paper and transfer to a wire rack.
5. To make the frosting whisk cream cheese and stevia in a large bowl until light and airy. Add the lemon zest and juice, and whisk again briefly. Spread the frosting over the top of the cake with a spatula. Decorate with walnuts and serve.