Super foods are all the rage right now, but why? In the latest Really, Truly Fit Podcast, Jim and Jess welcome special guest, Manuel Villacorta, who will break down why superfoods really are super! Manuel is a nationally recognized, award-winning registered dietitian with more than 16 years of experience as a nutritionist. He is the founder of Eating Free, an international weight management and wellness program, and one of the leading weight loss and nutrition experts in the country. He is the author of Eating Free: The Carb-Friendly Way to Lose Inches, Embrace Your Hunger, and Keep the Weight off for Good and Peruvian Power Foods: 18 Superfoods, 101 Recipes, and Anti-aging Secrets from the Amazon to the Andes and his latest diet and cookbook, Whole Body Reboot: The Peruvian Super Foods Diet to Detoxify, Energize, and Supercharge Fat Loss. He's the real deal. And he's from Peru! (if you didn't already guess that from his book titles.)
Which leads me into the super country, Peru! Jim and I had the honor of visiting this beautiful country back in February and while he was bogged down with conference meetings, I was able to explore the city of Lima with a few of the other wives that tagged along. We flew in to Lima late in the evening and the next day's meetings didn't kick-off until the evening so we had the pleasure of meeting up with Manuel and a few others and he took us to Panchita, a famous restaurant of world-renowned celebrity chef, Gaston Acurio. I'm not one to venture on food, but I really had no choice when in Peru and boy was I glad I did. If you have the opportunity to visit Lima, put this restaurant on your list to visit, you won't be disappointed.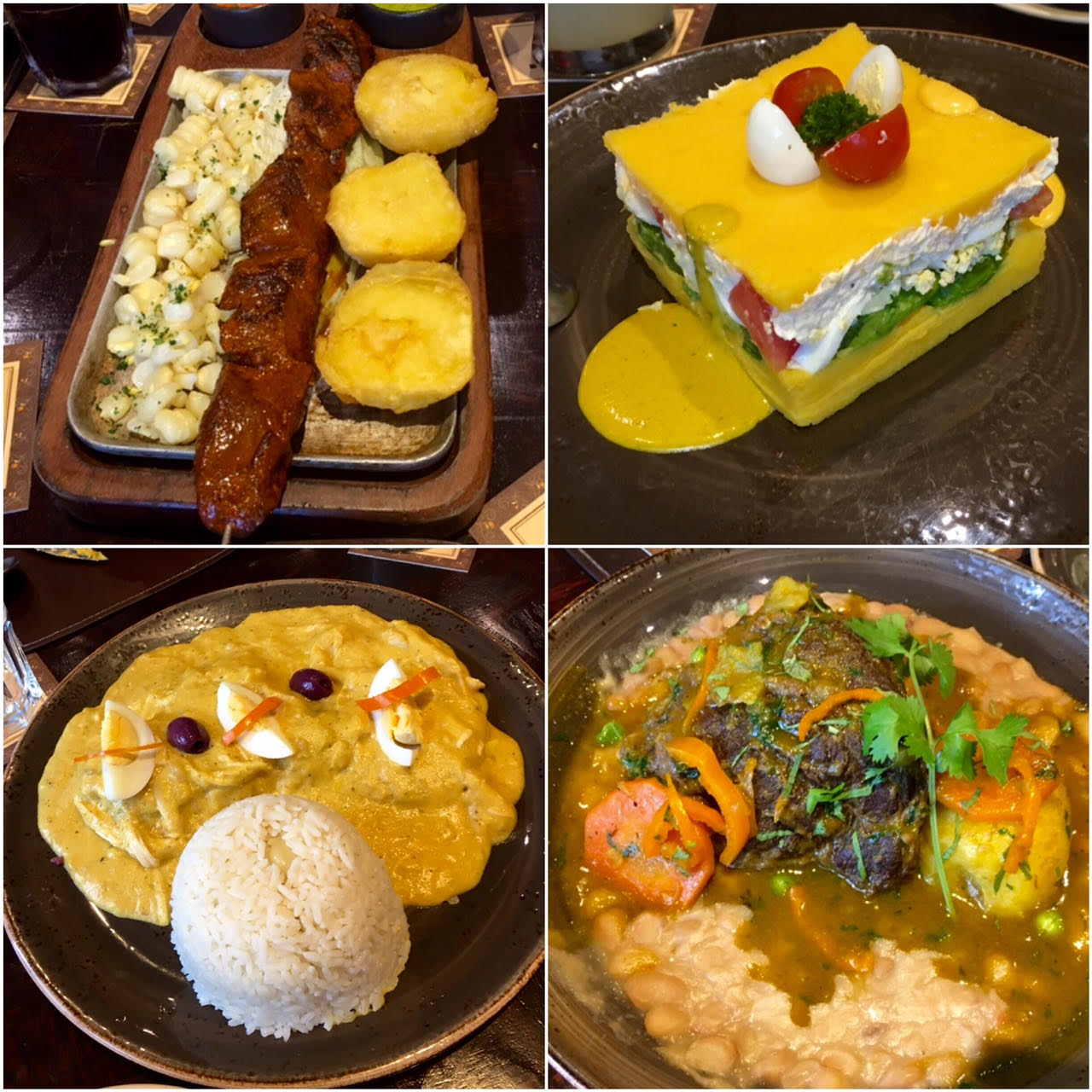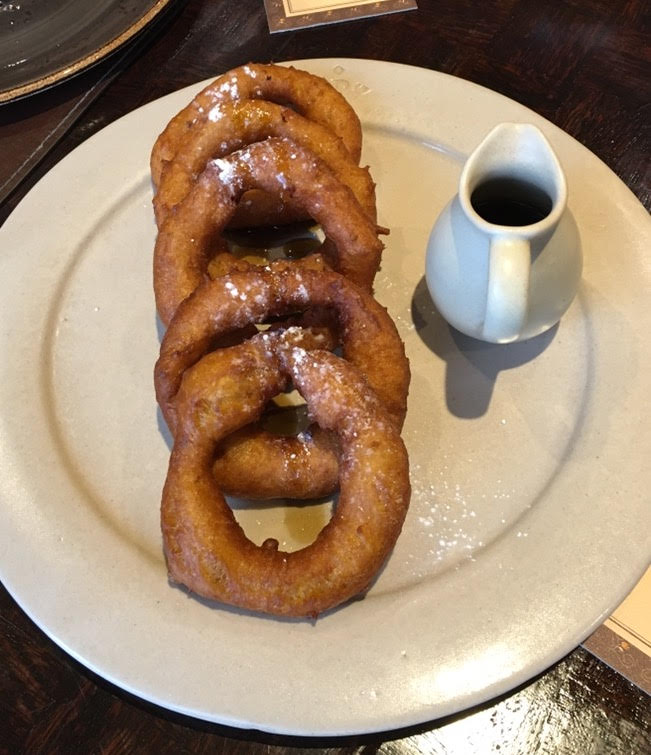 We decided to have Manuel pick a handful of his favorite Peruvian dishes and we all shared. I can't recall what each of these were called, or maybe I just didn't understand Spanish as well as I thought, but one thing I do remember is BEEF HEART. Yeah, I ate beef heart. And I liked it. I don't even know who I am anymore. But every dish we had was SO GOOD. Every. single. one. And I am still dreaming about that dessert.
We also had a drink called chica morada which is made of purple corn! Just like the waitstaff bring out a glass of water when you're seated here in the states, they would bring out this iced purple drink – it was really good and so refreshing!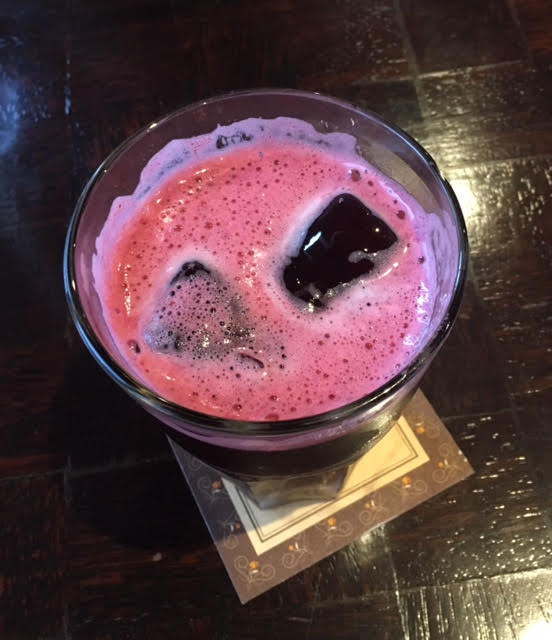 Super food, super company.  These were just a handful of the 50+ leading Dietitian's in the country coming in for this annual conference, Food 3000, and are chosen based on their strengths and accomplishments in the food and nutrition industry…and then there's me. So while they were in meetings day and night expanding their knowledge to bring back to the US and share with others, I was sipping on pisco sours and eating my way through Lima. It's called balance, folks, and I fully embrace it with both arms open.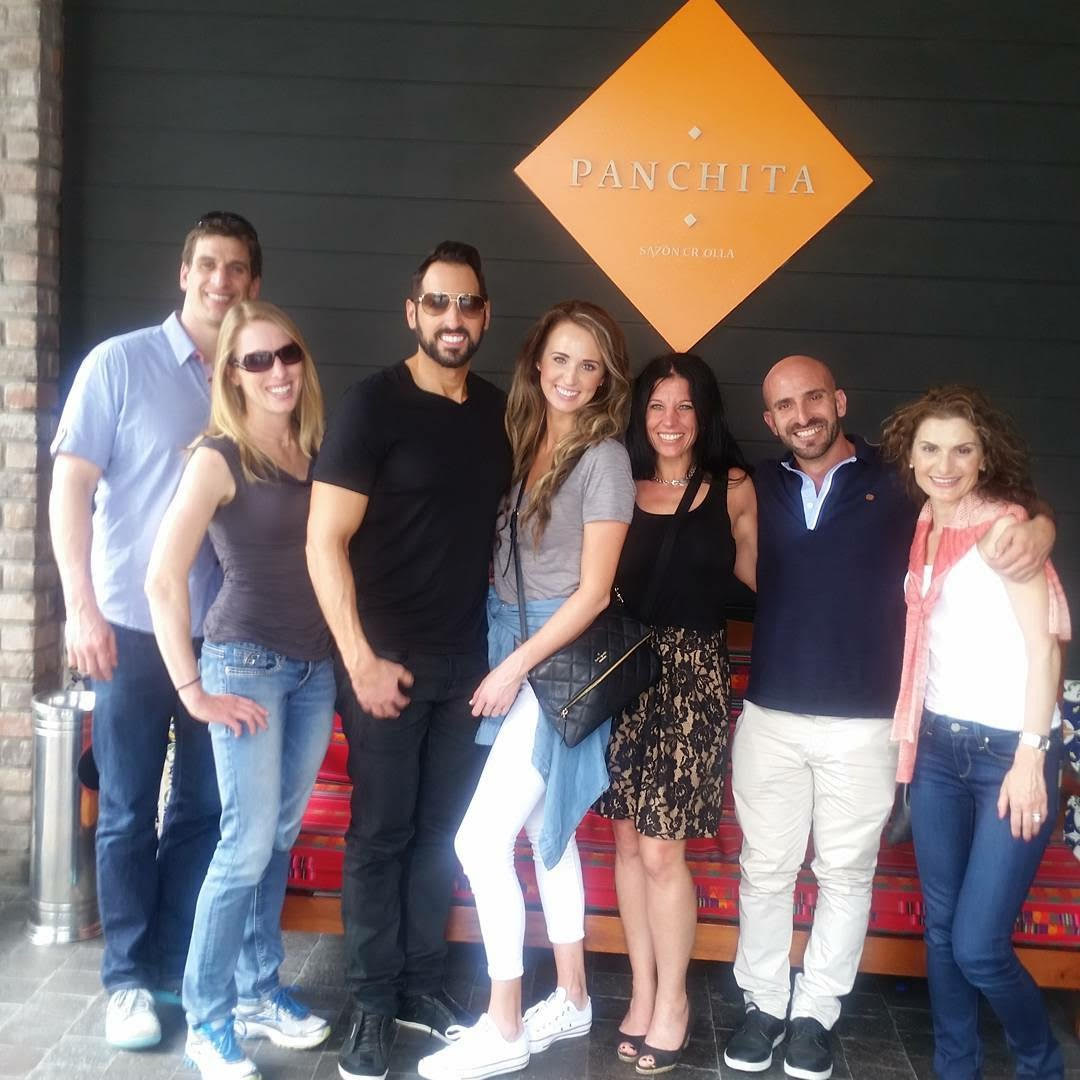 But yes, let's talk about those pisco sours. I am pretty sure I grew hair on my chest within the first few sips but man were they something good. Lemon juice, egg white, pisco and simple syrup…it's pretty much good to drink for breakfast, lunch and dinner since it has egg whites, am I right? Well don't judge me if I did, I was on vacation. (re: balance)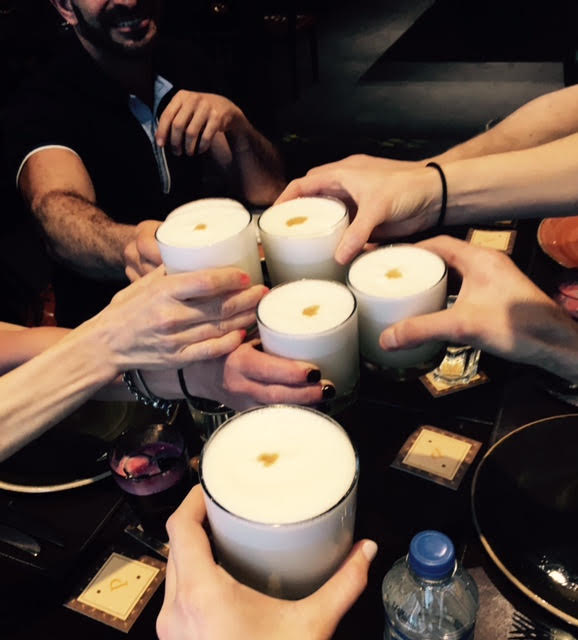 Whatever the case, Manuel did good with Panchita and totally set the tone for the entire trip in Peru. And then he took us to the beach in Miraflores. Class act,  I tell ya.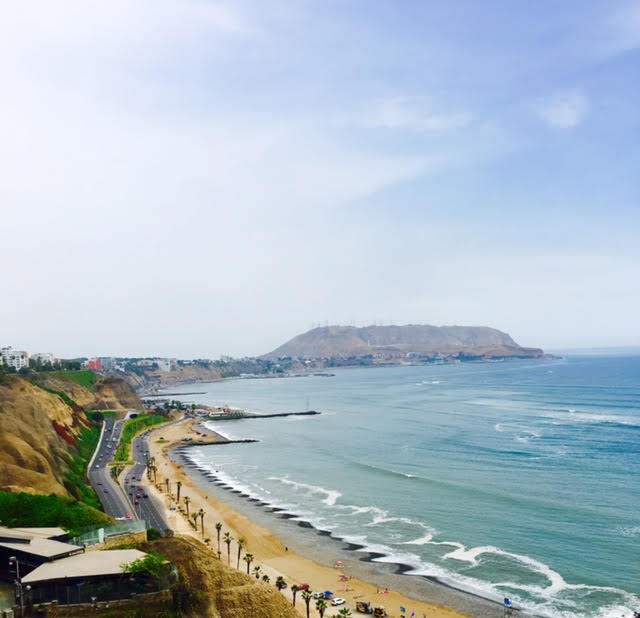 So while everyone else had to leave and go be adults, I met up with another wife and we spent the next few days taking Lima by foot (and Uber, which is a whole 'nother story for a rainy day) and explored.
We took a gourmet food tour and got to see how Peruvian coffee was made and do a tasting. Then we made our way to the cutest little eatery where we tried a lucuma smoothie – so good and very rich! From there, we went to a local market. We were able to taste test over 30 different Peruvian fruits and vegetables…piccu berry, lucuma, pitahaya and the lists goes on. It was so fun and such a cool experience to see how much of the area does their fresh foods shopping.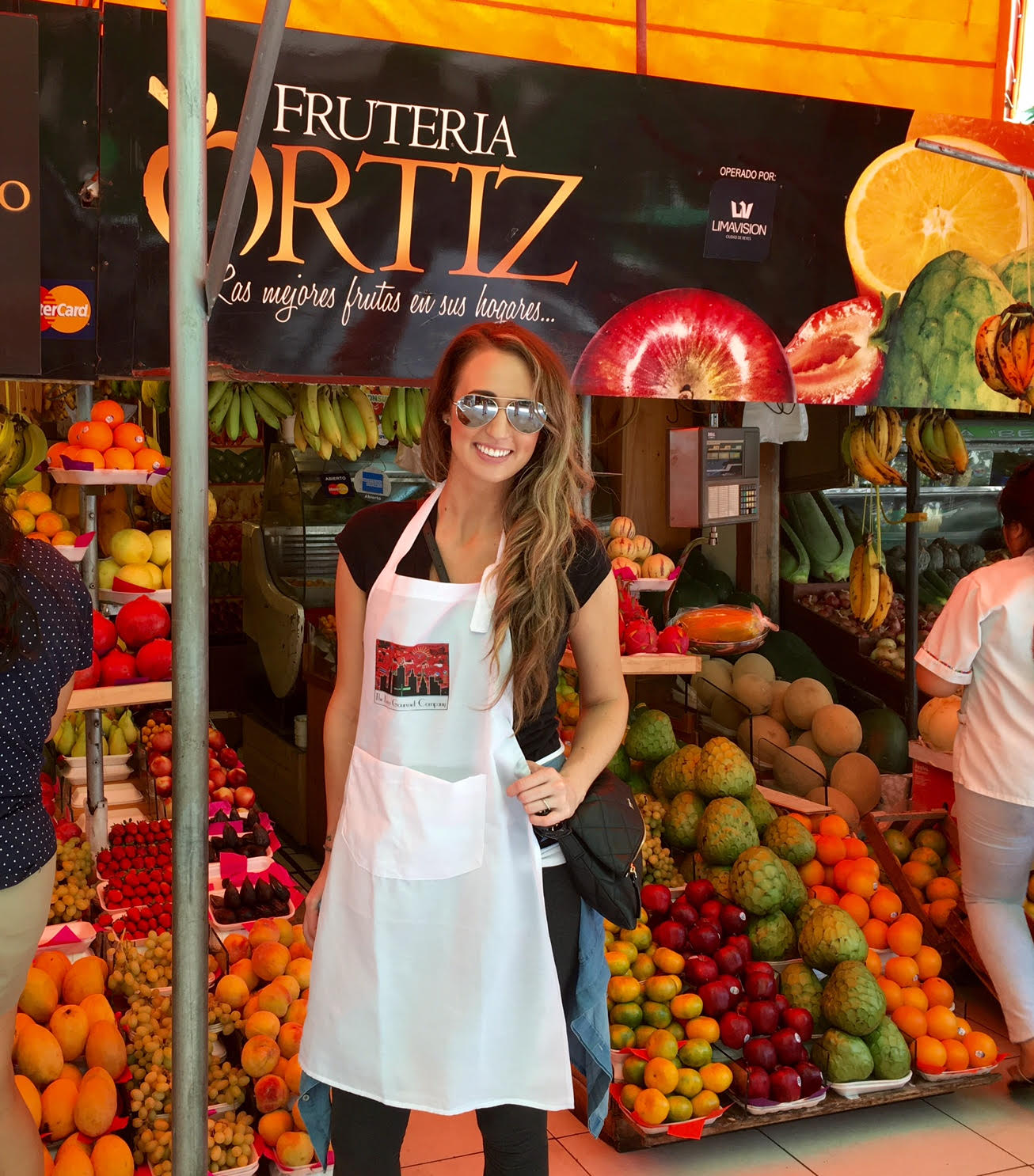 This cute little guy was so excited to show us his fish.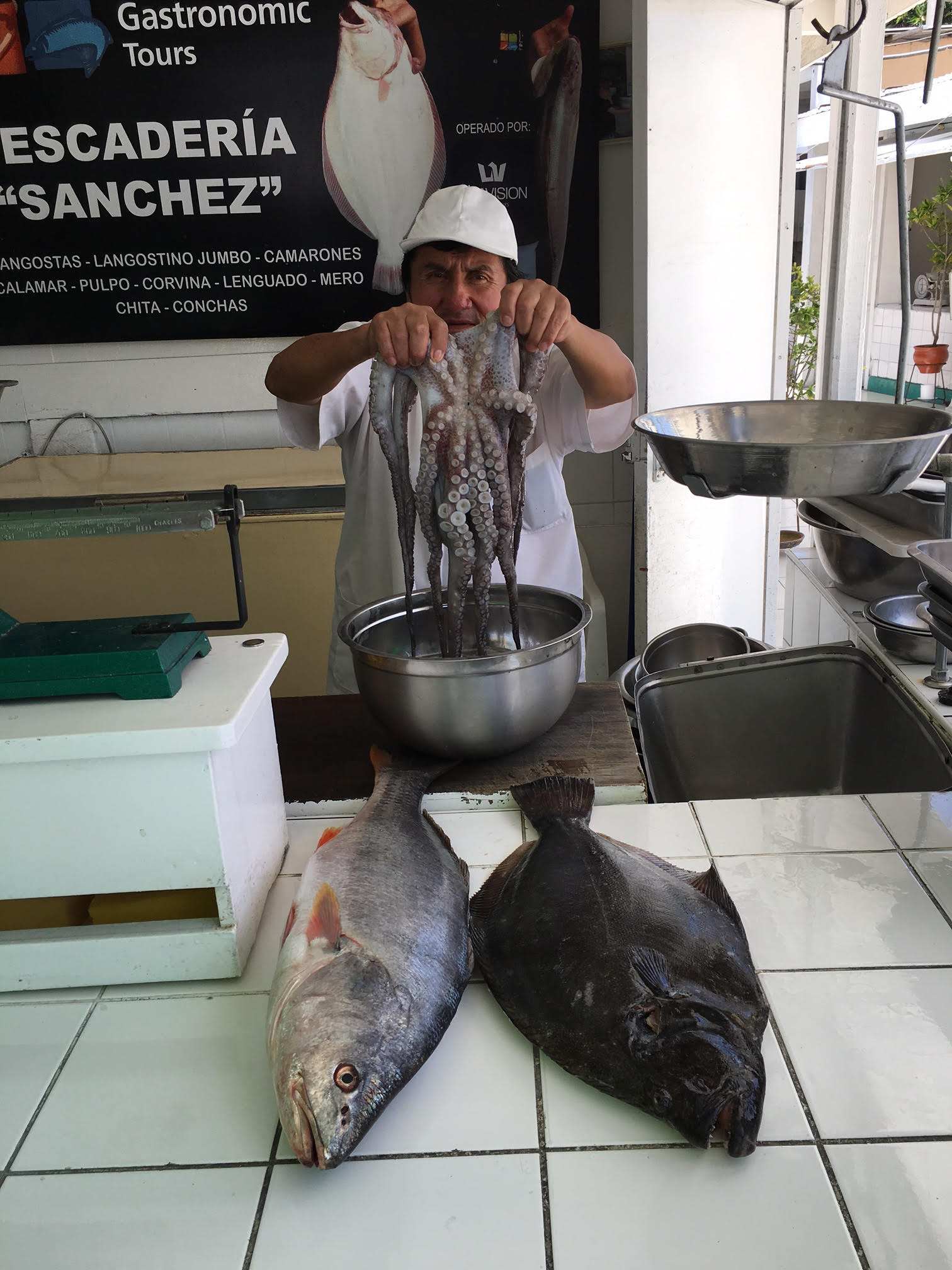 We then made our way to a popular restaurant/ bar, Embar 41 Cadero, and learned to make our own pisco sours and cebiche! Cebiche is definitely one of those things that you either love or hate, I didn't love it..but I did love the BAC (big ass corn). I have no idea if that's what it's really called but everyone from there called it that so it just kind of stuck. It's sweeter than typical corn and so good!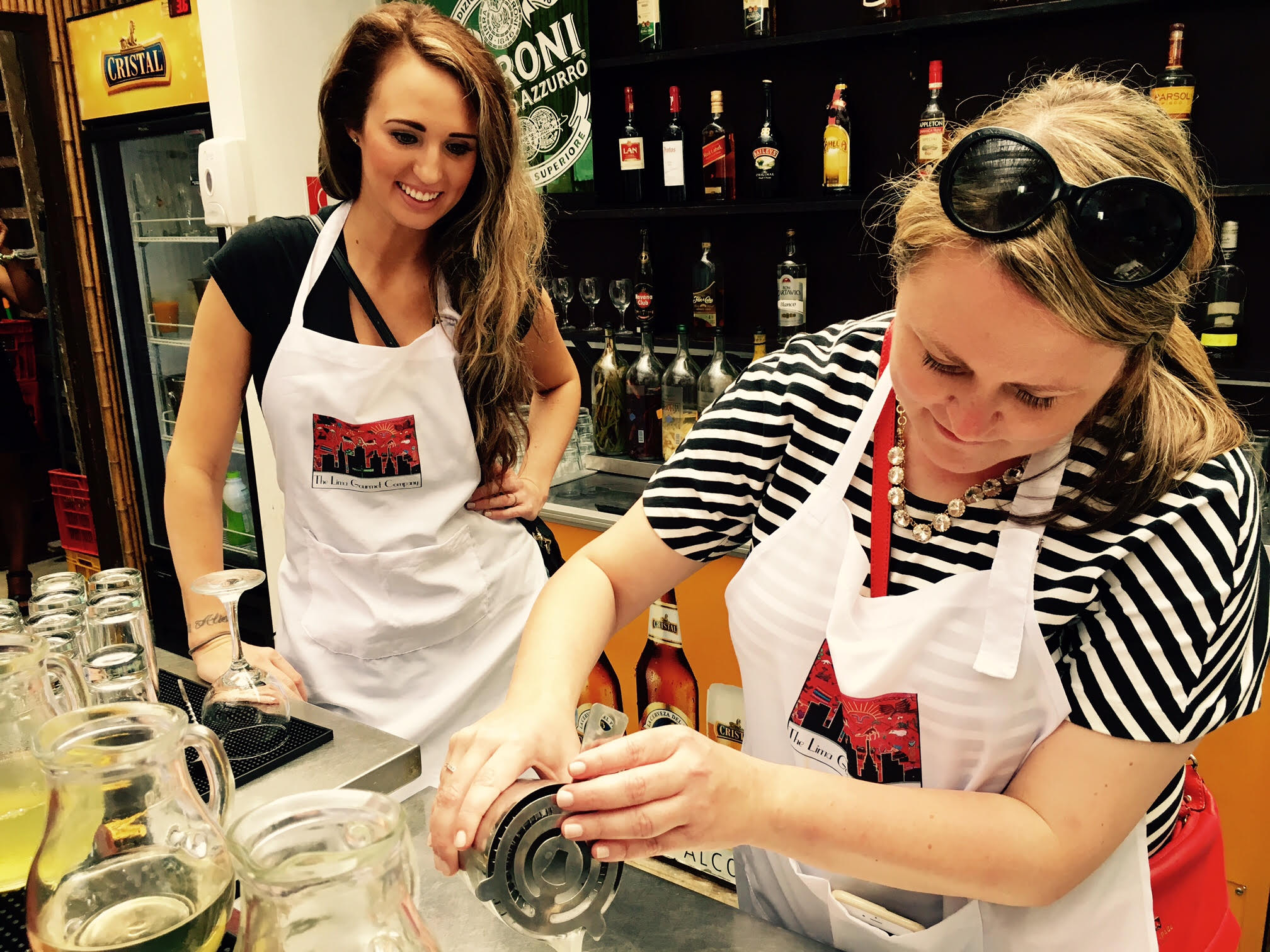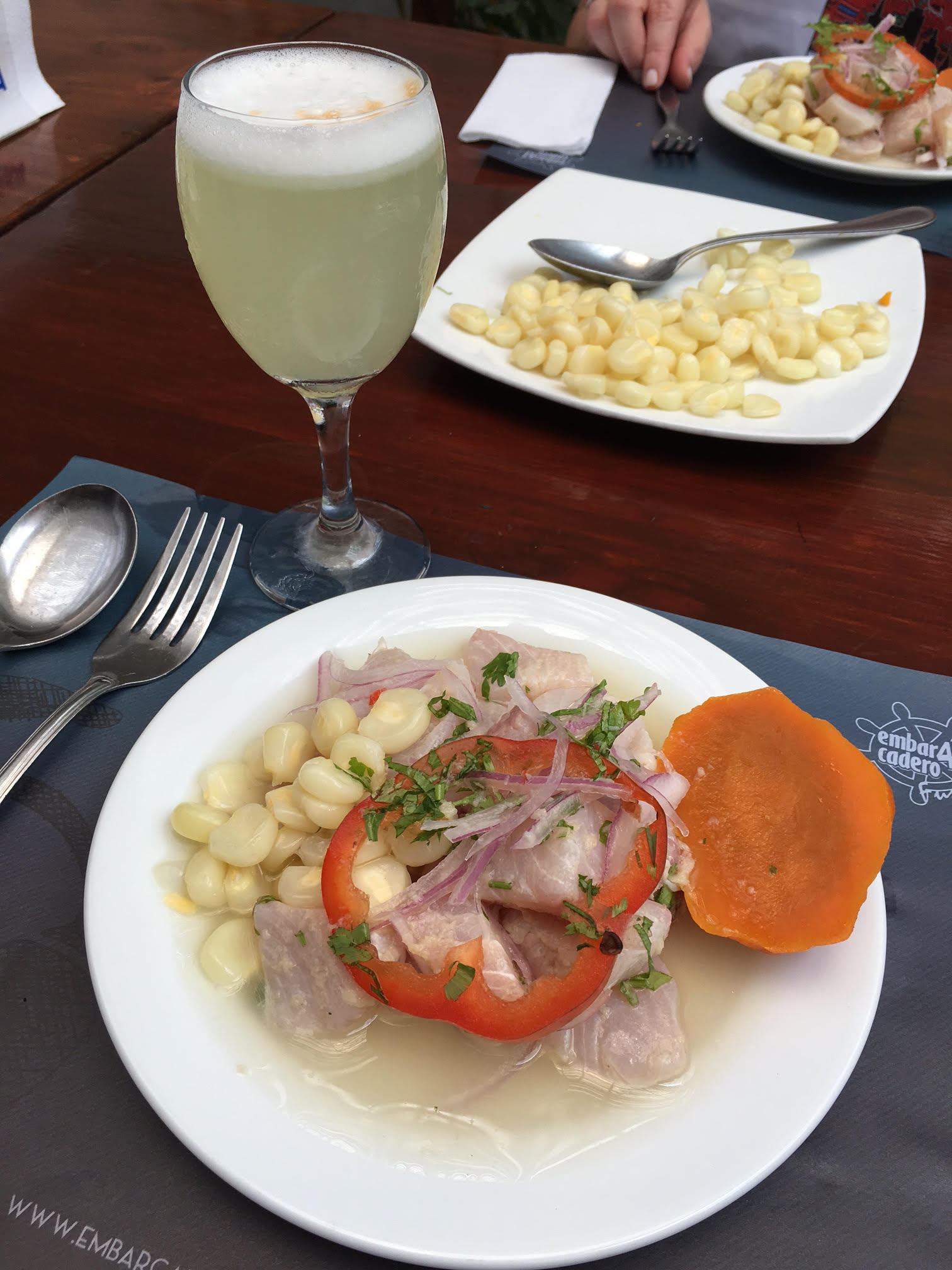 From there, we went to la Huaca Pucllana, which is a top-notch restaurant set right in the ruins of a pre-Incan pyramid. It's amazing. We sat outside and had the ruins as our scenery. When I say we ate and drank our way through Peru, I wasn't exaggerating. And by we, I mean me, because Jim was too busy adulting.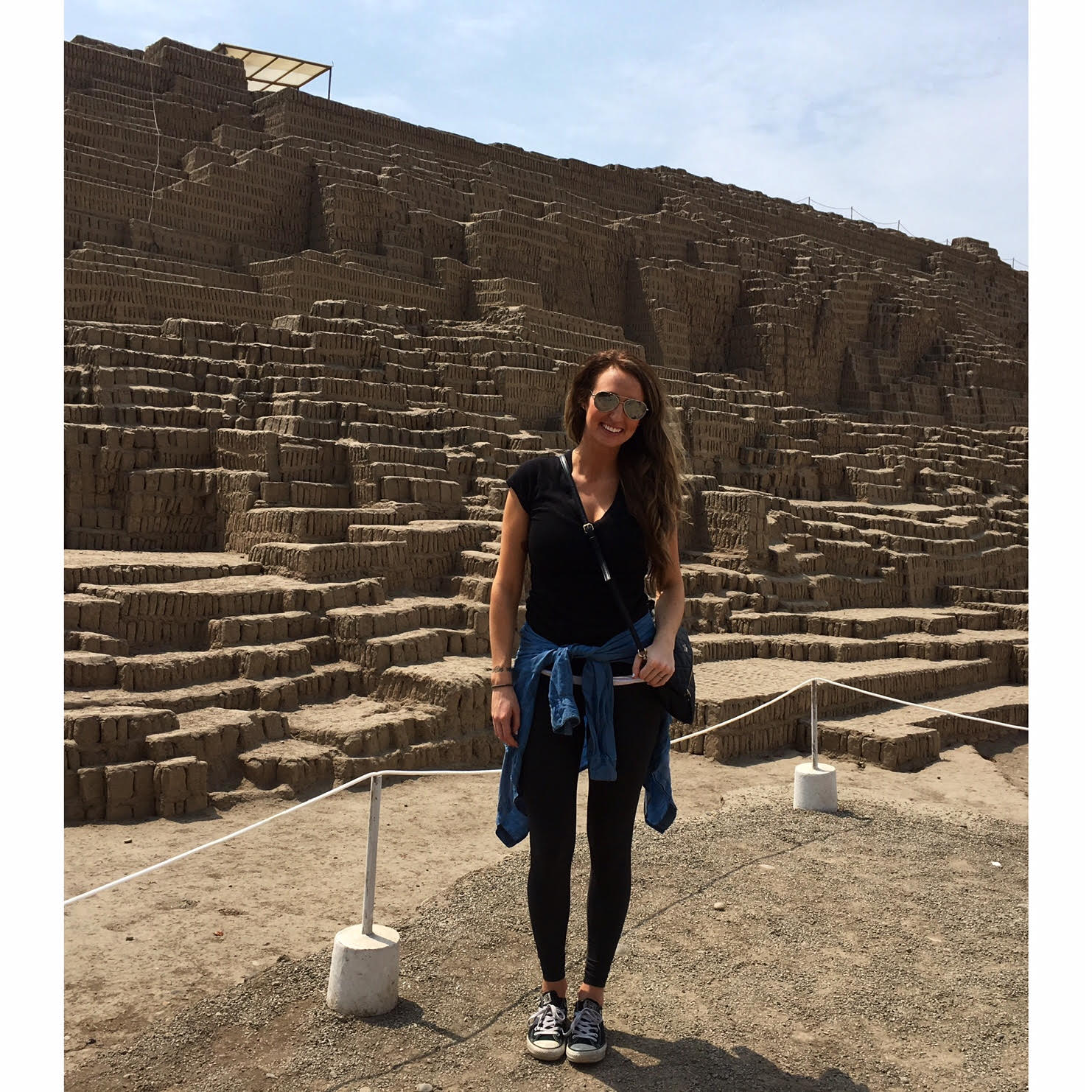 So we continued to eat. and eat. and drink, too for the rest of our time. Peru is filled with the most amazing scenery. I mean, check out this lunch spot. I didn't ever want to leave!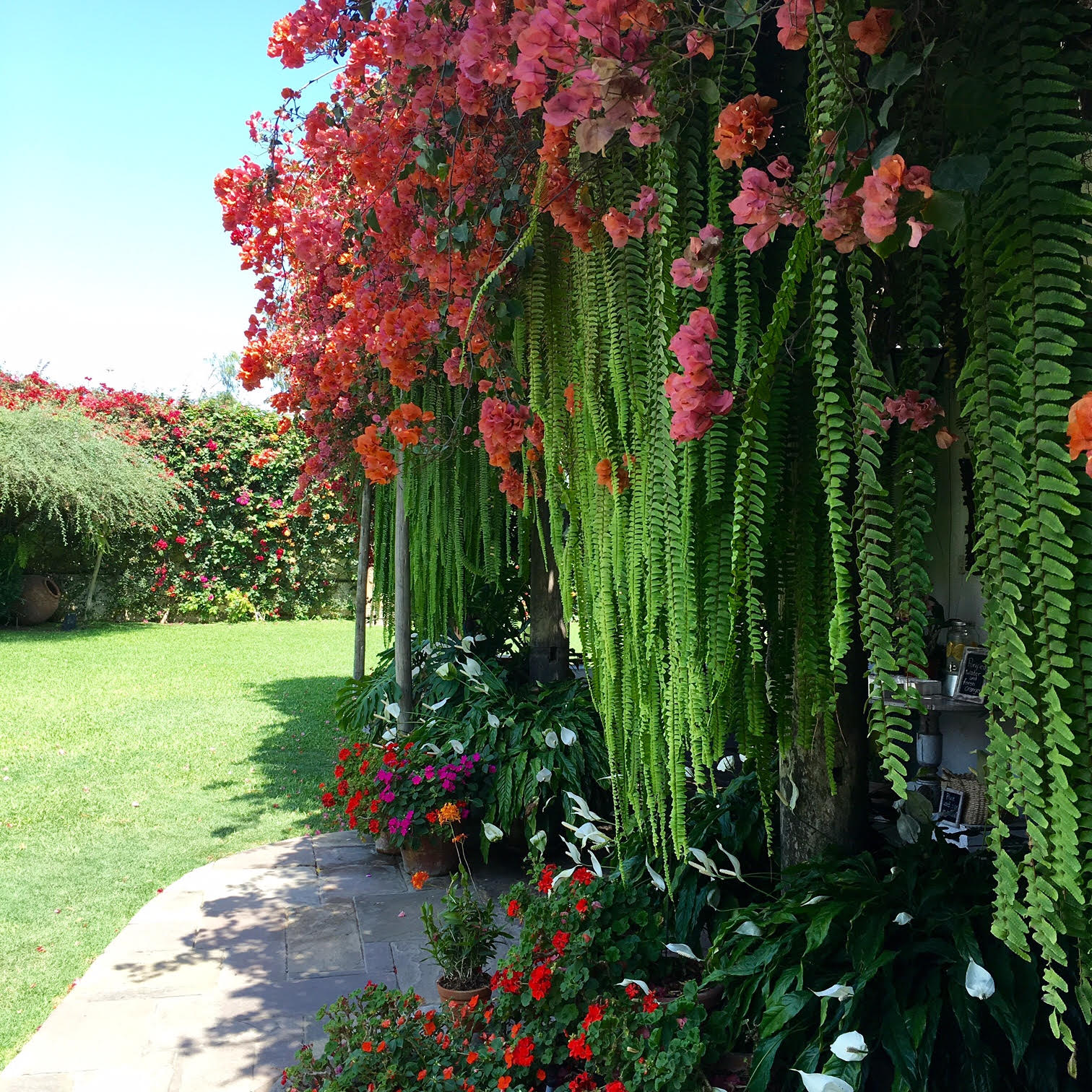 And for the final night, we were invited to a private residence in Barranco on the beach with all of the attendees for the conference and their guests. It was absolutely magical. And the perfect closing to our time in Peru.
So if you're ever in Peru, try out the Lima Gourmet Company for a private tour, don't be afraid to try the various Peruvian foods (you might be surprised at how much you like it!) and if all else fails, drink lots of pisco sours.
One bucket list item that weren't able to tackle was hiking Machu Picchu. Next time, Peru, next time. But for now, you had some super foods, super company and super scenery. You get an A+ in my book.