Breakfast – Chocolate Strawberry Oatmeal Cups
Rich in dietary fiber from the rolled oats and full of polyphenols from the dark chocolate used in this recipe! Polyphenols are linked to lowering blood pressure and may help improve brain power.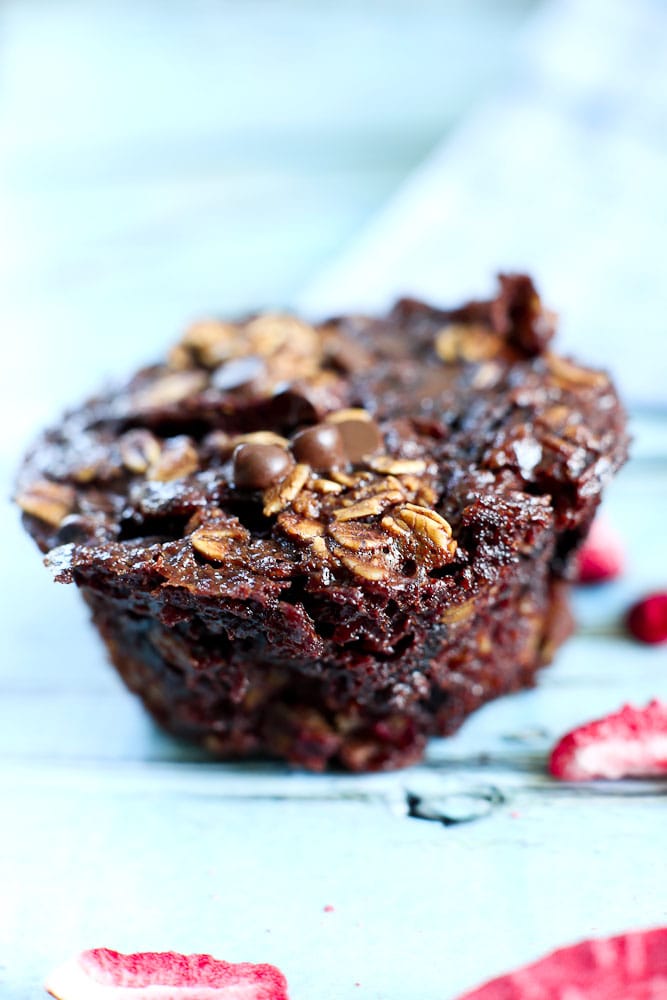 PREP TIME 15 minutes | COOK TIME 30 minutes | SERVES 6 Large 
NUTRITION Calories 246 | 8 g Fat |32 g Carbs | 4 g Fiber |13 g Protein 
INGREDIENTS
2 cups rolled oats

2 scoops chocolate protein powder (whey protein was used)

1/3 cup mini chocolate chips

3 tbsp dutch cocoa powder

1/2 tsp baking powder

1/2 tsp baking soda

1 cup strawberries chopped

1 cup unsweetened applesauce

2/3 cup unsweetened vanilla almond milk

2 egg whites

2 tbsp maple syrup

1 tbsp natural peanut butter

1 tsp vanilla extract
DIRECTIONS
Preheat the oven to 350 degrees.  Arrange 6 jumbo silicone baking cups on a baking sheet.  Set aside.

In a large bowl mix all dry ingredients, then add wet ingredients and mix until combined.  Scoop batter evenly into baking cups.

Bake for 30-35 minutes or until a toothpick is inserted into the center of a muffin and it comes out mostly clean.
Lunch – Peanut Chicken Wraps 
Peanuts or peanut butter are a good source of magnesium, B vitamins, vitamin E, potassium and the anti aging molecule resveratrol. Cabbage, known for being rich in Vitamin K is also part of the cruciferous vegetable group – which includes antioxidants like sulforaphane and kaempferol helpful in their anti-inflammatory actions.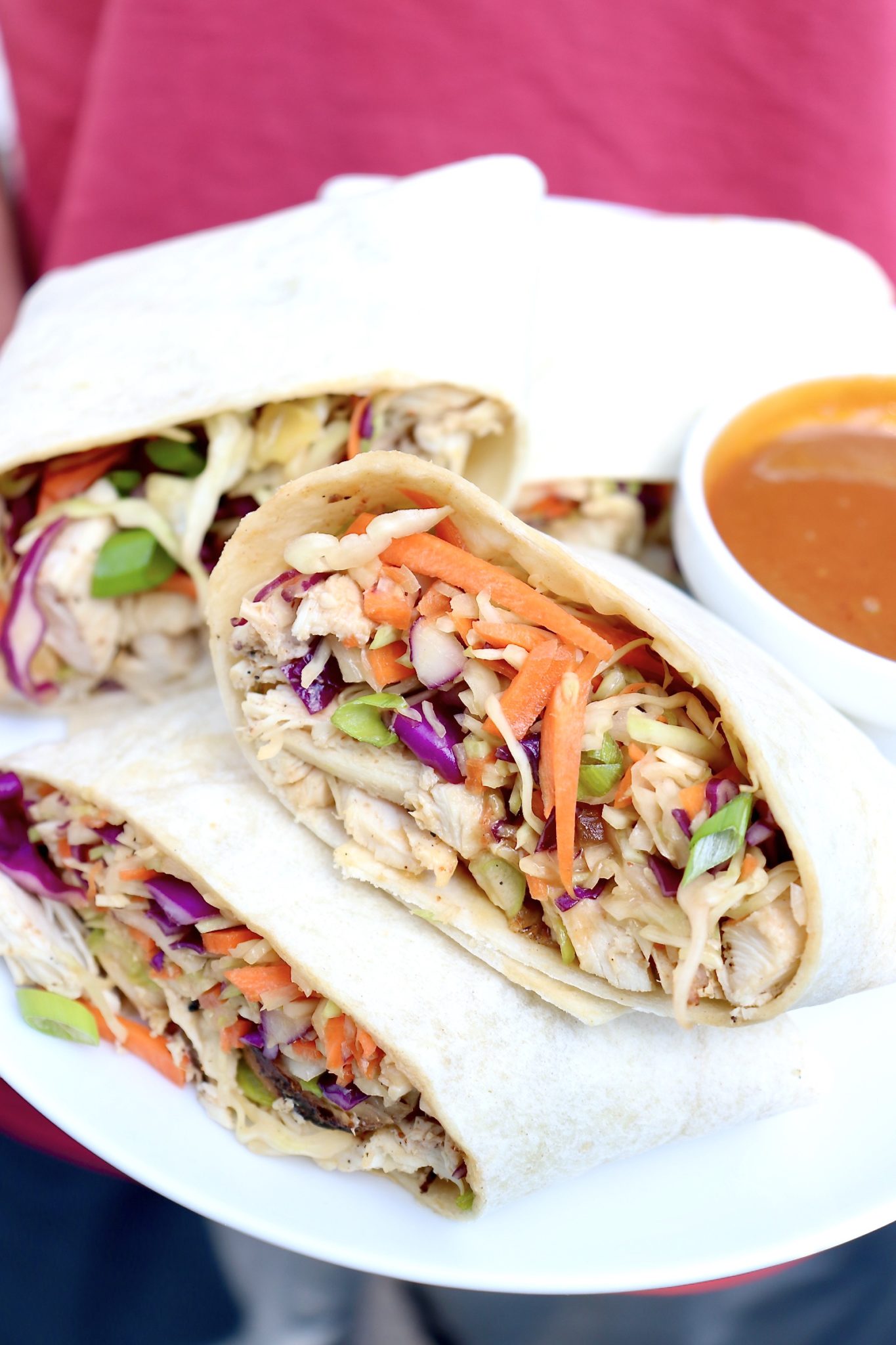 PREP TIME 15 minutes | SERVES 6
NUTRITION 490 Calories | 22 g Fat | 47 g Carbs | 7 g Fiber | 28 g Protein 
INGREDIENTS
3 cups shredded cabbage (coleslaw mix)

1 cup shredded carrots

1/3 cup roasted peanuts

1/4 cup chopped fresh cilantro

1 pound cooked* chicken breasts, sliced/pulled

6 large tortillas (wheat)
FOR THE PEANUT SAUCE:
1/4 cup honey

1/4 cup oil (olive or vegetable)

1/4 cup peanut butter, smooth 

3 tablespoons unseasoned rice vinegar

1 tablespoon soy sauce (reduced sodium)

1 teaspoon sesame oil

1/2 teaspoon black ground pepper

1/2 teaspoon crushed red pepper flakes

1 tablespoon grated fresh ginger

1 large garlic clove, minced
DIRECTIONS
In a medium bowl, whisk together the peanut sauce ingredients.

In a separate large bowl, add the cabbage, carrots, cilantro, and peanuts. Pour the sauce over the mixture and stir. Let this sit while you prepare the tortillas and chicken.

Heat up the tortillas for about 10 seconds in the microwave to make them easier to work with.

Equally divide the chicken and cabbage mixes into each tortilla

Roll tightly, securing with toothpicks if necessary

.
Dinner – Sweet and Spicy Pineapple Shrimp Skewers 
Shrimp is an underplayed protein source for the grill. It contains Astaxanthin – an antioxidant in algae (which the shrimp eats) which has been shown to be protective in inflammation and raising HDL cholesterol. Shrimp is also another great source of omega-3 fatty acids which plays important roles in brain function and development.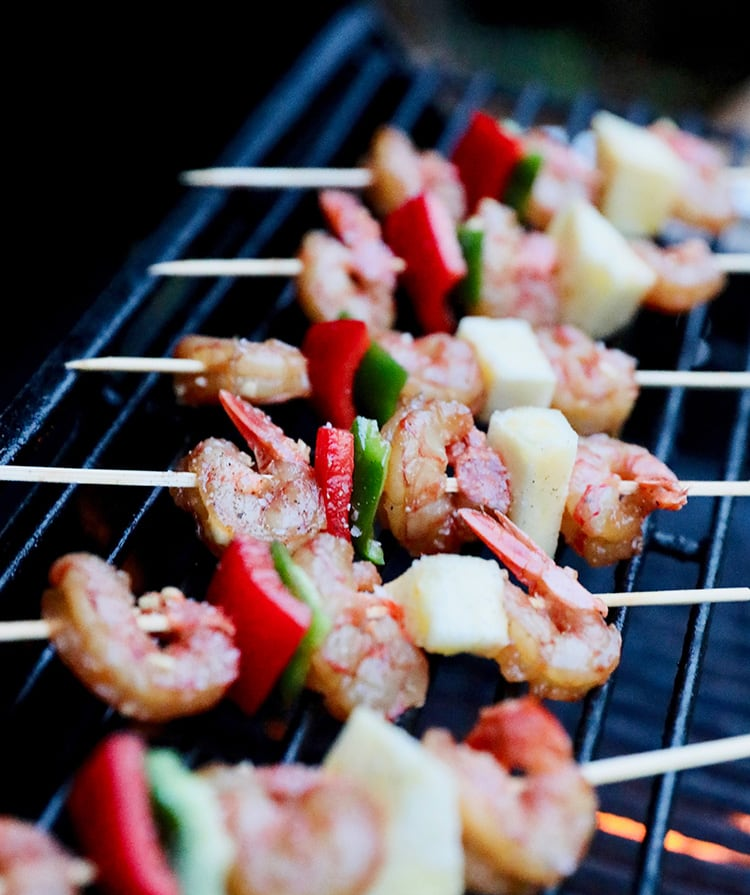 PREP TIME 25 minutes | COOK TIME 31 minutes | SERVES 12 (skewers)
NUTRITION  95 Calories | 4.5 g Fat | 8 g Carbs | 7 g Protein
INGREDIENTS (shrimp marinade)
1 pound jumbo shrimp (raw, peeled, deveined)

1 teaspoon smoked paprika

1 teaspoon cumin

2 teaspoons garlic powder

1 teaspoon Italian seasoning

1 lime or lemon juiced

1/4 cup olive oil
INGREDIENTS (skewers)
marinated shrimp

2 and 1/2 cups pineapple, cut into cubes (about 1/2 of a fresh pineapple)

2 large bell peppers (orange/red), cubed

4 jalapeno peppers, sliced

1/2 red onion, cubed
INSTRUCTIONS
Clean devein shrimp if needed or thaw. Place 12 wooden skewers in water to soak. 

Combine shrimp marinade ingredients. Marinate with shrimp for at least 15 minutes. While the shrimp is marinating, slice the pineapple, peppers, and onions for the skewers.

Prepare the skewers: place the pineapple, peppers, onion, and shrimp on the skewer alternating until all are used. Place the prepared skewers on a baking sheet. (Set aside the remaining marinade.)

Preheat the grill to a medium heat. Place the skewers on the grill and brush with some of the remaining marinade. Close the grill and cook for 2-3 minutes. Flip the skewers and cook for another 2-3 minutes – until shrimp is cooked and no longer opaque. Pair with grilled corn plus a baked potato/pasta salad/rice for a full meal!
Snack – Watermelon Protein Shake
Watermelon is delicious and hydrating, which is why this shake makes for a perfect pre or post workout snack. Watermelon is also rich in vitamin C, lycopene – an anti-cancer antioxidant and is 92% water.
PREP TIME 5 minutes | SERVES 1
NUTRITION  335 Calories | 6 g Fat | 48 g Carbs | 28 g Protein
INGREDIENTS 
1 banana, frozen (peel and cut into chunks, freeze ahead of time)

1 1/2 cups diced watermelon (fresh or frozen)

1 scoop vanilla protein powder (whey)

2 teaspoons chia seeds

1/2 cup almond milk (or milk of choice)
INSTRUCTIONS
Place everything  into a blender, and blend until smooth.

Sprinkle with chia seeds if desired.

Enjoy!