This blog post is sponsored by the Soy Nutrition Institute. I have been compensated for my time commitment. However, my opinions are entirely my own and I have not been paid to publish positive comments.
Unless you haven't left your house in the last year (which is a real possibility), by now you've heard about or seen one or more milk alternatives. Almondmilk, oatmilk, and coconutmilk have all become replacements for consumers who want to reduce their dairy milk consumption but don't want to give up their cappuccinos. One milk alternative, however, has been around longer than the others, yet continues to fly under the radar – soymilk! Of the various plant-based milks, soymilk is considered to be the most comparable to dairy milk in nutrition, according to the USDA Dietary Guidelines, plus it foams well in a latte and tastes great poured over your favorite cereal. The protein in soy is considered complete, because it contains all nine essential amino acids in adequate amounts and since our bodies can't produce these amino acids, we need to get them from the foods and drinks we consume. Soymilk is higher in protein than other milk alternatives (6-9 grams per serving compared to 1 gram per serving for almondmilk), and most brands of soymilk are fortified with calcium and vitamin D at levels comparable to dairy milk. Soymilk is also lower in saturated fat (less than 1 gram per serving) than whole dairy milk, which makes it a delicious heart healthy option. In addition, soy protein has been recognized for their ability to help lower blood cholesterol levels by the FDA, thus may lower cardiovascular disease risk.
| | | | | | |
| --- | --- | --- | --- | --- | --- |
| | Almondmilk | Oatmilk | Coconutmilk | Soymilk | Dairy milk |
| Energy (kcal) | 36 | 120 | 75.6 | 105 | 122 |
| Protein (g) | <1 | 3 | 0.5 | 6.3 | 8.1 |
| Total fat (g) | 2.3 | 5 | 5 | 3.5 | 4.6 |
| Fiber (g) | 0.5 | 1.9 | 0 | 0.5 | 0 |
| Sugars (g) | 1.98 | 7 | 6 | 8.9 | 11.9 |
| Sodium (mg) | 176 | 101 | 46.4 | 115 | 95.2 |
| Ca (mg) | 449 | 350 | 459 | 300 | 307 |
| Vit D (ug) | 2.4 | — | 2.4 | 2.7 | 2.7 |
Source: U.S. Department of Agriculture, Agricultural Research Service. FoodData Central, 2019. fdc.nal.usda.gov. 1 cup each, almond milk food code:11350020, oat milk, coconut milk food Code:11370000, soymilk Food Code:11320000, milk, reduced fat (2%) Food Code:11112110 
Now, I can almost hear you through my computer screen as you're reading this: "Doesn't soy mess with my hormone levels?" There is a TON of misinformation regarding soy, specifically small compounds in soybeans called isoflavones. Isoflavones are naturally occurring compounds widely found within the plant kingdom that are classified as plant estrogens (phytoestrogens). Soybeans are a uniquely rich source of isoflavones. Now to the misinformation- some have erroneously claimed, for example, that soy isoflavones increase risk of breast cancer and lower testosterone in men.
However, time and time again, research has shown that consuming soy does not increase risk of breast cancer, and in fact soy may actually be protective against this disease. So, what about soy for men? A newly published statistical analysis 1 of 41 studies involving almost 2000 men found that soy had no effect on testosterone. This was true even in long term studies and in studies in which the men consumed considerably more soy than is typical for Japanese men. When you look at the science on soy, regular consumption of soymilk and other soyfoods won't affect your hormone levels. These misconceptions about soy need to be put to rest.
We all know when it comes to diets, there can be a lot of misinformation regarding the health benefits or risks of certain foods. That's why it's important to rely on the most up-to-date science when making food choices. Soymilk, the unsung hero of plant-based milks, is a good source of fiber and provides protein comparable to a serving of dairy milk. It's a healthy choice to use in your coffee, cereal, and smoothies, and offers flavor and consistency similar to dairy milk. Soymilk has gotten a bad rap in the past, but when assessing the research, soy is a great addition to your diet.
Want to start incorporating soy into your diet? Try this quick and easy protein-packed smoothie:
SOY PROTEIN SMOOTHIE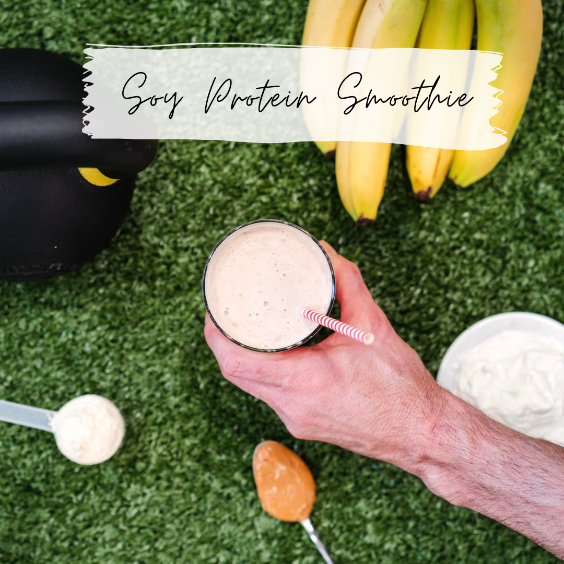 Nutrition Information: Calories: 406 | Fat: 13 grams | Protein: 47 grams | Sodium: 403 mg | Carbohydrates: 28 grams | Dietary fiber: 4 grams | Added sugars: 0 grams
Prep time: 5 minutes
Ingredients:
1 cup unsweetened soymilk
⅔ cup nonfat plain Greek yogurt
1 serving soy protein powder
1/2 banana
1 tablespoon peanut butter
Directions:
Blend all the ingredients in a blender until smooth. Serve and enjoy.
Sources
1 Reed KE, Camargo J, Hamilton-Reeves J, et al. Neither soy nor isoflavone intake affects male reproductive hormones: An expanded and updated meta-analysis of clinical studies. Reprod Toxicol. 2021;100:60-7.