Did you guys hear about some football game playing during the Cold Play concert this Sunday?
Jussst kidding! Super Bowl Sunday is almost here and is all about football, booze, commercials and FOOD. It's actually one of the bigget eating days of the year, second to Thanksgiving. According to an article on foxbusiness.com, approximately 1.25 billion chicken wings, 11.2 million pounds of potato chips and 325 million gallons of beer are consumed on Super Bowl Sunday. These traditional game day foods are crowd pleasers, but can also be some of the worst foods for you health-wise. Tune in to the latest Really, Truly Fit Podcast to hear Jim and Jess discuss tips for playing defense in the kitchen this Super Bowl Sunday and check out some of the healthier, Jim White Approved tips and recipes they talked about below.
Super Bowl Swaps
Try out these easy food swaps to cut calories while still satisfying those Super Bowl food favorites.
Ground turkey > Ground beef
Sweet potato skins > Potato skins
Skin-off baked or grilled chicken wings > Fried chicken wings
Baked chips or veggies > Chips
Whole wheat tortilla > Pizza crust
Carbonated / flavored water > Soda – my favorite is La Croix.
Plain Greek yogurt > Sour cream
You can also try out these healthier versions of those tasty football go-to recipes.
Skinny Taco Dip
8 oz, low fat cream cheese
8 oz, reduced fat sour cream
16 oz mild salsa
1/2 packet of Mrs. Dash's low sodium taco seasoning
2 cups iceberg lettuce, shredded fine
2 large tomatoes, seeds removed and diced
1 cup, reduced fat shredded cheddar cheese
2.25 oz sliced black olives
INSTRUCTIONS
In a large bowl, combine cream cheese, sour cream, salsa and taco seasoning. Mix well with an electric mixer.
Spread on the bottom of a large shallow dish.
Top with shredded lettuce, tomatoes, shredded cheese and black olives.
Serve with baked tortilla chips or vegetables.
Recipe found at www.skinnytaste.com
Tangy Honey Mustard Baked Chicken Wings
2 1/2-3 lbs chicken wings (drumettes and wings)
1 teaspoon of paprika
1 teaspoon of garlic powder
1/2 teaspoon of chipotle chili powder
1/2 teaspoon of ground cinnamon
1 tablespoon of canola oil
Honey Mustard Sauce:
1/2 cup of honey
1/2 cup of dijon mustard
1/2 teaspoon of ground mustard
2 tablespoons of butter
Preheat oven to 400 degrees.
Place chicken in a large bowl.
In a small bowl, mix paprika, garlic powder, chipotle chili powder, and ground cinnamon together. Sprinkle the seasoning mixture over the chicken pieces and then add canola oil, toss to coat all of the wings.
Add a wire rack to a baking sheet and evenly spread the chicken out on the rack. Bake for 20 minutes.
Flip the chicken and bake for an additional 25 minutes.
In the meantime, heat a small pot to medium high heat. Add in mustard, honey, ground mustard and butter. Stir until butter is melted and sauce is warm.
Add the cooked chicken to a large bowl with the honey mustard sauce, toss the chicken around until all is covered.
Garnish with sliced green onions and sesame seeds.
Recipe found at www.joyfulhealthyeats.com
And don't forget your workout! If you can't fit one in Sunday morning, don't worry – we've made a fun one to do DURING the game.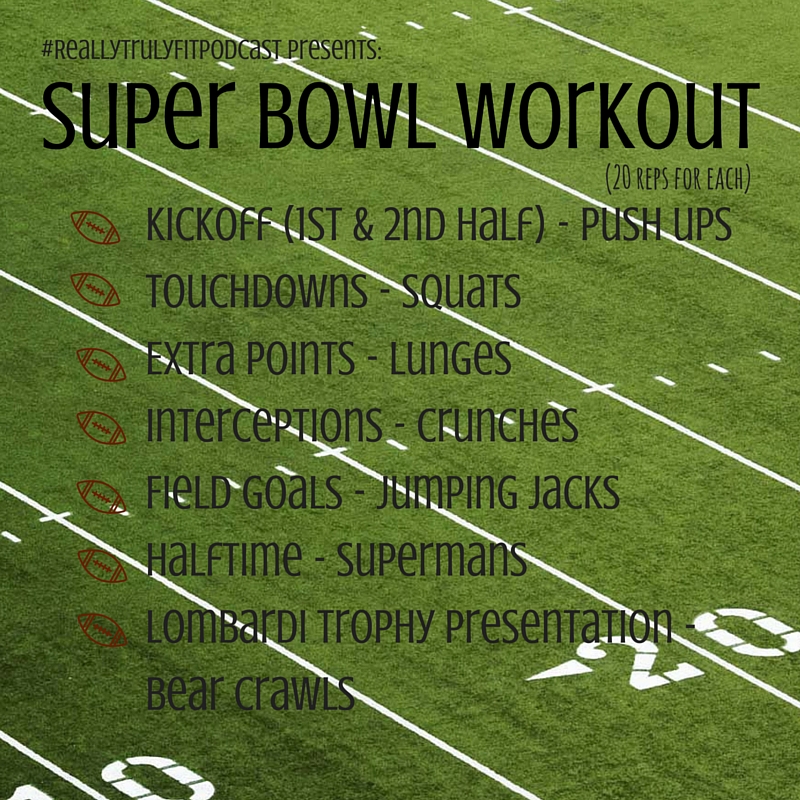 So who are you rooting for, the Panthers or Broncos? My bets are on Chris Martin.
xx, K
PS. If you missed their podcast about alcohol, you'll definitely want to listen to that one as well.