I have partnered with Dannon Oikos to help promote the One Yogurt Every Day Campaign. I have been compensated for my time commitment. However, my opinions are entirely my own and I have not been paid to publish positive comments.
Krista definitely has the sweet tooth in our family. Most of you have heard about her secret stash of candies I often find around the house – if it's sweet, it's in there. Now I love a good sweet treat here and there, but I always found ways to "have my cake and get fit too" by altering recipes, finding healthy treats, or budgeting my daily calories to allow me to indulge. Recently, I began working with Oikos on their One Yogurt Every Day campaign and always ate their Triple Zero Greek Nonfat Yogurt as a post-workout snack after a hard-earned workout but as a guy new in the kitchen, I never thought about using it to make decadent desserts! Krista's favorite dessert is cheesecake, so I recently surprised her with a healthier version, along with three other smarter alternative desserts, to fit in our balanced diet plan.
I have always been an advocate to eat an indulgent treat every once in a while as even the most disciplined of us can't eat healthy ALL the time…but if you can substitute with Greek yogurt (for its protein, calcium, cultures, and other great benefits) in place of sugar, sour cream, and butter without compromising the taste, then it's a win-win!
Recipes:
Ingredients:
1 ½ cups Dannon Oikos Triple Zero Greek Nonfat Yogurt, Vanilla
½ cup plus 1 tablespoon of silken firm tofu
¼ teaspoon plus 1/8 teaspoon salt
1 ½ teaspoons pure vanilla extract
½ tablespoon lemon juice
5 tablespoons agave
Pinch stevia OR 2 – 3 tablespoons granulated sugar of choice
2 ½ teaspoons cornstarch
Directions:
Preheat oven to 350F. Combine all ingredients in a food processor or blender, and blend until completely smooth.
Pour into any prepared crust.
Bake for 50 minutes, then remove from the oven. It will still look very gooey, but that's okay. Allow to cool for 1 hour before moving the cake, uncovered, to the refrigerator to set for at least 8 hours, during which time it will firm up and become more flavorful.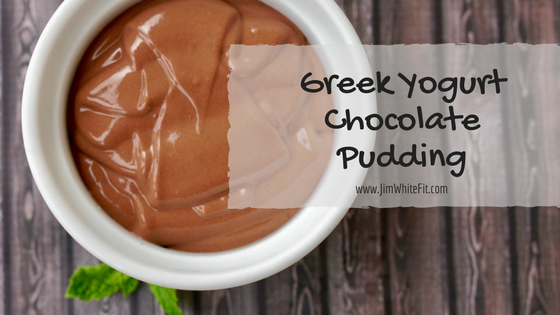 Ingredients:
9 ounces chopped dark chocolate, or 1 ¾ cups dark chocolate pieces (70% dark is best)
1 cup low fat milk
3 tablespoons sugar, or more to taste
Pinch of salt
2 cups Dannon Oikos Triple Zero Greek Nonfat Yogurt, chocolate flavor
Directions:
Chop chocolate into small pieces with a knife or a food processor. The smaller the pieces, the more evenly the chocolate will melt.
In a double boiler, whisk together the milk, sugar, and salt. Heat the milk over medium heat whisking frequently, until hot (but not boiling).
Add the chocolate to the milk and let it sit for 1 minute in the heated milk, without touching. Gently stir with a spatula until the chocolate melts into the milk. Remove from heat and continue stirring slowly until the milk and chocolate mixture is smooth and no longer grainy. If there are a few solid pieces of chocolate that refuse to melt, you can use an immersion blender to break up those pieces. Stir again with the spatula after blending to break up any air bubbles.
Drain off any excess liquid from Greek yogurt before measuring 2 cups into a medium mixing bowl.
Stir the chocolate mixture again, then pour it into the yogurt, using a spatula to scrape up any remaining chocolate. Use spatula to fold the chocolate into the yogurt until fully incorporated, light and creamy. This will take 2-3 minutes.
Divide the mixture between 6 dessert bowls. Smooth and swirl the top of each serving with a spoon. Chill for at least 2 hours. Serve cold.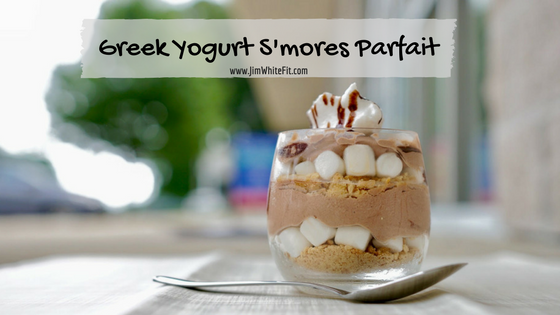 Ingredients:
1 ½ tablespoons Cocoa powder
2 Graham crackers
1 cup Dannon Oikos Triple Zero Greek Nonfat Yogurt, Chocolate flavor
½ cup Marshmallows, mini
2 tablespoons lite whipped cream (optional)
Chocolate syrup, sugar-free (optional)
Directions:
Mix cocoa powder into Greek yogurt.
Crumble one graham cracker sheet in bottom of glass to form bottom layer of parfait.
Use 1/4 cup marshmallows to form the next layer, then top with ½ of the Greek yogurt and cocoa powder mix.
Repeat layers- 1 crumbled Graham cracker sheet, 1/4 cup marshmallows, remaining Greek yogurt and cocoa powder mix.
Top with Cool whip and chocolate syrup, if desired.