Blueberry Peach Chia Bowls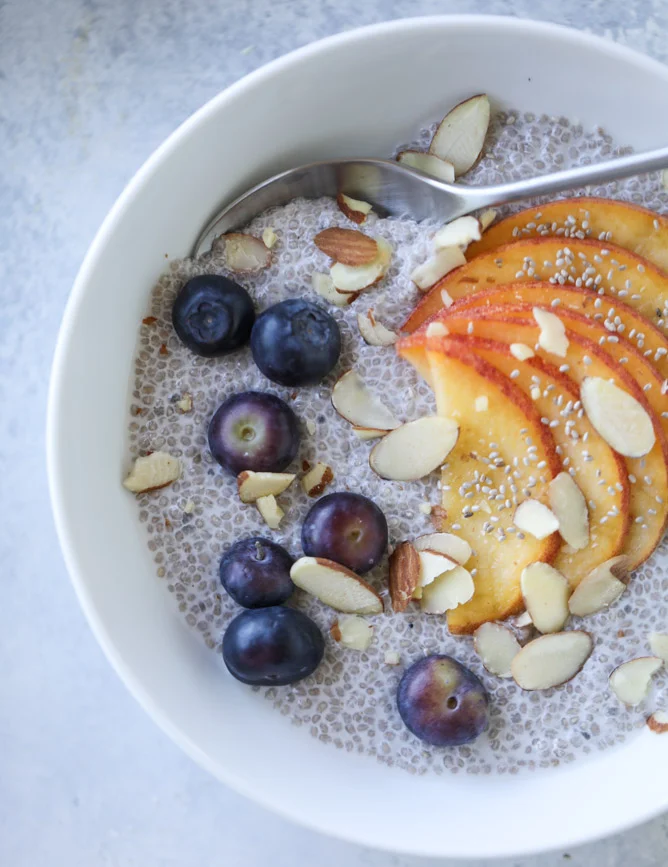 PREP TIME 20 minutes | SERVES 1
NUTRITION | 278 Calories | 12.2 g Fat | 37 g Carbs | 9.3 g Protein
INGREDIENTS
● 1⁄3 cup milk
● 2 tablespoons chia seeds
● 1⁄2 teaspoon honey
● 1⁄4 teaspoon vanilla extract
● 1 small peach, sliced
● 1 tablespoon sliced almonds
● Handful of fresh blueberries
DIRECTIONS
1. Stir together the milk, chia seeds, honey and vanilla extract. Let sit for 15-20 minutes, stirring once or twice in that time.
2. Once it sits up a bit (the chia seeds will plump) cover with the blueberries, peaches and almonds and eat immediately.
Blackened Fish Tacos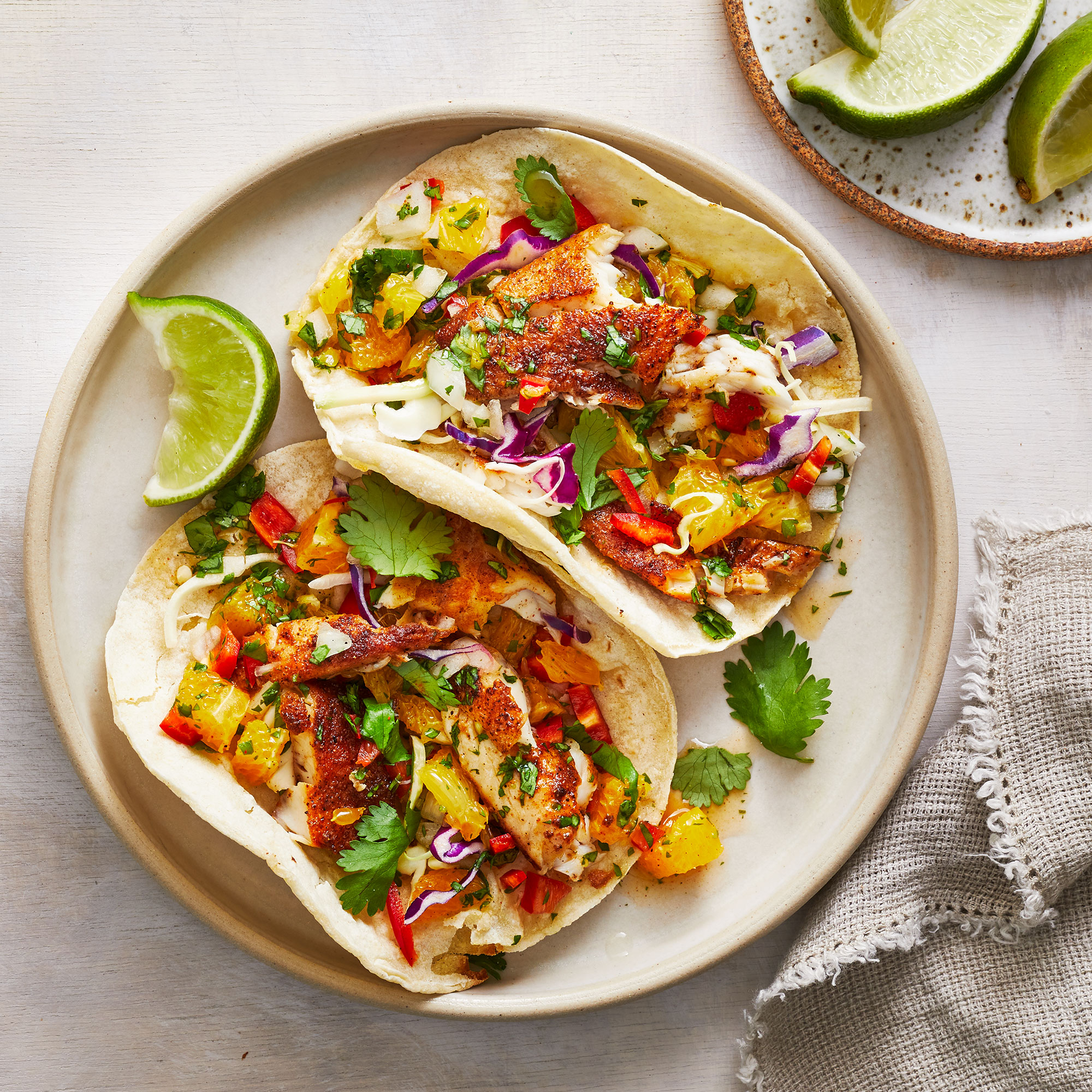 PREP/COOK TIME 25-30 minutes | SERVES 4
NUTRITION | 410 Calories | 8 g Fat | 56 g Carbs | 29 g Protein
INGREDIENTS
● 2 medium navel oranges
● 1⁄3 cup chopped white onion
● 1⁄4 cup chopped fresh cilantro, plus more for garnish
● 1 medium red fresno chile pepper, sliced very thinly
● 1⁄8 teaspoon salt
● 2 tablespoons lime juice, divided
● 1 pound skinless snapper filets
● 1 tablespoons cajun blackened seasoning
● 1 tablespoon canola oil
● 1 cup shredded red cabbage
● 8 (6 inch) corn tortillas, warmed
● 2 cups brown rice, cooked according to box instructions
DIRECTIONS
1. Slice top and bottom ends of oranges, cut off the peel and white pith and discard. Cut orange segments from the membrane to remove and roughly chop. Place in a medium bowl. Stir in onion, cilantro, chile, salt and 1 tablespoon of lime juice
2. Sprinkle both sides of snapper evenly with cajun seasoning. Heat oil in a large non-stick skillet over medium-high heat. Add the snapper, cook until golden brown and cooked through, 3-4 minutes per side. Transfer to a plate and flake into large pieces using 2 forks. Sprinkle it with lime juice.
3. Divide the snapper and cabbage evenly among warm tortillas, top with the orange salsa.
4. Serve with 1⁄2 cup cooked brown rice on the side, add lime juice and cilantro to brown rice if desired.
Spinach And Feta Turkey Burgers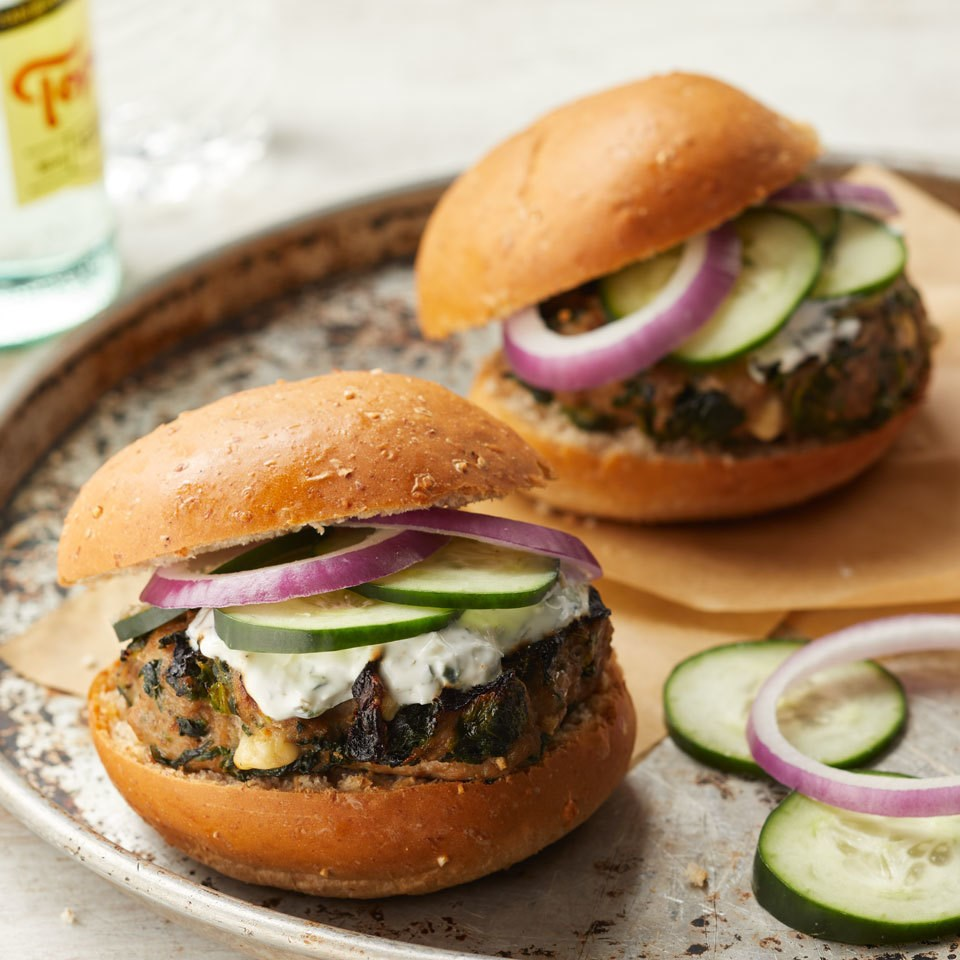 PREP/COOK TIME 30 minutes | SERVES 4
NUTRITION | 579 Calories | 24 g Fat | 61.5 g Carbs |33 g Protein
INGREDIENTS
● 1 cup frozen chopped spinach, thawed
● 1 pound 93% lean ground turkey
● 1⁄2 cup crumbled feta cheese
● 1⁄2 teaspoon garlic powder
● 1⁄2 teaspoon dried oregano
● 1 1⁄2 teaspoons salt
● 1⁄4 teaspoon pepper
● 4 whole wheat hamburger buns
● 4 tablespoons tzatziki
● 12 slices cucumber
● 8 thick rings of red onion
● 3 large sweet potatoes, peeled and sliced thin or in wedges
● 3 tablespoons olive oil
● 1-2 tablespoons of spice combination (paprika, chile powder, chipotle powder, or seasoning of choice)
DIRECTIONS
1. Preheat the grill to medium high and preheat the oven to 450°. Place a baking sheet in the oven to preheat.
2. Toss sliced sweet potatoes in a bowl with olive oil, salt and spice combination and bake for 15-25 minutes, flipping potatoes about halfway through cooking.
3. Squeeze excess moisture from spinach and combine with turkey, feta, garlic powder, oregano, salt and pepper.
4. Form into 4 inch patties. Oil the grill rack and cook patties until cooked through and nob longer pink in the center (165°). About 4-6 minutes per side.
5. Assemble burger on buns, topped with 1 tablespoon tzatziki, 3 cucumber slices and 2 onion slices. Serve with a side of sweet potato fries.
Strawberry Chocolate Greek Yogurt Bark

PREP TIME 10 minutes | FREEZE TIME 3 hours | SERVES 9 servings; 2 pieces per serving
NUTRITION | 129 Calories | 4.8 g Fat | 15.1 g Carbs | 6..8 g Protein
INGREDIENTS
● 3 cups whole milk plain Greek yogurt
● 1⁄4 cup pure maple syrup or honey
● 1 teaspoon vanilla extract
● 1 1⁄2 cups sliced strawberries
● 1⁄4 cup mini chocolate chips
DIRECTIONS
1. Line a rimmed 10×15 baking sheet with parchment paper.
2. Stir yogurt, maple syrup (or honey) and vanilla in a medium bowl. Spread on the prepared baking sheet and scatter the strawberries and chocolate chips on top.
3. Freeze until very firm, at least 3 hours. To serve, cut or break into 18 pieces.
Tuna Salad Spread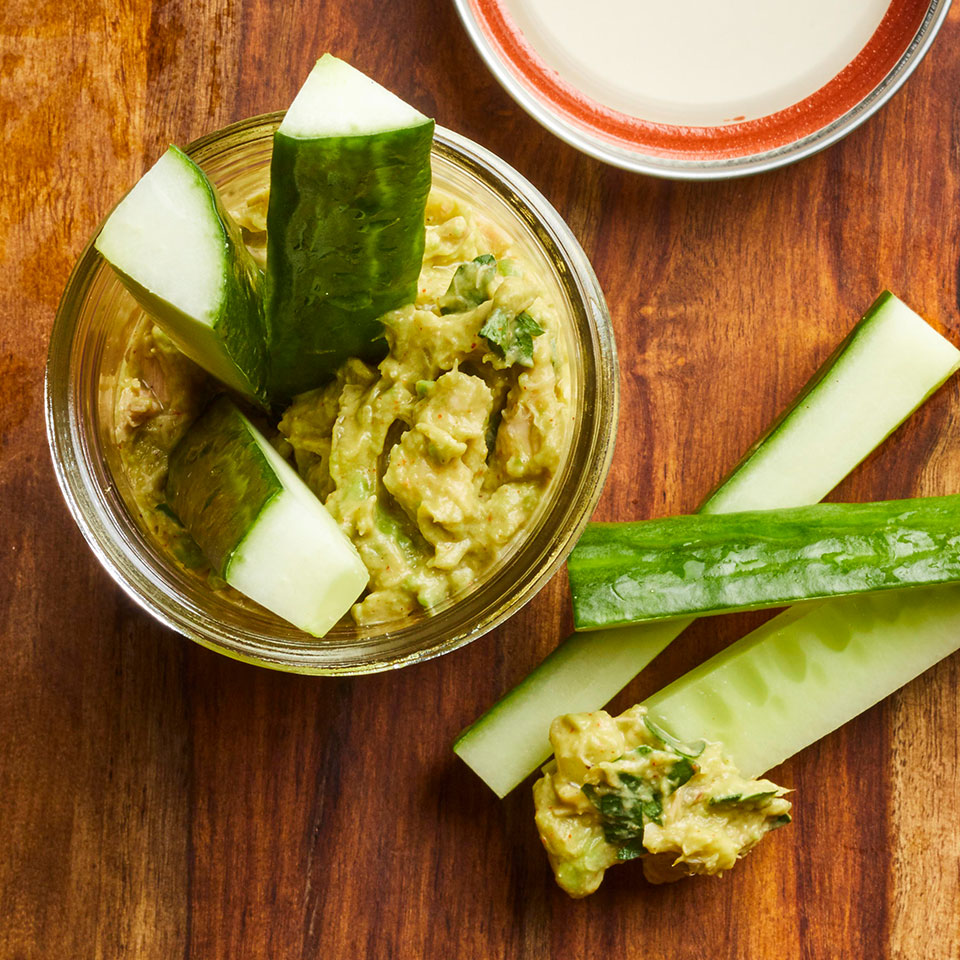 TOTAL TIME: 5 minutes | SERVES: 4; 1/3 cup per serving
NUTRITION | 130 Cals | 8g Fat | 6g Carbs | 10g Protein
INGREDIENTS
1 avocado, mashed
2 tablespoons low-fat plain Greek yogurt
1 tablespoon lemon juice
1 tablespoon chopped fresh parsley
¼ teaspoon garlic powder
¼ teaspoon paprika
¼ teaspoon salt
¼ teaspoon ground pepper
1 (5 ounce) can albacore tuna in water, drained
¼ cup diced onion or celery
INSTRUCTIONS
Combine avocado and yogurt in a small bowl and stir well.
Add lemon juice, parsley, garlic powder, paprika, salt and pepper and stir well.
Add tuna and onion (or celery) and mix gently until combined.