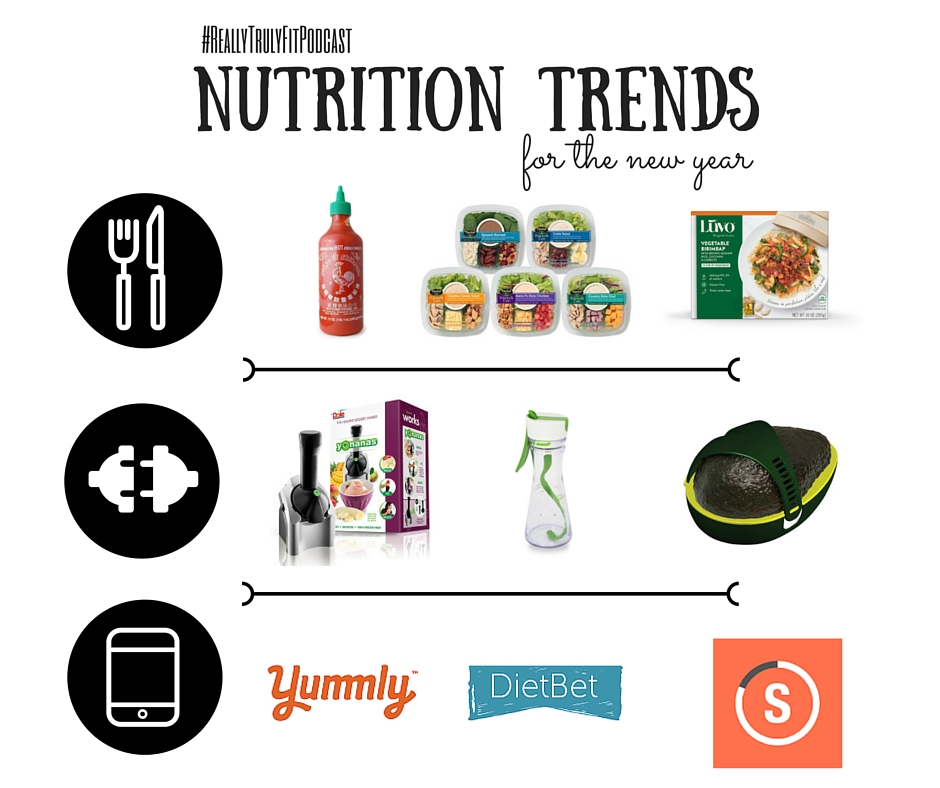 You have probably seen a lot on the internet of the past, present and future fitness trends, and you likely even listened to the our last podcast about the ACSM's Fitness Trend Survey for 2016 – but what you probably haven't seen or heard much of are the nutrition trends. And nutrition is the greatest part of the equation! Am I right, or am i right?! As you tune in to this week's podcast, you'll hear Jim and Jess discuss the latest and greatest in food trends, nutrition products/ appliances and apps for the new year. You can also check out the links below for more information!
NUTRITION FOODS
1. Sriracha: who doesn't love sriracha?? It's been all the rage lately and chefs are now trying to find the most exotic spices to land the next big hit. Some likely prospects: ghost pepper from India and Sambal from southeast Asia. Helloooo, spicy goodness!
2. Pulses: Beans, dried peas, lentils, chick peas – companies are putting them into anything like pasta or chips. Examples include French lentils, red lentils, yellow lentils, black or beluga lentils, and so on.
3. Salad Kits: not "salads to go"…fancier than that! These gourmet, organic salads are great for on-the-go but be sure to pay close attention to the fat content.
4. Sprouted Grains: Why sprouted? Well, simply because the grain has not started to create starch inside the germ and therefore has a higher amount of nutrients like B vitamins, vitamin C, fiber and more. They've also been said to be less allergenic to those with grain sensitivities.
5. Frozen Dinners: yep, you read it right! Steamable bags for the more health-conscious individuals with more ethnic flavors like vegetable bibimbap and tandoori chicken.
NUTRITION TOOLS/ APPLIANCES
1. Novis Juicer: One of  the newest kitchen gadgets to hit the market with four features in one: Citrus Pressing, Centrifuge with Citrus Pressing, Juicing, Pureeing. What's not to love?!
2. Frozen Yogurt Maker: I don't know about you guys but frozen yogurt is all the rage right now and I can't seem to walk into a shop without adding every single topping they have – including a single gummy worm to top it off. This frozen yogurt maker allows you to still get that FroYo fix with out all of the calorie-filled fixings. Of course, you can always visit one of our Jim White Approved restaurant partners like Tini's or Sweet Frog in Virginia Beach!
3. Avocado Saver: Avocados are great but I've always found myself steering clear of them because they require you to be fully committed. Once you cut in to one of those bad boys, you either eat it all or you waste majority of it (that's if you're eating a proper portion size which is 1/8 of the avocado. You're welcome.) This inexpensive gadget helps to extend the life of your little avocado and keeps it from turning brown.
4. Slimware: We've all seen and heard of MyPlate – the place setting for a meal which illustrates the five food groups that are the building blocks for a healthy diet. They're great! But what's even better is seeing this same concept on dinnerware you might actually want to serve your guests. This particular dinnerware is designed to help control portion sizes in a much-more fashionable way!
5. Salad Dressing Spritzer: This tool encourages you to make your own dressing AND save some calories over the store bought options.
NUTRITION/ WELLNESS APPS
1. Yummly: One of my favorite apps! It allows you to search for recipes by ingredient, diet, allergy, nutrition, taste, calories, fat, price, cuisine, time, course and source.
2. Diet Bet: This app allows you to join a community of like-minded individuals by putting money in a pot (as little as $25) – if you lose 4% of your body weight at the end of 28 days you'll split the pot of money with others that have won!
3. Streaks: An online to-do list that helps you form good habits! Set the tasks you want to turn into daily habits, mark it off each day once it's complete. Don't break the chain, or your streak will reset to zero days.
Enjoy!
xx – K&J