It's the most wonderful tiiiiiime of the year! (I hope that sounded better on your end 'cause ya'll certainly don't want to hear me screech a tune). But really, who doesn't love the holidays?! We sure do. But we also don't want you stepping on the scale after the holidays like…
The latest Really, Truly Fit podcast is out and we have Jim and Jess talking about their favorite tips for surviving the holidays. With proper preparation, you can still enjoy the holidays without sacrificing your health. Listen to the full show and check out the quick tips below!
Healthy Holiday Tips
1. Make a List and Check it Twice. The jolly man seems to know a thing or two about how to have  an organized and healthy holiday season. Creating a list can keep stress levels at bay which means less of a chance for getting sick. Think of this organized down time as a way to spend more time with the family!
2. Start Your Day with Healthy Meals. Eat small healthy meals throughout the day. Don't skip out on a meal to try and "save room", you'll be more likely to overeat.
3. Covered in Holiday Cheer instead of Sweat? Here are some quick and easy ways to stay active while you're busy preparing for the holidays.
Tabata workout: With tabata workouts, you perform one exercise for a total of 8 rounds. You are active for 20 seconds and rest for 10 (each exercise should last for a total of 4 minutes). Take a 15-30 second rest between each exercise: jumping jacks, air squats, burpees, mountain climbers, crunches. Aaaand, GO!
Yoga: Yoga is an excellent way to stay active and help keep stress away – you can even find videos online to do in the comfort of your own home!
Commercial Break: Who can resist watching holiday movies this time of year? Take the time during the commercial breaks to get up and get moving! See how many jumping jacks, push-ups, crunches or squats you can do before the show comes back on. If you're watching with family or friends, get them involved in a little healthy competition!
Rockin' Around the Christmas Tree: Oh, holiday music! I've only been listening to it since October. Put on some music and start dancing! Don't forget to stop taking yourself so seriously. You can easily burn 150 calories dancing for 20 minutes.
4. Stumbling Santa. If you are going to have a cocktail or 4, don't forget to drink a glass of water in between to continue to keep your body hydrated. Also, BYOB! I am sure none of your family or friends will protest you bringing your own alcohol. Bring something lower in calories that you can enjoy – and of course, share.
5. HYDRATE! Holiday parties typically mean Egg Nog or other alcoholic beverages that will dehydrate your body. Take time while you can to hydrate with water. Your body is going to thank you! Sometimes we mistake feelings of thirst for hunger. So drink up! You could keep yourself from overeating.
Healthy Holiday Food Swaps
Incorporate these healthy alternatives into some of your favorite meals! Whether you are hosting or toasting, use these easy swaps to make your holiday healthier without losing the flavor.
Ground almonds make a healthier replacement for bread crumbs as a topping on many recipes including green bean casserole.
Replace oil or sugars in a recipe with applesauce.
Choose Almond milk or Coconut milk over regular cow's milk.
Use fresh fruit instead of canned fruit for desserts and salads. Not only will they taste better but fresh fruits don't come in cans with excess sugars and preservatives.
You can't go wrong with fresh fruit or a vegetable tray! But stay away from the high calorie ranch dressing for dipping. Try an avocado or Greek yogurt dip.
And can we just talk about this for a second?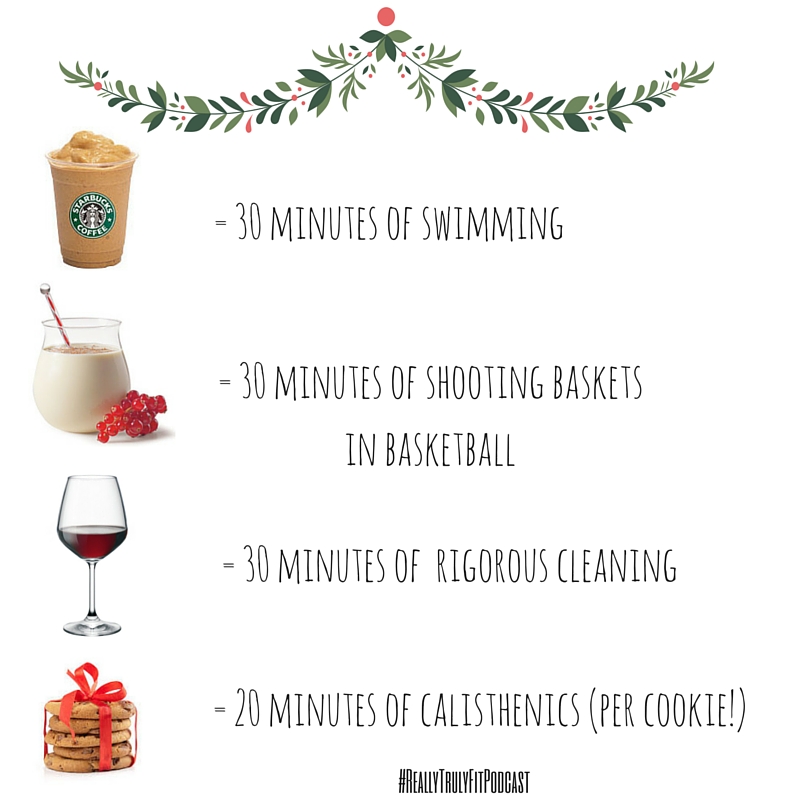 Actually, no. I have no words. I think I'll just stick to the tips from Jim and Jess.
PS. Still need last minute gift ideas for the fitness lover in your life? Check out our gift guide for the fitness enthusiast.
Happy Holidays! xx – K&J