Salmon and Asparagus Omelet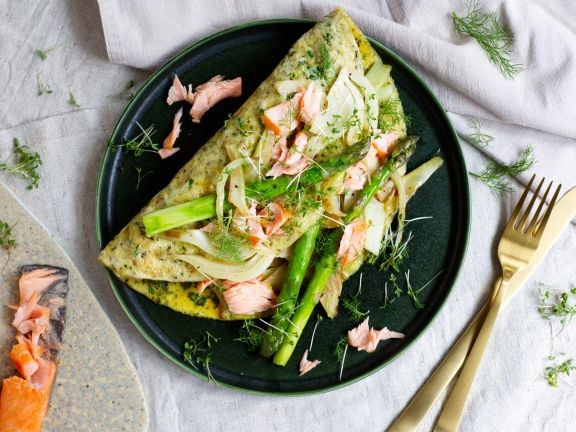 PREP TIME 5 minutes | COOK TIME 12-15 minutes | SERVES 1
NUTRITION
Calories 560 | 28g Fat | 20 g Carbs |64 g Protein
INGREDIENTS
● 2 teaspoons olive oil
● 1⁄2 small onion, diced
● 2 asparagus spears, cut into 1 inch pieces
● 1 (6oz) wild Pacific salmon filet, cut into 1 inch cubes
● 1 clove of garlic, minced
● 3 pitted Kalamata olives, sliced
● 1 teaspoon of capers
● 1 Roma tomato, diced
● Ground Black Pepper to taste
● 2 whole eggs, lightly beaten
● 4 egg whites, lightly beaten
DIRECTIONS
1. Add oil to a medium non-stick skillet and warm over medium-high heat. Add onion, asparagus, sautéing for 2-3 minutes. Stir in salmon pieces lightly browning salmon pieces on all sides. Add garlic, olives, capers, and tomato; cook for another minute.
2. Add pepper, whole eggs, and egg whites into the pan. Continually stir for about 1 minute, keeping the edges of the omelet from browning. Using a spatula carefully flip the omelet and cook for 30 more seconds. Serve immediately.
Caribbean Red Beans & Rice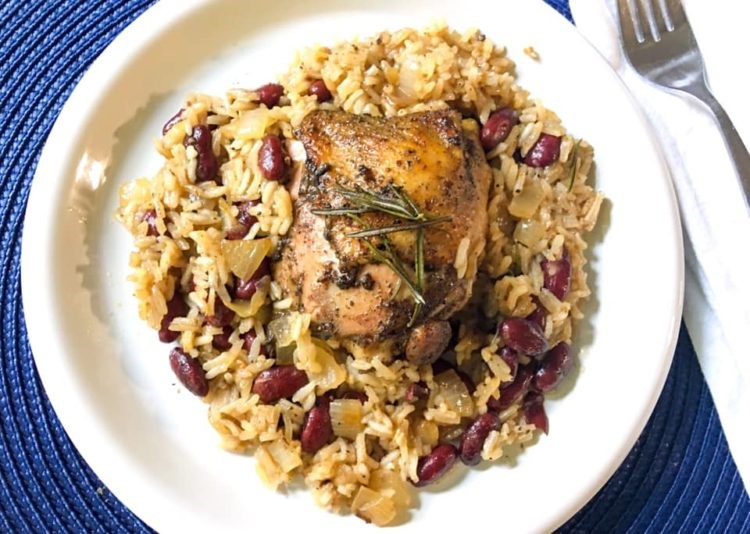 PREP TIME 15 minutes | COOK TIME 45 minutes SERVES 5
NUTRITION Calories 413 | 15 g Fat | 45 g Carbs | 12 g Fiber | 34 g Protein
INGREDIENTS
● 5 chicken thighs, boneless, skinless
● 1 tablespoon olive oil
● 1⁄4 teaspoon of Salt
● 1 teaspoon (each) of Onion Powder, Black Pepper, Garlic Powder, Paprika
● 2 teaspoons Italian seasoning
● 2 cup of rice, dry (jasmine rice)
● 1 cup of water
● 2 (15oz) cans of red/kidney beans, rinsed
● 6 garlic cloves
● 1⁄2 (15oz) can of light coconut milk
● 1 teaspoon Allspice
● 1 sprig of Thyme
● 1 tablespoon of Olive Oil
DIRECTIONS
1. Preheat the oven to 400 degrees. Line a large baking sheet with foil for easy cleanup and set aside
2. Pat dry the chicken thighs with paper towels. Arrange the chicken thighs on a prepared baking sheet and coat the chicken thighs with olive oil lightly (or use spray).
3. In a small bowl mix together: salt, pepper, garlic powder, onion powder, paprika, and Italian seasoning. Sprinkle spices over the chicken evenly.
4. Bake chicken for 35 minutes or until meat temperature is 165 degrees.
5. Bring a large pot of water to a boil. Turn heat down to low and add rice. Simmer for 17 minutes or until all of the water is absorbed.
6. Drain and rinse the beans
7. Sauté the garlic with allspice and thyme, then add in milk for 3-4 minutes. Stir in the beans and continue to cook over medium-low heat until tender and combined.
8. Serve beans and chicken thigh over rice warm or allow to cool and store for a meal-prep friendly dish!
Senegalese Sweet Potato Peanut Stew (Mafe)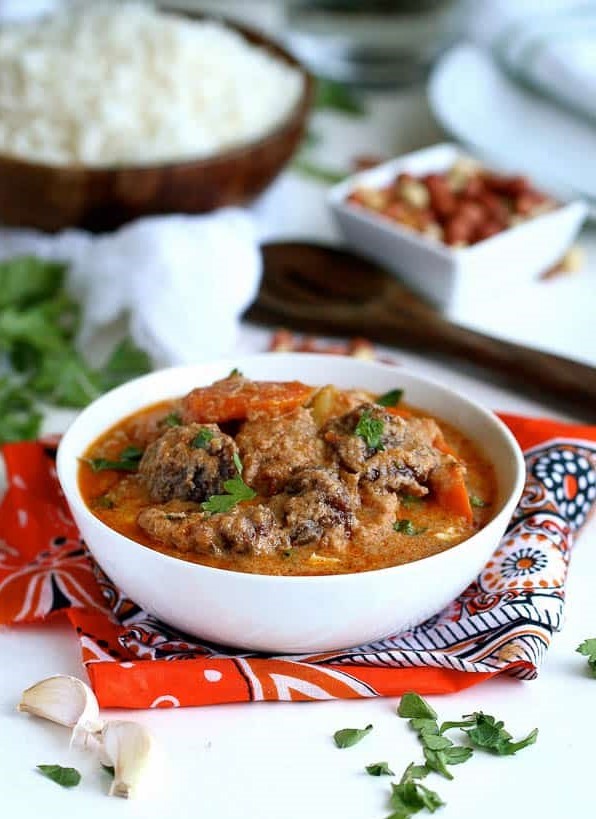 PREP TIME 10 minutes | COOK TIME 40 minutes | SERVES 4
NUTRITION
390 Calories | 16 g Fat | 26 g Carbs | 8 g Fiber | 31 g Protein
INGREDIENTS
● 16 ounces lean ground beef (96% lean used)
● 1 teaspoon olive oil
● 1⁄2 teaspoon black pepper
● 2 teaspoons olive oil
● 1 medium onion, yellow
● 2 garlic cloves, minced
● 2 large carrots, cut into thin rounds
● 2 green zucchinis, cut into thin half-rounds
● 1 large sweet potato, cubed (medium sized)
● 1 (15oz) can of diced tomatoes, no salt added
● 2 cups low sodium vegetable broth
● 1 tablespoon curry powder
● 4 tablespoons peanut butter
● 3 sprigs of fresh thyme, minced, or 1 teaspoon dried
INSTRUCTIONS
1. Set a large skillet pan to medium heat. Pour 1 teaspoon olive oil into the pan. Once the oil is hot add 1⁄2 teaspoon of black pepper and sauté the meat until browned (8-10 minutes). Set aside.
2. Heat 2 teaspoons of oil in a large soup pot on medium heat and sauté the onion and garlic until translucent (3-4 minutes).
3. Add the meat to the pot. Then, add sweet potatoes, carrots, and zucchini to the pot and sauté for 3-4 minutes.
4. Add the diced tomatoes (liquid drained), vegetable broth, and curry powder, and bring to a boil. Simmer for another 10 minutes.
5. After 10 minutes add the peanut butter and thyme to the stew. Let cook for another 3-5 minutes.
6. Serve and enjoy!
Mango and Papaya Fruit Salad with Chia Seed Pudding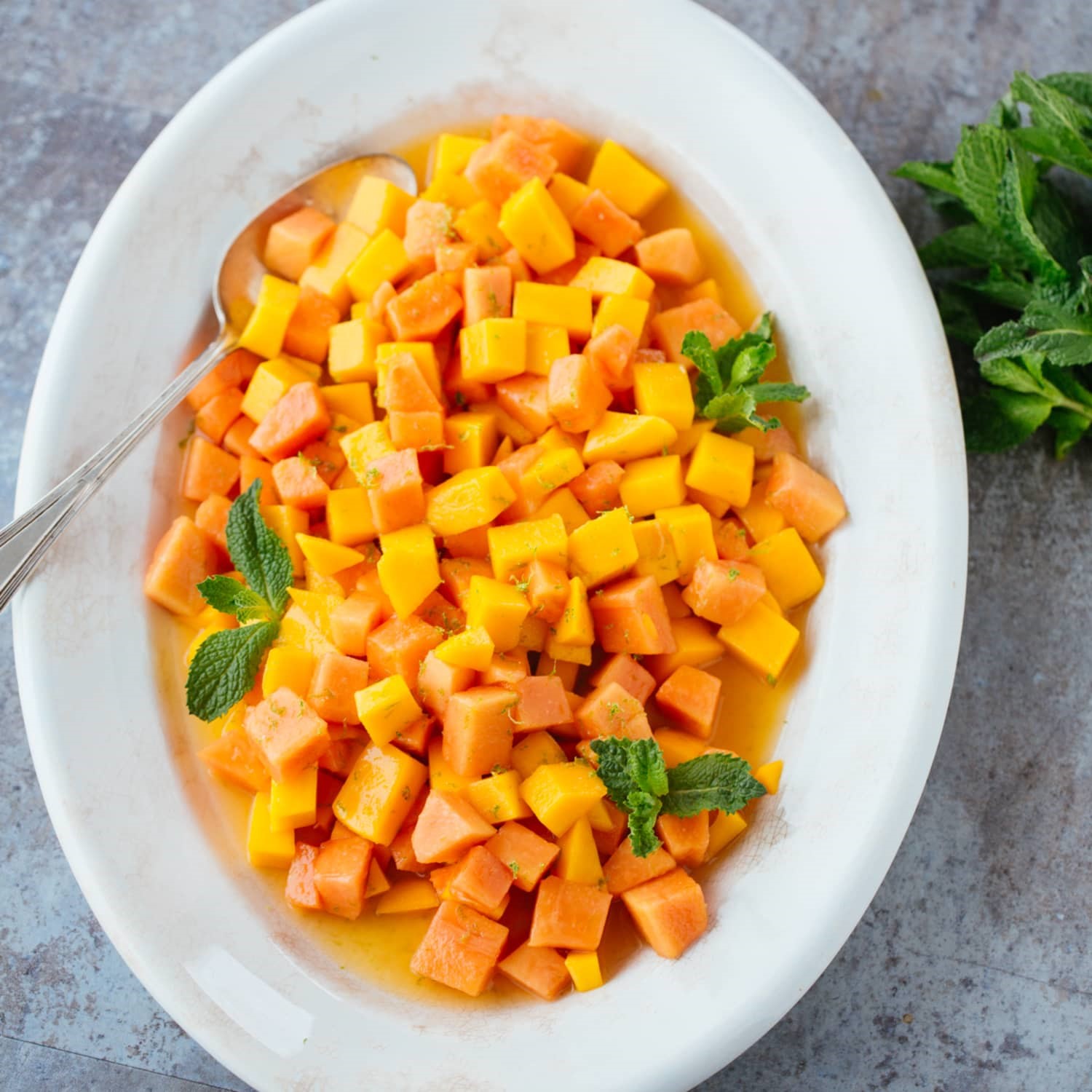 PREP TIME 10 minutes | SERVES 3-4
NUTRITION (per 1⁄2 cup serving of fruit salad + pudding)
251 Calories | 11 g Fat | 38 g Carbs |13 g Fiber | 6 g Protein
INGREDIENTS
Chia pudding-
● 2 tablespoons Chia seeds
● 1⁄2 cup Milk (Almond or low-fat milk)
Fruit salad-
● 1 large or 2 Small Papayas, diced
● 3 mangoes, diced
● 4 tablespoons of Coconut Milk
● 1 teaspoon of Honey
● 1 teaspoon of Ginger
INSTRUCTIONS
1. Pour chia seeds and almond milk into a container and mix well. Let settle for 2-3 minutes then mix again until you see no clumping. Cover and store in the fridge overnight or for at least 2 hours.
2. Cut open the papaya. Scoop out the black seeds in the center. Slice the skin off with a serrated knife. Slice lengthwise into quarters and dice.
3. Peel the mangos with the serrated knife. Slice the fruit from the pots and cut into dice-sized pieces.
4. Place the fruit into the bowl. Depending on fruit size, this will serve 3-4. Drizzle the coconut milk, honey and ginger over the fruit and stir to coat.
5. Serve the fruit salad over the chia pudding and enjoy!
*Note: If mangoes or papayas are unavailable, use any of your favorite in-season fruits. Seasonal fruits in September include melons, mango and apples.