Pumpkin Cream Pancakes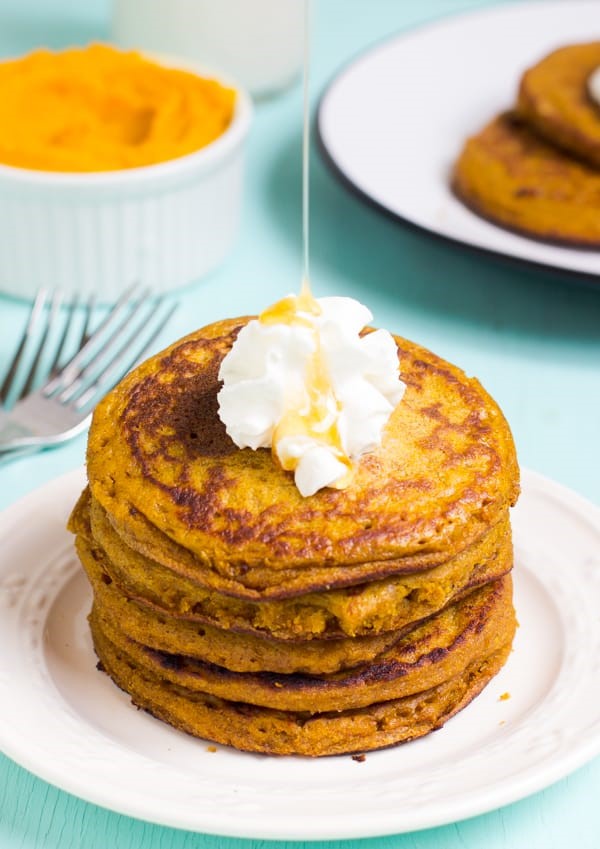 PREP TIME 5 minutes | COOK TIME 15 minutes | SERVES 1
NUTRITION | Calories 330 |14 g Fat | 29 g Carbs | 24 g Protein
INGREDIENTS
Pancakes
● 1⁄4 cup Kodiak Cakes (Buttermilk dry mix)
● 1⁄4 cup water
● 1 large egg
● 2 tablespoons canned pumpkin puree
● 1⁄4 teaspoon pumpkin pie spice
Topping
● 1⁄4 cup plain, nonfat greek yogurt
● Vanilla stevia drops
● 1 tablespoon of peanut butter
● 1 teaspoon honey/maple syrup
● Dash cinnamon
DIRECTIONS
1. Preheat the griddle to medium heat. Once hot, spray with light oil.
2. Whisk the Kodiak Cakes Mix, water, egg, pumpkin puree and pumpkin pie spice together in a bowl.
3. Using a 1⁄4 cup measuring cup, pour batter onto a hot griddle. Once small bubbles form on the top, flip and cook on the other side until golden brown.
4. Mix the yogurt and stevia together until sweetness you desire. Spread the sweetened yogurt in between the pancakes. Top with peanut butter, honey/syrup and cinnamon.
Roasted Vegetable Salad with Egg & Tahini Dressing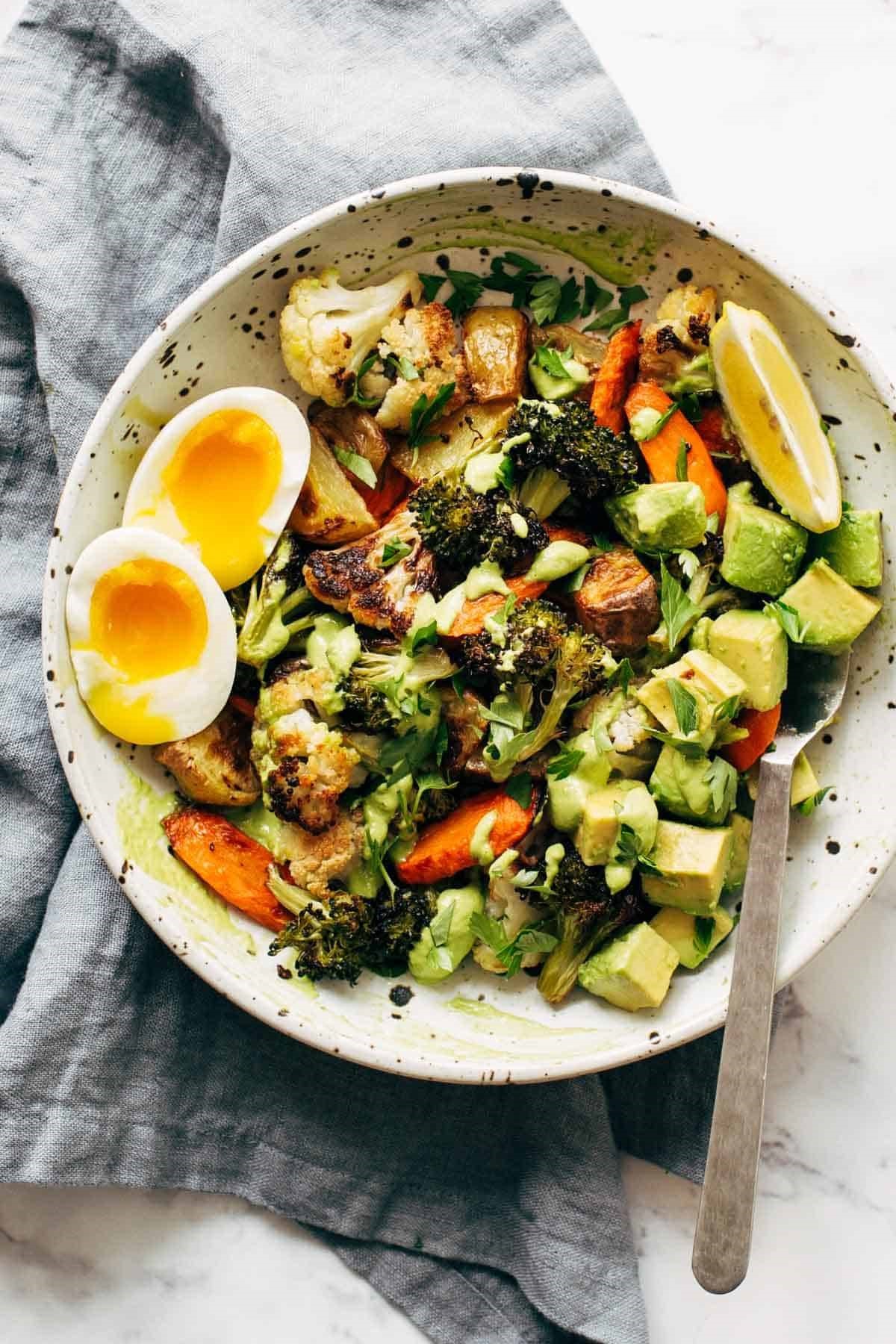 PREP TIME 15 minutes | COOK TIME 30-40 minutes | SERVES 6
NUTRITION | Calories 465 | 34 g Fat | 25 g Carbs | 19 g Protein
INGREDIENTS
● 12 hard boiled eggs, ready to serve
● Roasted Vegetables
● 8 large carrots, peeled and chopped
● 3 potatoes, medium, chopped
● 1 head of broccoli, cut into florets
● 1 head of cauliflower, cut into florets
● 1 tablespoon olive oil
● 1 teaspoon rosemary
● 1 teaspoon fresh ground black pepper
Green Tahini Dressing
● 1/2 cup olive oil
● 1/2 cup water
● 1/4 cup tahini
● 1⁄4 cup Parsley/Cilantro, chopped
● 1 clove garlic
● Lemon juice – half, squeezed or about 2 tablespoons
● 1/2 teaspoon salt
DIRECTIONS
1. Preheat the oven to 425 degrees. Cut vegetables. Arrange the potatoes next to the carrots on a large baking sheet. Stir in oil, rosemary and pepper. Arrange the cauliflower and broccoli on a separate baking sheet. Toss in olive oil, rosemary and pepper.
2. Roast cauliflower and broccoli for 25-40 minutes. Roast potatoes and carrots (a bit longer) for about 35-40 minutes.
3. While the vegetables are roasting add "green tahini" dressing ingredients in a blender or food processor. Blend until smooth.
4. Once vegetables are cooked through – serve warm, tossed in dressing, top with 2 hard boiled eggs to complete the meal. Place in tupperware containers, with hard boiled eggs and dressings separate for a lunch-friendly option the next day!
Stuffed Acorn Squash with Beef and Feta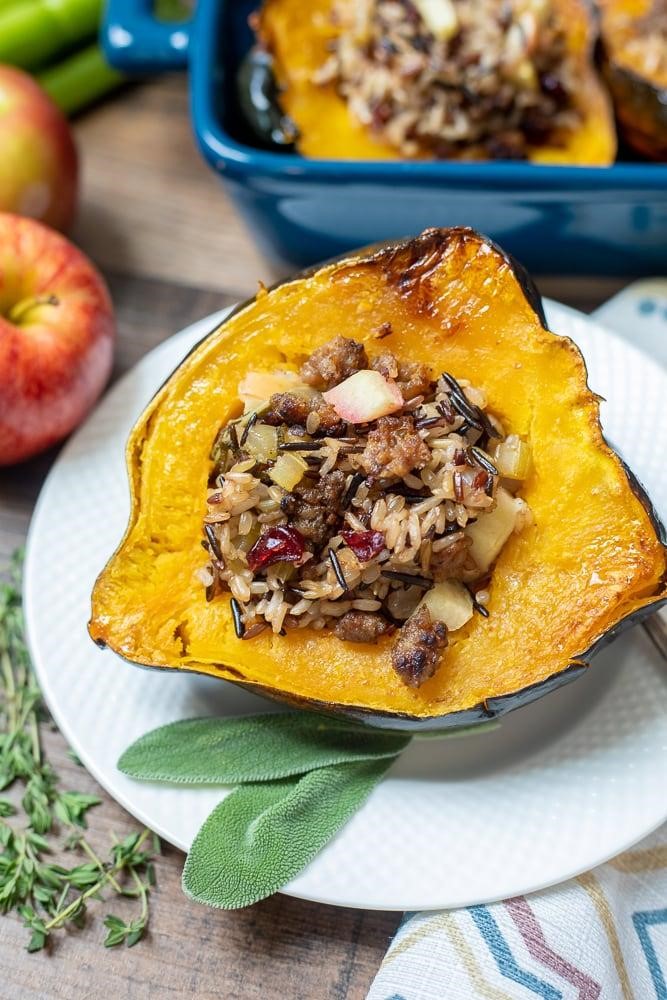 PREP TIME 20 minutes | COOK TIME 45 minutes | SERVES 4
NUTRITION Calories 527 | 15 g Fat | 59 g Carbs | 42 g Protein
INGREDIENTS
● 2 acorn squash, medium, halved and seeds removed
● 1 tablespoon olive oil
● 1 cup wild rice, measured dry
● 16 oz (1 pound) lean ground beef (96% lean used)
● 1 tablespoon parsley, chopped
● 1⁄2 yellow onion, chopped
● 2 cloves garlic, minced
● 1 1⁄2 cup spinach, fresh
● 1⁄2 cup craisins
● 1⁄4 cup crumbled feta cheese
● Salt and pepper to taste
DIRECTIONS
1. Preheat oven to 400°F. Line a baking sheet with aluminum foil. Cut squash in half lengthwise. Place squash on the baking sheet, brush all over with oil and season with salt and pepper. Turn cut-side down and bake for about 45 minutes or until tender.
2. Cook rice according to package instructions, cooking 1 cup of rice measured dry.
3. While rice and squash cooks, heat a large non-stick pan over medium-high heat with a small drizzle of oil. Add in ground beef, cooking through and breaking up into small pieces. Add chopped parsley and set aside.
4. While squash is baking, heat a small drizzle of oil over medium heat and saute onion and garlic until onions are tender. Add in spinach until wilted. Transfer vegetables to a large mixing bowl with beef, and mix in the craisins and feta. When rice is cooked, add rice to vegetables and beef bowl and combine.
5. When squash is done cooking, carefully flip cut-side up and evenly distribute rice, beef and vegetable mixture over each acorn squash half. Serve immediately.
Apple Granola Bars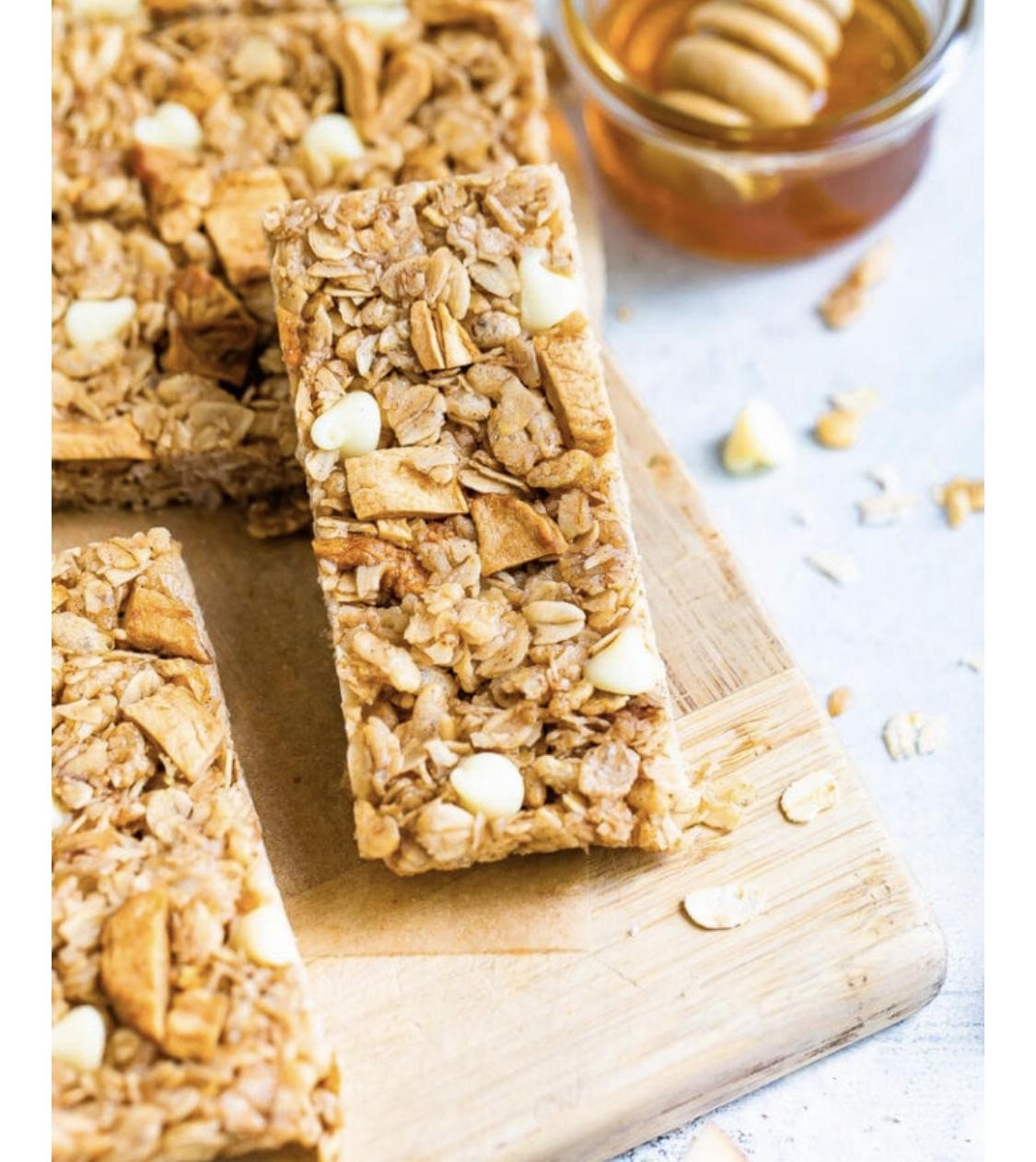 PREP TIME 15 minutes | SERVES 10
NUTRITION | Calories 183 | 9 g Fat | 25 g Carbs | 2 g Protein
INGREDIENTS
● 2 cups old fashioned rolled oats
● 1 cup crisp rice cereal
● 1⁄4 cup dried apples, chopped (divided in 2 parts)
● 3 tablespoon white chocolate chips (divided in 3 parts)
● 1⁄3 cup honey
● 1⁄3 cup vegetable oil
● 1 teaspoon cinnamon
● 1⁄2 teaspoon vanilla
● 1⁄4 teaspoon salt
DIRECTIONS
1. Line an 8x8in baking pan or glass dish with parchment.
2. Combine oats, cereal, 1⁄8 cup apples and 1 tablespoon white chocolate chips in a large mixing bowl, set aside.
3. Combine honey and vegetable oil in a pot over medium heat and allow mixture to heat until bubbling, stirring continuously. After bubbling for 30 seconds, remove from heat and stir in cinnamon, vanilla, and salt.
4. Pour the honey mixture into the bowl with the oat mixture and stir until dry ingredients are well covered.
5. Pour mixture into the lined pan and lightly press until evenly distributed. Top with remaining white chocolate chips and chopped apples and press firmly to ensure ingredients stick together.
6. Place the pan in the refrigerator for two hours to set.
7. Once bars are set, remove from the pan and cut into 10 even bars. Serve immediately or store. Storage: Refrigerator for up to 1 week. Freezer for up to 2 months