Pumpkin Pie Overnight Oats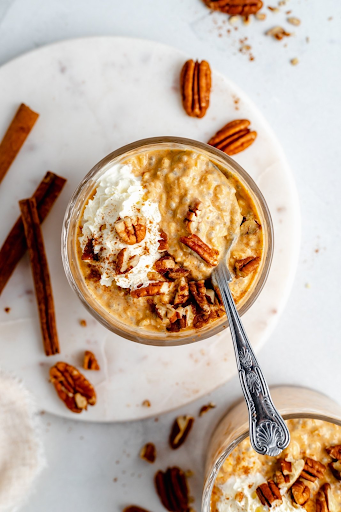 PREP TIME 5 minutes | SERVES 1
NUTRITION | Calories 274 |7 g Fat | 42 g Carbs | 14 g Protein
INGREDIENTS
● 1⁄4 cup plain nonfat greek yogurt (or vanilla)
● 1⁄2 cup unsweetened vanilla almond milk
● 1⁄4 cup pumpkin puree
● 1⁄2 teaspoon vanilla extract
● 1 tablespoons pure maple syrup
● 1⁄2 cup rolled oats (gluten free if desired)
● 2 teaspoons chia seeds
● 1⁄2 teaspoon pumpkin pie spice
DIRECTIONS
1. In a medium bowl, mix together greek yogurt, almond milk, pumpkin puree, vanilla and 1 tablespoon maple syrup until well combined.
2. Stir in oats, chia seeds and pumpkin pie spice. Pour into a glass jar or other air-tight container and place in the fridge for 4 hours or overnight.
3. Top with pecans, walnuts, and more cinnamon if desired!
Roasted Delicata Squash Salad with Pomegranate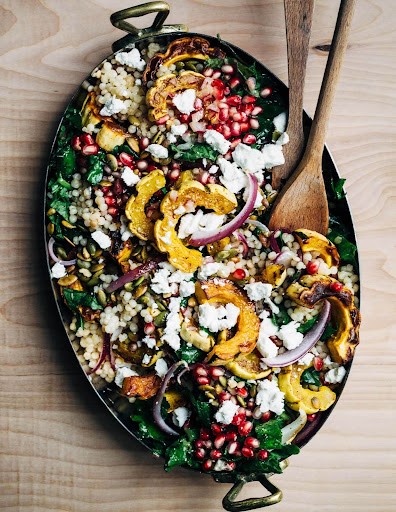 COOK TIME 55 minutes | SERVES 4
NUTRITION | Calories 298 | 23 g Fat | 21 g Carbs | 7 g Protein
INGREDIENTS
● 1 medium delicata squash, halved and seeded
● 1 tablespoon extra virgin Olive Oil for roasting
● 1⁄2 teaspoon sea salt for roasting
● 2 tablespoons apple cider vinegar
● 1 teaspoon dijon mustard
● 1⁄4 shallot, finely minced
● 1 teaspoon honey
● 1⁄2 teaspoon sea salt
● 1⁄2 teaspoon black pepper
● 1⁄4 cup olive oil
● 2 tablespoons roasted pepitas
● 4 cups kale, stems removed, chopped
● 1⁄4 cup pomegranate arils
● 1/4 cup goat cheese crumbles
DIRECTIONS
1. Preheat the oven to 425o F. Cut squash in half, lengthwise, remove seed and cut into 1⁄2 inch crescents. On a large baking sheet, toss squash with 1 tablespoon of olive olive and sea salt. Roast for 20 minutes. Flip squash and cook for another 15 minutes.
2. While the squash is roasting, whisk together the apple cider vinegar, dijon mustard, shallot, honey, salt, pepper and olive oil.
3. Toss chopped kale with 2 tablespoons of vinaigrette and massage.
4. Assemble your salad by adding sliced squash and pepitas. Toss salad, drizzle with remaining vinaigrette. Top with pomegranate and 1-2 tablespoons of cheese! Optional: Add leftover meat/fish/poultry!
Slow Cooker Black Bean Pumpkin Turkey Chili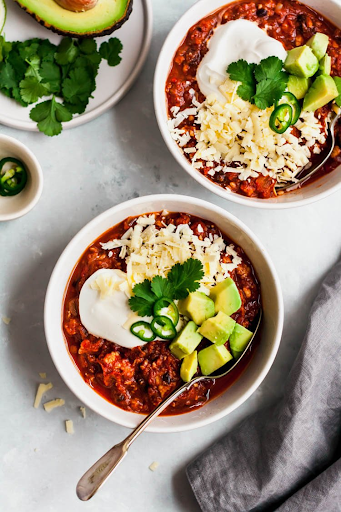 PREP TIME 10 minutes | COOK TIME 3 hours & 15 minutes | SERVES 4
NUTRITION Calories 368 | 6 g Fat | 42 g Carbs | 38 g Protein
INGREDIENTS
● 1 tablespoon olive oil
● 1 lb extra lean ground turkey
● 1 medium white onion, chopped
● 1 jalapeno, seeded and finely chopped
● 3 garlic cloves, minced
● 2 1⁄2 tablespoons chili powder
● 1 1⁄2 tablespoons cumin
● 1⁄4 teaspoon cayenne pepper
● 1⁄4 teaspoon cinnamon
● Black pepper to taste
● 1 28 oz. can diced tomato (no salt added)
● 3⁄4 cup low sodium chicken broth
● 1 15 oz. can pumpkin puree
● 1 15 oz. can black beans, rinsed and drained
● Garnish: Cilantro, greek yogurt, avocado
DIRECTIONS
1. Place olive oil in a large pot over medium high heat. Once oil is hot, add in onion, jalapenos and garlic. Stir and cook for 2 minutes, then add in turkey, gently breaking up the meat and cooking until brown (about 5 minutes).
2. Add chili powder, cumin, cayenne pepper, cinnamon, salt and pepper to the meat. Stir to combine for 30 seconds then transfer to the slow cooker.
3. Add diced tomatoes, chicken broth, pumpkin puree and black beans to slow cooker and stir until well combined. Cover and cook for 6-7 hours on low or 2-3 hours on high. Once chili is done, distribute into bowls and top with cilantro, greek yogurt, or toppings of choice!
Curried Sweet Potato Hummus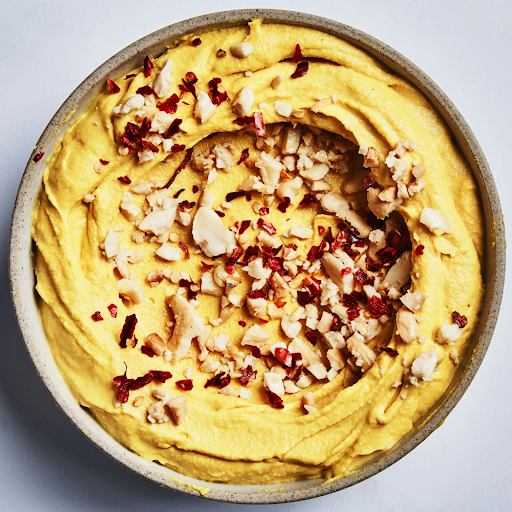 PREP TIME 15 minutes | SERVES 13
NUTRITION (per 2 tablespoons) | 180 Calories | 8 g Fat | 22 g Carbs | 2 g Fiber | 8 g Protein
INGREDIENTS
● 1 small sweet potato
● 1 15 oz. can chickpeas, rinsed, drained
● 1⁄3 cup tahini, well mixed
● 1⁄4 cup fresh lime juice
● 1 garlic clove, finely grated
● 1 teaspoon curry powder
● 1 teaspoon kosher salt (or more to taste
● 10 cranks freshly ground black pepper
● 1⁄8 teaspoon cayenne pepper
● 2 tablespoons olive oil
● Optional: Crushed cashews, Red pepper flakes
DIRECTIONS
1. Preheat oven to 425°F. Prick potato all over with a fork and wrap tightly in foil. Place on a foil-lined rimmed baking sheet and roast until the tines of the fork slide easily into the center of the potato, 60-70 minutes. Let sit until cool enough to handle.
2. Meanwhile, in a food processor, add chickpeas, tahini, lime juice, garlic, curry powder, salt, black pepper and cayenne and process until smooth.
3. Half the potato lengthwise and scoop out 1⁄2 cup flesh (discard skin). Add flesh to the food processor and process until mixture is smooth, about 1 minute. With the motor running, stream in olive oil, then continue to process until hummus is very light and creamy, 1-2 minutes longer. Taste and season with salt, if needed.
4. Transfer to a shallow bowl. Top with crushed cashews and red pepper if desired, and drizzle with olive oil. Serve with carrots/crackers.