I have partnered with Dannon Oikos to help promote the One Yogurt Every Day Campaign. I have been compensated for my time commitment. However, my opinions are entirely my own and I have not been paid to publish positive comments.
Anyone else love Greek yogurt as much as I do? It's delicious, refreshing, healthy, and so versatile! If you're looking for a tasty and quick breakfast or lunch addition, easy snack or an excellent substitute in a lot of recipes, look no further. Greek yogurt provides twice as much protein as regular yogurt, has about half as many carbohydrates, and is a often good source of Calcium. So, what's not to love?
Still delectable when eaten sweet, Greek yogurt is just as tasty as a savory treat too. While most of us are accustomed to eating our yogurt in a sweet way, like fruit-flavored or with added fruit, honey or granola, or even healthy desserts like the ones we made here, we can't forget about the savory side of things. Savory Greek yogurt was on the list of food trends for 2017 and for good reason. I won't lie, the initial idea of eating Greek yogurt this way had me feeling skeptical, but after trying it several different ways, I'm obsessed. Below are some of my favorite ways to use Greek Yogurt as a savory treat:
Substitute for high fat condiments, like mayo
Base for a salad dressing
Dolloped on a sweet potato, taco, burger or soup
A dip for veggies or crackers
Savory parfait
You can make your own savory yogurt dish grabbing a tub of Oikos Plain Greek Nonfat yogurt to get started. Try one of the recipes below or get creative with vegetables, herbs, spices and oils to make your own!
3/4 cup of Oikos Plain Greek Nonfat Yogurt
2 tablespoons finely chopped cucumber
2 tablespoons pitted and halved Kalamata olives
1/4 teaspoon dried oregano
Mix ingredients together and serve cold with a side of your favorite whole grain crackers or vegetables.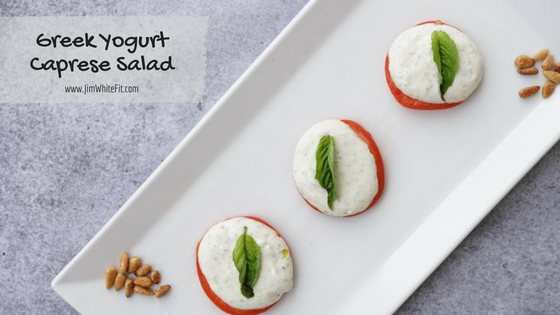 3/4 cup of Oikos Plain Greek Nonfat Yogurt
1 large tomato, sliced
1 tablespoon basil pesto
4 basil leaves
Salt and pepper, to taste
Mix together the yogurt, basil pesto and salt & pepper. Add a dollop onto each tomato slice and top with basil leaves. Serve chilled.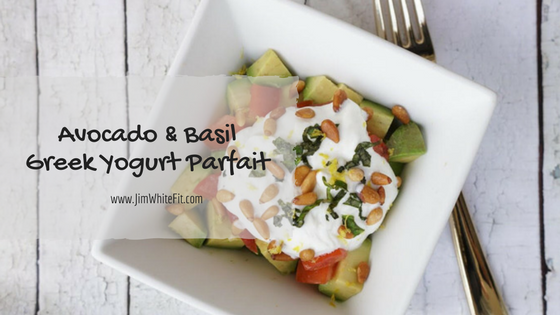 Makes 1 serving but can easily be doubled.
½ medium avocado
2 tablespoons chopped tomato
1 teaspoon pinenuts
½ Meyer lemon
½ cup of Oikos Plain Greek Nonfat Yogurt
2 teaspoons extra virgin olive oil
¼ teaspoon coarse ground salt
¼ teaspoon freshly ground black pepper
3 fresh basil leaves, chopped
Cut avocado into large chunks and cover with juice from the lemon and set aside. Add Oikos Greek Nonfat  Yogurt to a bowl as bottom layer. Top with avocado mixture, tomatoes, oil, salt and pepper then another layer of Greek yogurt. Top parfait with basil and pine nuts. Serve immediately.
What are some of your favorite savory dishes?