We seriously have the most amazing Members that walk into our doors. And when they give you pounds and pounds of fresh yellowfin tuna..well, that's just icing on the cake!
We recently had a friend and Member of the studio give us a ton of fresh, yellowfin tuna her husband caught right off the boat! She is incredibly kind and generous and we were completely blown away by her gift. I am not usually a fish person because I get weirded out buying it in the supermarket but when it comes to us fresh, we feast! It's always best fresh so I knew I needed to come up with a plan to eat it for breakfast, lunch and dinner for the next few days and since we're getting prepared for our annual Team photoshoot, I was limited in what ingredients I could use. But I took what I had already in the kitchen and created some serious tasty goodness.
BREAKFAST
TEA Muffin – Tuna, Egg and Avocado Muffin
Serves: 1 | Total prep time: 15 minutes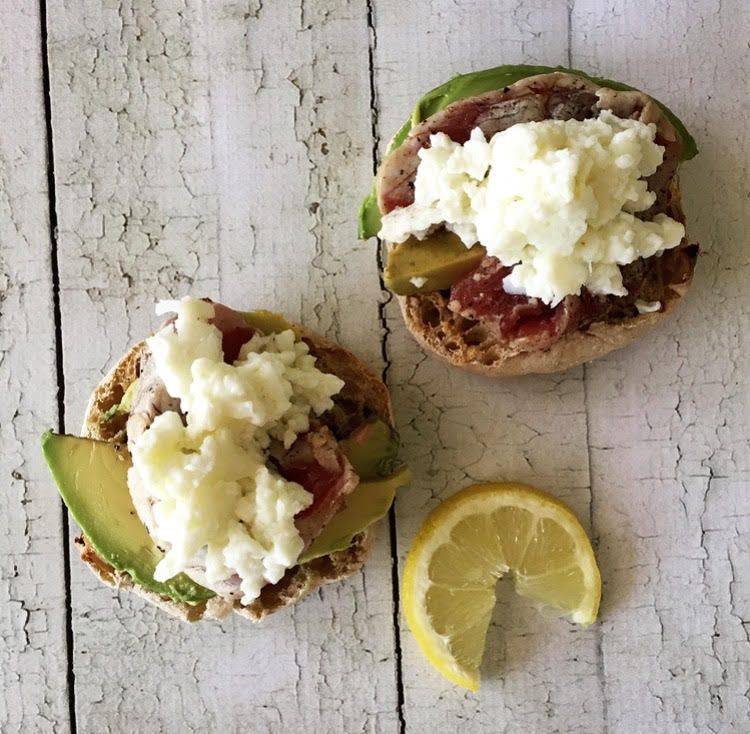 I've been on a serious avocado kick and can't seem to get enough, so I knew I wanted to incorporate them into a few of the recipes. The breakfast muffin is so super easy and the only real cooking you have to do is searing up the tuna.
ingredients.
100% Whole grain English muffin
2 egg whites
1/4 avocado
4 ounces of fresh tuna
lemon juice
salt and pepper, to taste
instructions.
Slice your fresh tuna into strips. Sprinkle a little salt and pepper on each side of the strips and then toss a bit of lemon juice. (this is all for taste, so place as little or as much as you'd like. I'm not a huge lemon fan so I just do very little. And obviously, go easy on the salt!) Spray cooking spray on a non-stick pan and sear both sides. Once cooked to your liking, place tuna aside. Using the same pan and scramble the egg whites. Then, you'll toast the English muffin while the eggs are cooking and then spread the avocado across the toast and the seared tuna on top. Once the eggs are scrambled and complete, place as the topping. Enjoy! (it's seriously THAT easy)
LUNCH
Pineapple & Avocado Poke Bowl
Serves: 4 | Total prep time: 20 minutes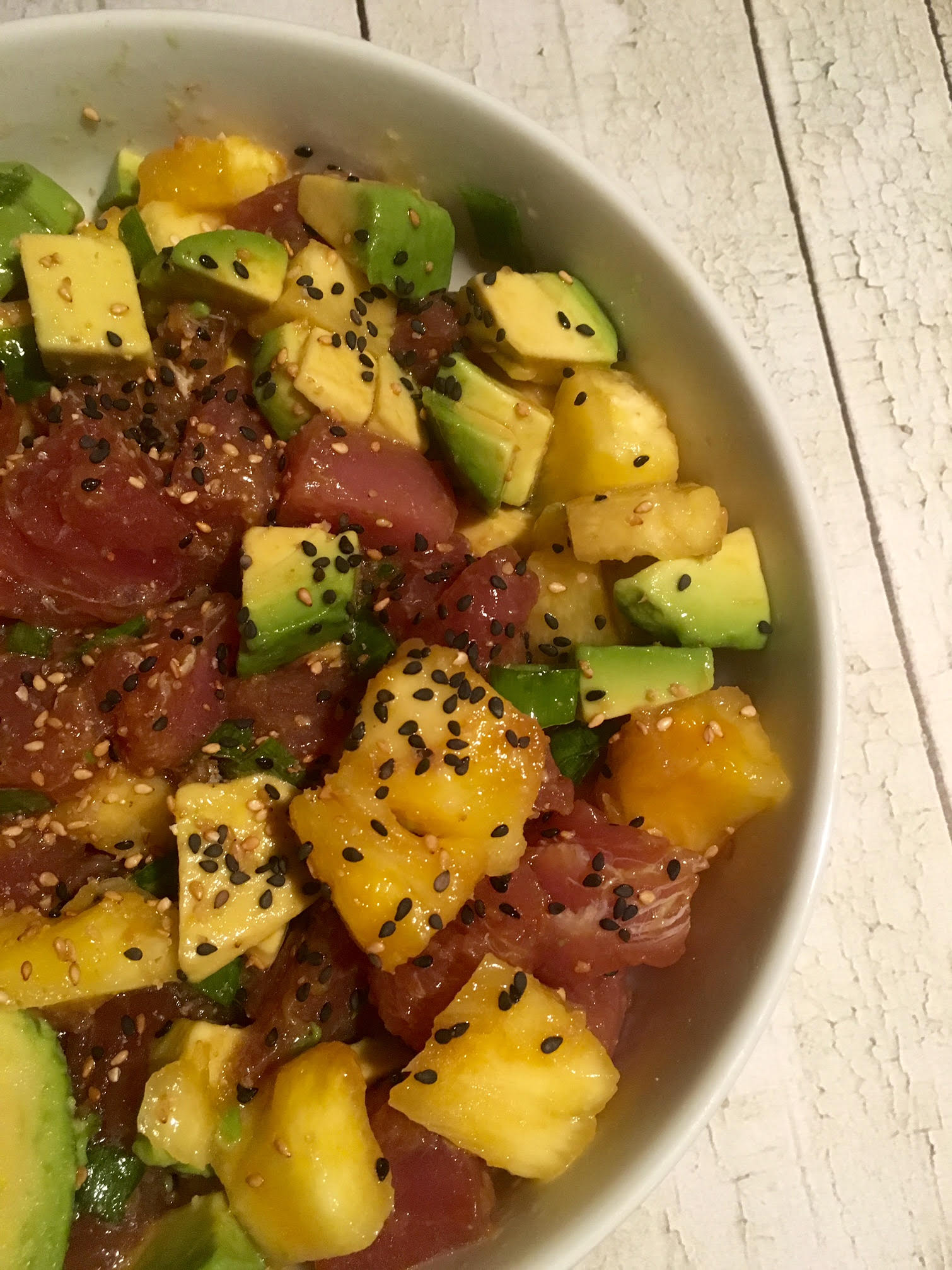 This recipe may have been my absolute favorite. The tuna was THAT good to eat raw but then adding in the avocado and pineapple…holy flavor!
ingredients.
1 pound yellowfin tuna, cut into cubes
1/4 cup low-sodium soy sauce
3 tablespoons sesame oil
1 tablespoon rice vinegar
1 teaspoon toasted sesame seeds (you can purchase these in the spice aisle)
1 teaspoon black sesame seeds
1/2 teaspoon ginger, grated
1 garlic clove, grated
4 green scallions, sliced thin
1 avocado, cubed
1 cup pineapple, cubed
instructions.
Place the tuna in a large bowl. In a smaller bowl, whisk together the soy sauce, oil, vinegar, sesame seeds, ginger and garlic. Pour over the tuna and toss to coat. Stir in the green onion. Cover the bowl and place it in the fridge to chill for 15 minutes. Right before serving, stir in the cubed avocado and the pineapple.Top with extra sesame seeds.
DINNER
Grilled Tuna Steaks & Pineapple Salsa
Serves: 4 | Total prep time: 30 minutes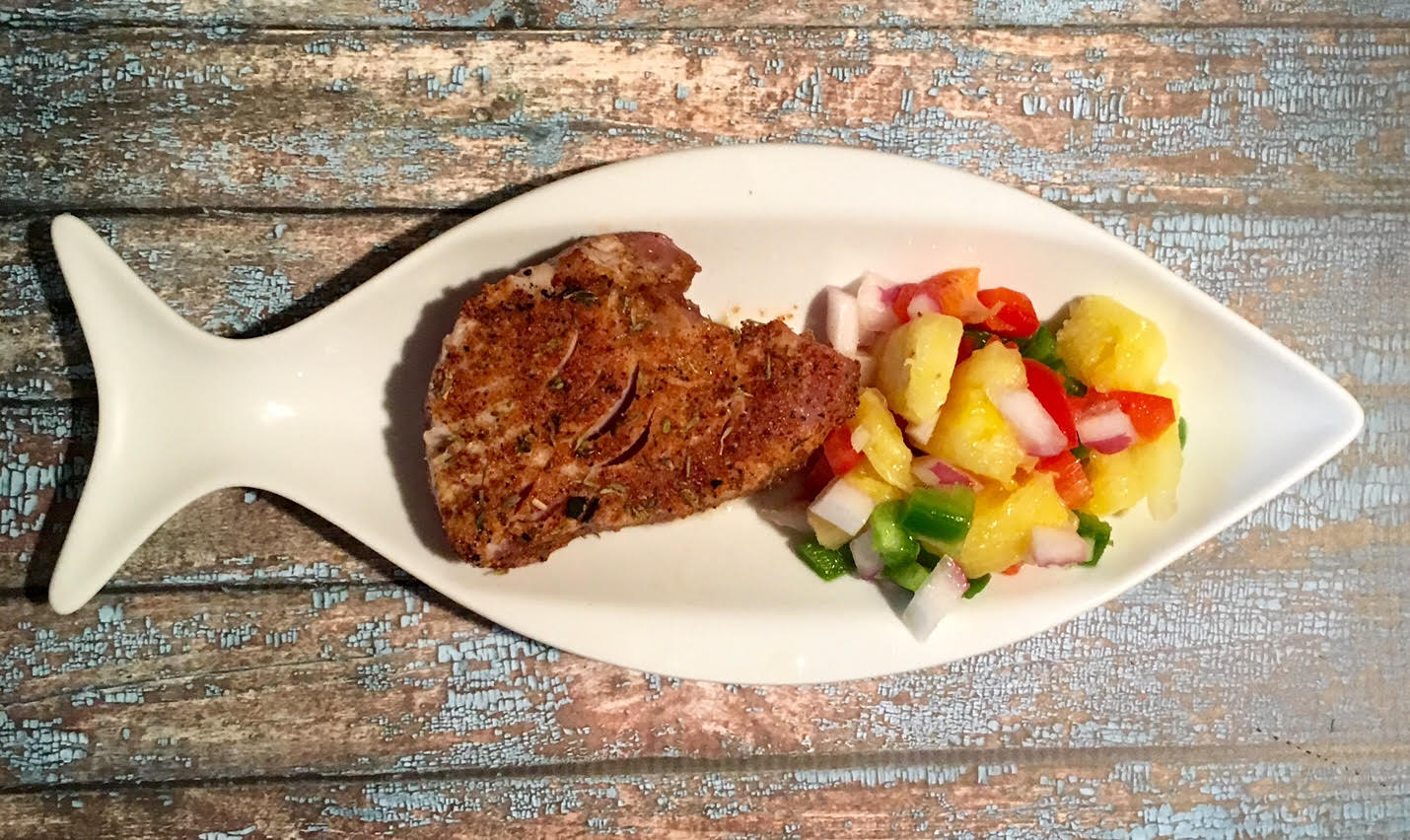 I'm not going to lie, grilling the tuna scared me. I was so nervous I was going to OVER cook it but I watched it like a hawk and it turned out pretty good.
ingredients.
1 cup pineapple, cubed
2 tablespoons olive oil
1/4 cup red onion, chopped
1/4 cup red bell pepper, minced
1/4 cup rice wine vinegar
1 jalapeno pepper, seeded and minced
2 tablespoons lime juice
1 1/2 teaspoonsgarlic, minced
1/2 teaspoon salt
4, 5-ounce tuna steaks
tuna steak seasoning –
1 1/2 tablespoons paprika
2 tablespoons salt
2 tablespoons garlic powder
1 tablespoon black pepper
1 tablespoon onion powder
1/2 tablespoon cayenne pepper
1 tablespoon dried oregano
1 tablespoon dried thyme
instructions.
Brush the pineapple slices lightly with 1 tablespoon of olive oil and place on the grill, turning occasionally, until softened. Remove from the grill and place in a bowl. Add in the red onion, bell pepper, vinegar, jalapeno, lime juice, and minced garlic. Drizzle with 1 tablespoon of the olive oil and stir to combine. Season with 1/2 teaspoon of the salt and set aside.
Season the tuna steaks with prepared tuna steak seasoning. Place steaks on the grill, turning after 3-4 minutes. Repeat on the other side for an additional 3-4 minutes or until medium-rare. Remove from heat and serve with the pineapple salsa.
I do hope you enjoy! And if you try these out, take a picture and post on insta with the #reallytrulyfit. Would love to hear how they turned out for you!
xx, K