Make Ahead Breakfast Sandwiches With Veggies
PREP TIME 5 minutes | COOK TIME 30 minutes | SERVES 4
NUTRITION | 420 Calories | 19 g Fat | 36 g Carbs | 26 g Protein
INGREDIENTS
● 8 eggs
● 2 cups baby spinach and arugula mix
● 1 cup diced red bell pepper
● 1⁄2 cup halved cherry tomatoes
● 8 slices whole wheat bread
● 4 slices pepper jack cheese
● Salt and pepper to taste
DIRECTIONS
1. Preheat the oven to 350°. Spray an 8X8 inch baking dish with cooking spray.
2. Layer the baby spinach and arugula, bell peppers, and cherry tomatoes in the baking dish
3. In a bowl whisk the eggs together with salt and pepper.
4. Pour the eggs over the vegetables and bake for 25-30 minutes, until firm to the touch in the center.
5. Cut the egg bake into four slices and refrigerate for up to a week.
6. When ready to serve, place a slice of the egg bake onto a microwave safe plate and top with a slice of cheese. Microwave for about 1 minute, until the eggs are hot and the cheese is melted.
7. Place 2 slices of bread in the toaster. Place the egg bake on one slice of toast then top with the other slice of toast.
Simple Stewed Pinto Beans and Collard Greens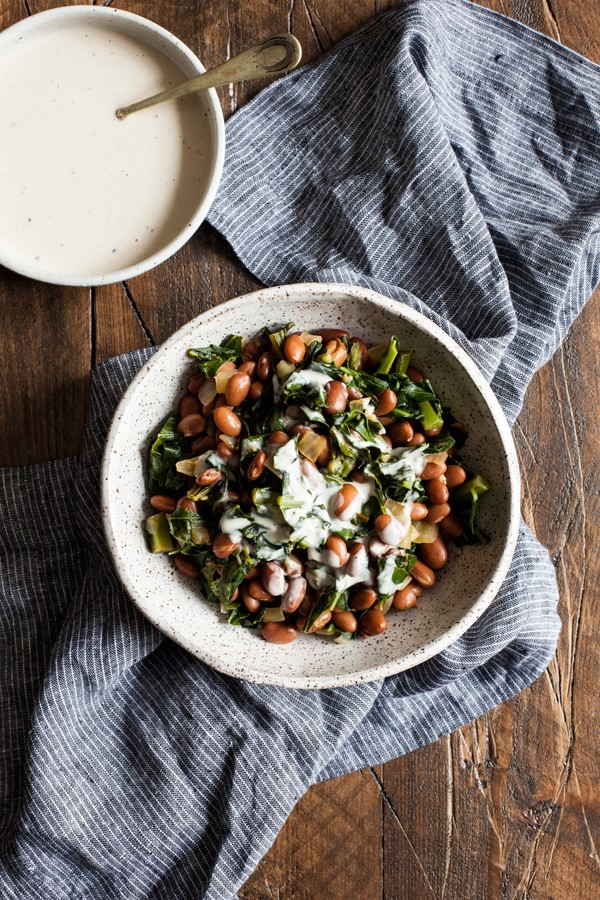 PREP TIME 10 minutes | COOK TIME 20 minutes | SERVES 6
NUTRITION | 425 Calories | 10 g Fat | 53 g Carbs | 13 g Protein
INGREDIENTS
● 1 tablespoon olive oil
● 1 onion chopped
● 1 cloves garlic minced
● 1⁄2 teaspoon smoked paprika
● 1⁄2 teaspoon salt plus extra for cooking the onions
● 1 cup vegetable broth
● 1 pound washed and dried collard greens sliced into ribbons (1 large bunch)
● 3 cups cooked pinto beans, drained and rinsed
● Dash of crushed red pepper
● 3 cups cooked brown rice
Tahini Drizzle (whisk together all ingredients while cooking collards):
● 1⁄4 cup Tahini
● 1⁄4 cup water
● 2 tablespoons lemon juice
● 1⁄4 teaspoon salt
● 1 small garlic clove finely minced
● Black pepper to taste
DIRECTIONS
1. Heat olive oil in a large skillet over medium heat. Add onion with a pinch of salt. Cook for 7-8 minutes or until soft. Add garlic, paprika and 1⁄2 teaspoon of salt. Cook for 2 more minutes.
2. Add collards and broth. Cover the pan and allow collards to wilt down. Reduce the heat to medium low, uncover the pan, and cook the collards for about 10 minutes stirring occasionally. Stir in the beans and red pepper.
3. To serve, divide the collards and beans into bowls on top of 1⁄2 cup cooked brown rice and drizzle with Tahini.
Banana Breakfast Bars with Applesauce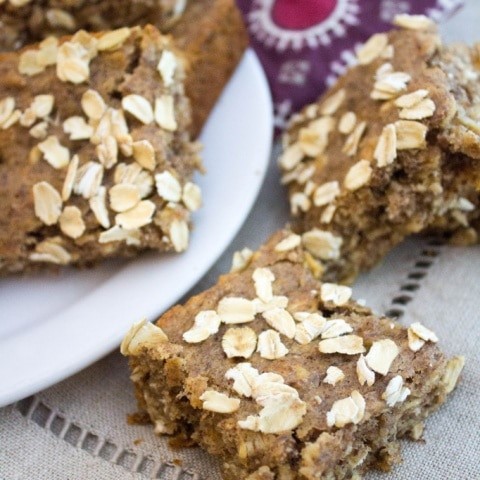 PREP TIME 10 minutes | COOK TIME 25 minutes | SERVES 10
NUTRITION | 195 Calories | 7 g Fat | 31 g Carbs | 6 g Protein
INGREDIENTS
Dry:
● 1 cup spelt flour
● 1 cup old fashioned rolled oats
● 1⁄2 cup finely ground flaxseed
● 1 teaspoon cinnamon
● 1 teaspoon baking powder
● 1 teaspoon baking soda
● 1⁄4 teaspoon sea salt
Wet:
● 1⁄2 cup unsweetened applesauce
● 1⁄3 cup pure maple syrup
● 1⁄4 cup smooth almond butter or peanut butter
● 2 very ripe bananas, smashed
DIRECTIONS
1. Preheat the oven to 350°.
2. In two separate bowls mix dry ingredients and wet ingredients, then combine, adding wet ingredients to the dry ingredients and stirring gently until mixed.
3. Pour mixture into a pan and pat it down evenly.
4. Bake in the oven for about 25 minutes. Insert a fork to make sure they are done.
Pasta With Turkey, Broccoli Rabe and Chickpeas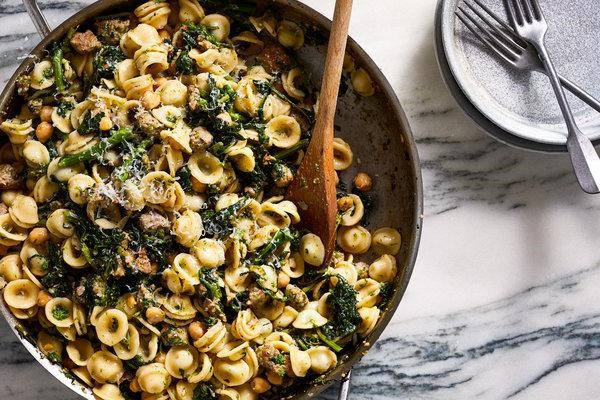 COOK TIME 30 minutes | SERVES 6
NUTRITION | 574 Calories | 18 g Fat | 78 g Carbs | 30 g Protein
INGREDIENTS
● 1 teaspoon salt and 1⁄2 teaspoon black pepper
● 1 1⁄2 pounds broccoli rabe
● 1 tablespoon red pepper flakes
● 1 pound shaped whole wheat pasta, such as orecchiette
● 2 tablespoons olive oil
● 1⁄2 pound ground turkey
● 3 garlic cloves, minced (about 1 tablespoon)
● 1⁄2 cup chicken stock
● 1 (15-oz) can chickpeas, drained and rinsed
● 1⁄2 cup grated parmesan or pecorino, plus more for serving
● 1 lemon zested and juiced
DIRECTIONS
1. Bring a large pot of salted water to a boil. Roughly chop the broccoli rabe, add it to the pot and cook for 3 minutes. Use a slotted spoon to lift the broccoli rabe from the water and place
in a colliander to drain.
2. Add pasta to the boiling water and cook according to package instructions until al dente. Reserve 1 cup pasta water, then drain the pasta.
3. In dutch oven or deep 12 inch skillet, heat olive oil over medium high. Add turkey, breaking it up with a spoon, until browned, 3-5 minutes. Add garlic and cook for 30 seconds.
4. Add chicken stock and cook until reduced by half, 1 minute.
5. Add broccoli rabe, chickpeas, salt, pepper and red pepper flakes. Cook over medium heat, stirring often, about 3 minutes.
6. Add pasta and 1⁄2 cup pasta water, cook low for 1-2 minutes. Add additional water as needed.
7. Remove pan from heat, add parmesan, lemon zest and lemon juice. Toss until combined