Mushroom  Crepes  with  Poached  Eggs
PREP TIME 20 minutes | COOK TIME 40 minutes | SERVES 4
NUTRITION | 364 Calories | 18 g Fat | 34.7 g Carbs | 18 g Protein
INGREDIENTS
Crepes:
● 1 cup all purpose flour
● 2 large eggs
● 1⁄2 cup milk
● 1⁄2 cup water
● 2 tablespoons melted butter
Filling:
● 1 tablespoon extra virgin olive oil
● 12 ounces of mixed mushrooms, sliced
● 2⁄3 cup shallots, sliced
● 1 teaspoon rosemary chopped, plus more for garnish
● 5 ounces baby spinach
Poached eggs:
● 1 tablespoon vinegar
● 4 large eggs
DIRECTIONS
1. Whisk together flour and eggs. Gradually add milk and water, stir to combine. Add butter, beat until smooth.
2. Over medium heat, scoop 1⁄4 cup of batter onto a griddle or pan. Tilt the pan with a circular motion so the batter coats the surface evenly.
3. Cook the crepe until the bottom is slightly brown, turn and cook the other side.
4. For the filler: heat oil over medium heat, add mushrooms, shallots, rosemary, stir and cook until mushrooms are soft. Add spinach and cook until wilted.
5. For the poached egg: In a deep pot boil 6 quarts of water, once boiling stir in vinegar, turn heat down, slide eggs into the water one at a time. When all eggs are in the pot, cover immediately and steep for 3 minutes then remove gently.
6. Assemble by adding mushroom filling to each crepe, fold it in half and then in half again. Add poached egg to crepes, garnish with rosemary and salt and pepper if desired.
Kiwi Sorbet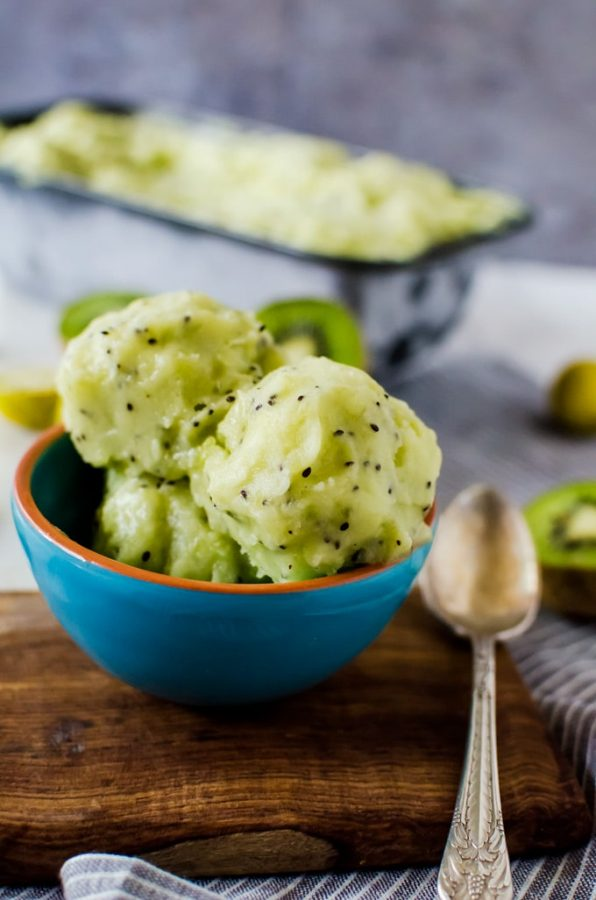 PREP TIME 10 minutes | COOK TIME 6 hours | SERVES 8
NUTRITION | 107 Calories | 1 g Fat | 27 g Carbs | 2 g Protein
INGREDIENTS
● 7 ripe kiwis
● 3 ripe bananas
DIRECTIONS
1. Slice kiwis in half and scoop out the flesh with a tablespoon. Peel and slice bananas. Place kiwis and bananas in an airtight container overnight, or for at least 4 hours.
2. Take the fruit out of the freezer and when it starts to soften (about 5-10 minutes), place it in a blender and pulse 6-8 times until the mixture is smooth but the kiwi seeds are still intact.
3. Pour the sorbet into a loaf tin and place it in the freezer for about 30 minutes, until set.
4. When ready to eat, serve in bowls or ice cream cones.
Slow Cooker Beef Roast with Root Vegetables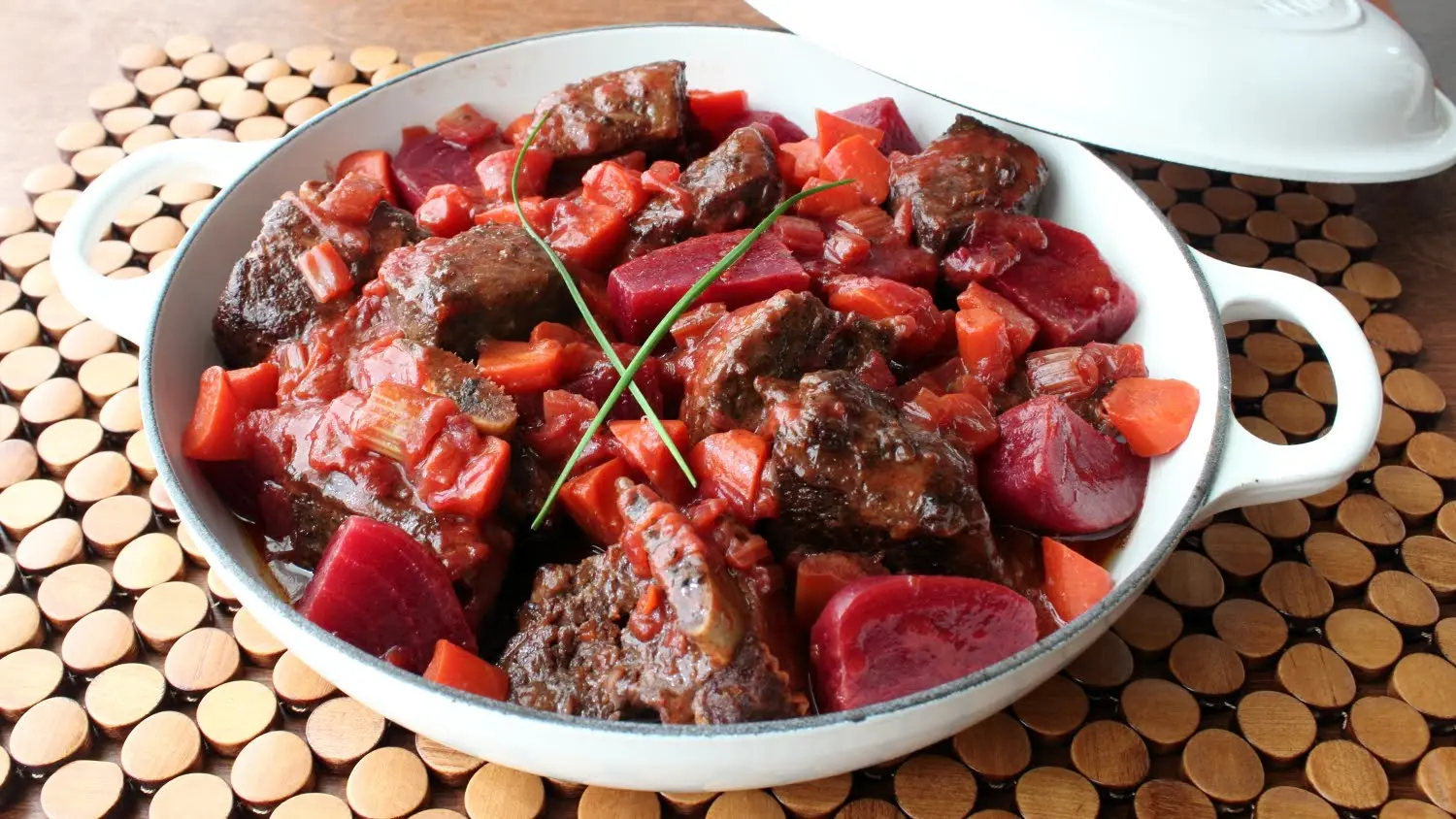 PREP TIME 10 minutes | COOK TIME 6 hours | SERVES 8
NUTRITION | 397 Calories | 11 g Fat | 20 g Carbs | 55 g Protein
INGREDIENTS
● 3 pound chuck or rump roast
● 2 tablespoons steak seasoning
● 1 tablespoon italian seasoning
● 2 cups low sodium beef broth
● 1 pound beetroot
● 1 pound turnip
● 1 pound parsnip
● 1 large yellow onion
● 2 stalk celery
● Salt and pepper to taste
DIRECTIONS
1. Whisk together steak and italian seasoning and rub the mix all over the roast.
2. Grease the slow cooker, add roast, beef broth, beets, turnip, parsnip, onion and celery. Cover and cook on low for 9 hours or on high for 6 hours.
3. Place roast on a serving plate. Use a fork to gently pull apart the roast and serve with vegetables.
Lentil Salad
PREP TIME 10 minutes | COOK TIME 10 minutes | SERVES 4
NUTRITION | 475 Calories | 15 g Fat | 67 g Carbs | 24 g Protein
INGREDIENTS
● 1 tablespoon Dijon mustard
● 3 tablespoons olive oil
● 1 lemon, juice only
● 1 pinch salt and black pepper
Salad:
● 1⁄2 cup each – butterhead lettuce, spinach, arugula
● 1 carrot, grated
● 8 cherry tomatoes
● 1⁄2 a cucumber, diced
● 1 small red onion diced
● 3 beets, cooked and diced
● 1 yellow bell pepper, diced
● 10 olives halves
● 1 cup green lentils, cooked
● 5 tablespoons chopped fresh cilantro
● 4 tablespoons feta cheese crumbles
DIRECTIONS
1. Combine Dijon mustard, olive oil, lemon juice, salt and pepper to create the salad dressing.
2. In a large bowl, combine butterhead lettuce, spinach, arugula, carrots, cherry tomatoes, cucumber, onion, beets, bell peppers and olives.
3. Add lentils, dressing and cilantro. Mix well. Serve topped with crumbled feta cheese.