Sausage & Potato Skillet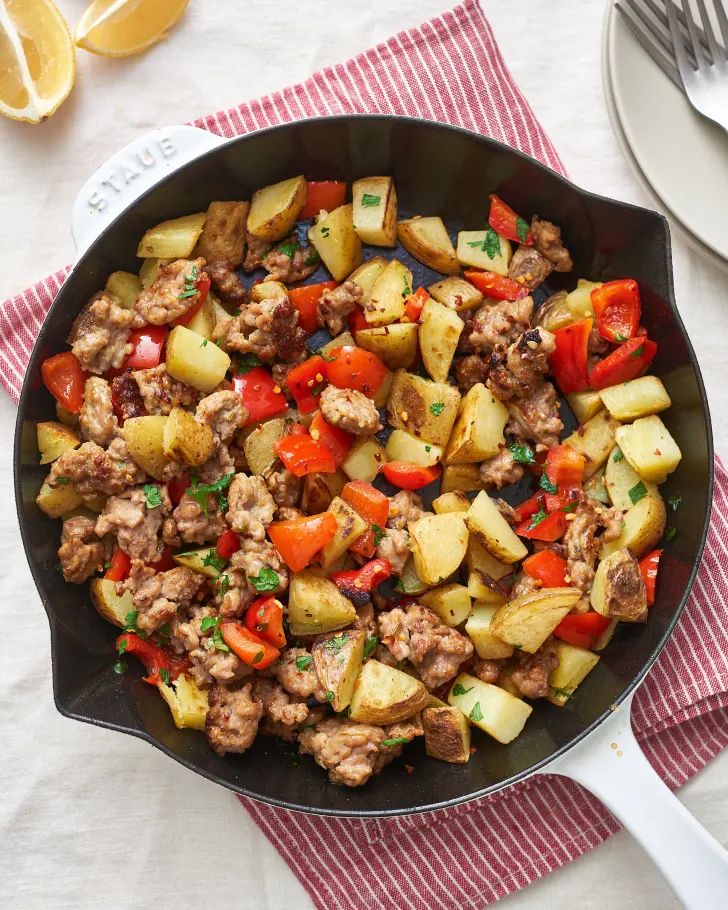 PREP TIME 10 minutes | COOK TIME 27 minutes | SERVES 4
NUTRITION | 489 Calories | 35 g Fat | 25 g Carbs | 20 g Protein
INGREDIENTS
● 1 pound Yukon gold potatoes, cut into 1-inch chunks
● 3/4 teaspoon kosher salt, divided
● 2 tablespoons olive oil, divided
● 1 pound uncooked chicken sausage, casings removed
● 1 medium red bell pepper, seeded, cut into 1-inch pieces
● 2 cloves garlic, minced
● 1/4 teaspoon freshly ground black pepper
● 1/2 teaspoon red pepper flakes
● Juice from 1 medium lemon
● Fresh parsley leaves
DIRECTIONS
1. Place the potatoes in a large saucepan, cover by 1 inch with cold water, and add 1/4 teaspoon of the salt. Bring to a boil over high heat, then cook just until the potatoes are fork-tender, 3 to 4 minutes. Drain the potatoes; set aside.
2. Meanwhile, heat 1 tablespoon of the oil in a 10-inch or larger skillet over medium-high heat until it shimmers. Add the sausage and cook, breaking it up with a wooden spoon, until browned and cooked through, about 10 minutes. Transfer to a paper towel-lined plate and drain off any excess fat in the pan.
3. Reduce the heat to medium and add the remaining tablespoon of oil and potatoes to the pan. Spread the potatoes in an even layer across the bottom of the pan and cook undisturbed for 5 minutes. Add the bell pepper, garlic, remaining 1/2 teaspoon salt, pepper, and red pepper flakes. Cook, stirring occasionally, until the potatoes and peppers are tender, 3 to 4 minutes. Return the sausage to the pan and cook for 2 minutes more. Remove from the heat and stir in the lemon juice and parsley.
Quick Vegetarian Pho Soup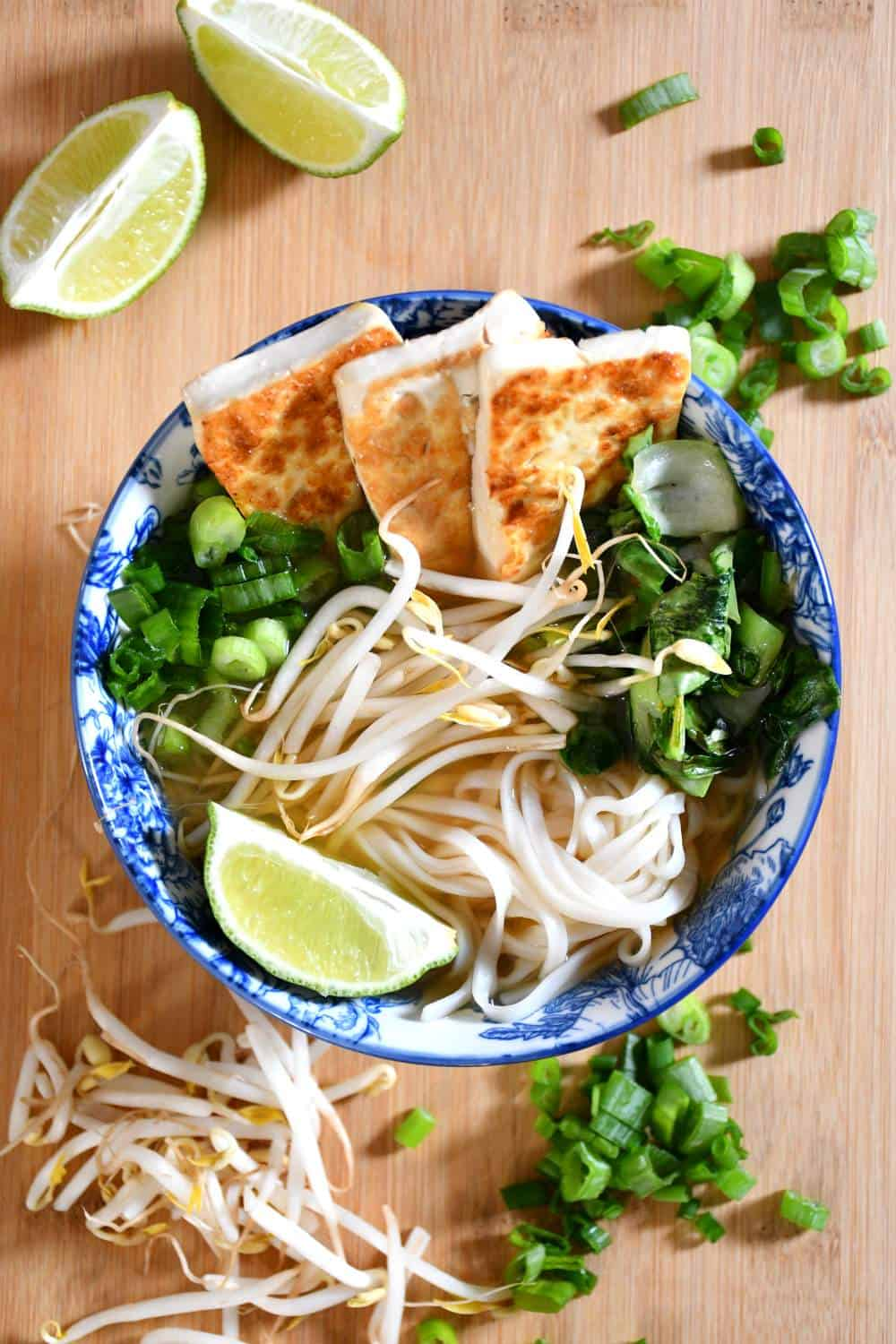 PREP TIME 30 minutes | COOK TIME 30 minutes | SERVES 2
NUTRITION | 350 Calories | 16 g Fat | 44 g Carbs | 17 g Protein
INGREDIENTS
● 2 star anise
● 4 whole cloves
● 1 cinnamon stick
● 1⁄2 tablespoon whole coriander seeds
● 1⁄2 teaspoon whole cardamom seeds
● 1⁄2 teaspoon whole fennel seeds
● 4 cups unsalted vegetable broth
● 1 teaspoon rice vinegar
● 1⁄2 yellow onion, peeled and quartered
● 2 garlic cloves, peeled and crushed
● 1 tablespoon fresh ginger peeled, thinly sliced
● 1⁄2 tablespoon brown sugar
● (2oz) large rice noodles, uncooked
● 1 tablespoon toasted sesame oil for cooking
● 1 cup tofu slices or cubes
● 1 cup bok choy, chopped
● 1⁄2 cup bean sprouts
● 1⁄4 cup green onions chopped
● 2 lime wedges
DIRECTIONS
1. Heat a pot over low heat with broth spices: star anise, cloves, cinnamon stick, coriander seeds, fennel seeds, and cardamom seeds, until fragrant, about 30 seconds.
2. Add the broth, vinegar, onion, garlic, ginger, and brown sugar into the pot. Bring to a boil over high heat and simmer covered over medium-low heat for 30 minutes. Strain broth when complete. Meanwhile, cook the rice noodles per packaging instructions.
3. Heat the sesame oil in a medium skillet. Add tofu, cook for about 10 minutes, then add bok choy and cook for another 10 minutes.
4. Clean and slice remaining toppings: bean sprouts, limes, and green onions. Combine broth and noodles and add desired toppings.
Cranberry Almond Bars
PREP TIME 25 minutes | COOK TIME 5 minutes | SERVES 8
NUTRITION | 302 Calories | 21 g Fat | 25 g Carbs | 7 g Protein
INGREDIENTS
● 2 cups almonds
● 2/3 cup puffed rice cereal
● 2/3 cup dried cranberries
● 1/2 cup unsweetened coconut flakes
● 1 heaping tablespoon hemp seeds (optional)
● 1/3 cup brown rice syrup
● 2 tablespoons honey
● 1 teaspoon vanilla extract
DIRECTIONS
1. Line an 8 x 8 baking dish with parchment paper. Set aside.
2. In a large mixing bowl, add almonds, puffed rice cereal, cranberries, coconut, and hemp seeds, and toss to combine. Set aside.
3. Stir brown rice syrup, honey and vanilla together in a small saucepan. Heat over medium-high heat until boiling, stirring occasionally. Let the sauce boil for 4-5 minutes, still stirring occasionally. Once it's ready, pour it evenly over the almond mixture and very quickly stir the mixture until it is evenly coated with the sauce.
4. Quickly transfer the mixture to the lined baking dish, and press it firmly into the dish in an even layer. Let the bars cool for 30 minutes or until they reach room temperature. Then transfer the bars with the parchment paper to a cutting board. Cut the bars into your desired shapes and sizes. Then place in a sealed container and store at room temperature until ready to eat.
5. The bars will last up to 10 days. Or if you freeze them, they will last up to 3 months.
Sweet Potato Buddha Bowl

PREP TIME 20 minutes | COOK TIME 30 minutes | SERVES 6
NUTRITION | 402 Calories | 20 g Fat | 57 g Carbs | 13 g Protein
INGREDIENTS
● 2 large sweet potatoes, chopped into cubes ( or 4 cups chopped)
● 1 large red onion, chopped
● 2 tablespoons olive oil
● 2 teaspoons garlic powder
● 1 teaspoon curry powder
● 1 teaspoon ground cumin
● 1 cup quinoa, uncooked
● 2 cups water or vegetable broth
● 1–2 tablespoons olive oil
● 1 tablespoon minced garlic
● 4 cups kale, chopped
● 2 cups shaved Brussels sprouts
● Salt and pepper, to taste
● 1.5 cup Hummus for serving (3 tablespoons per serving)
DIRECTIONS
1. Preheat your oven to 400oF. Drizzle oil over the baking sheet. Place potatoes and onions on a baking sheet. Sprinkle garlic, curry, cumin and salt and pepper to
taste. Massage spices and oil together with potatoes. Bake at 400oF for 25-30 minutes.
2. Prepare quinoa. In a medium pot, bring quinoa and water to a boil. Cover and turn heat to low and let simmer, covered, for around 15-20 minutes or until all the water has evaporated.
3. Heat a large skillet over medium/high heat. Add olive oil. When olive oil is fragrant, add garlic. Add kale and Brussels to the skillet and saute for 5-7 minutes. Season with salt and pepper and remove from heat.
4. Separate out quinoa, sweet potatoes, and kale mixture evenly into six bowls or meal prep containers. Top with about 3 tablespoons of hummus per serving!